Father Mbaka's Transfer to Monastery Sparks Outrage Among Nigerians
The Chaplain and Spiritual Director, Adoration Ministry, Enugu, Rev. Fr. Ejike Mbaka, was transferred to the monastery recently
Many Nigerians on social media have expressed disbelieve, with some questioning the motive of the Catholic Church
Recall that the Catholic Bishop of Enugu Diocese, Most Rev. Callistus Onaga, sanctioned the transfer of the outspoken priest
The transfer of the Chaplain and Spiritual Director, Adoration Ministry, Enugu, Rev. Fr. Ejike Mbaka, to the monastery by the Catholic Bishop of Enugu Diocese, Most Rev. Callistus Onaga, has sparked reactions among Nigerians, Punch Newspaper reports.
In fact, Mbaka's supporters openly protested the decision and chased the new chaplain out of the ministry.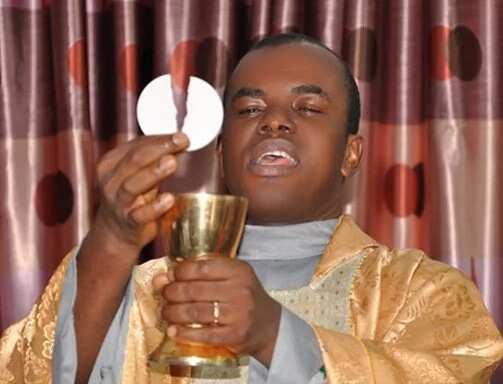 One of Mbaka's supporters who spoke to journalists on condition of anonymity said:
"All along, the Bishop has been trying to take over the Adoration Ministry. But I can assure you that no priest will succeed there. So long as Fr. Mbaka is not there, nobody will come there to worship."
On his part, Reno Omokri said:
"Father Mbaka criticised former President Jonathan and he was not punished or banished. Father Mbaka criticised General Buhari and he was not punished or banished. So, why should Father Mbaka be punished and banished after criticising Peter Obi? I may be wrong, but it just seems that what Father Mbaka said about a then-incumbent President Jonathan was much worse than what he said about Obi. Father Mbaka lied. He claimed former President Jonathan wanted to kill him (please research it). What is so unique about what Father Mbaka said Obi that warrants his current travails? Can someone please explain the logic behind this without insulting anyone?"
More reactions from social media.
Andy Adannaya"
"Mbaka, God will fight and vindicate you. Don't worry, it might take time, but keep your faith in God."
Ogie Warshington:
"Father Mbaka was due to return to the ministry on October 2. How come they are now replacing him? I was taught as a kid that politics can be played at home and in the church. I believe this is politics. His suspension is over and should be recalled"
Nonso Mpeji
"This bishop Onaga is trying to cause problems and division in Catholic church of Enugu diocese."
Eleba Gina Blessing
"I don't support his removal. Someone suffered and build something, now you want to remove him."
Anuli Eze
"Daddy MBA, dont mind that man called Callistus Onaga, he has always been a jealous man before he becomes bishop. I wonder who made him a bishop? He is there not for the faith of the church but to make money. He is fighting for politicians who will only give him money that he is always after. Let's see if his udi priest will come and drag people to that place."
Catholic Diocese opens up on alleged removal of Father Mbaka as head of Adoration Ministry
Meanwhile, the Enugu Catholic Diocese has denied removing Rev. Fr. Ejike Mbaka as the Spiritual Director of the Adoration Ministry.
The Diocese clarified that Mbaka was only asked to take time away in solitude to listen to what the spirit of God has to tell him.
Director of Communications, Enugu Diocese, Rev. Fr. Benjamin Achi, says Mbaka would return to continue his duties.
Source: Legit.ng