Medical Feat: Excitement As Lagos Hospital Performs Successful Open-heart Surgery on 13-Day-Old Baby
A complicated yet successful open-heart surgery has been carried out by a hospital in Lagos on a 13-day-old baby
The baby, according to the president and chief executive officer of the Tristate health care system, Prof. Kamar Adeleke, was born with a rare congenital abnormality of the heart
Meanwhile, the operation which lasted for about 19 hours, was carried out by a Nigerian team of specialists
Lekki, Lagos - Lagos-based Tristate Hospital, Lekki has successfully carried out complicated open heart surgery on a 13-day-old baby.
The founder/CEO of Tristate Healthcare system, Prof. Kamar Adeleke, told Legit.ng and some select journalists in Lagos that the baby, name withheld, was born with a rare congenital abnormality of the heart known in medical parlance as "transposition of the great arteries."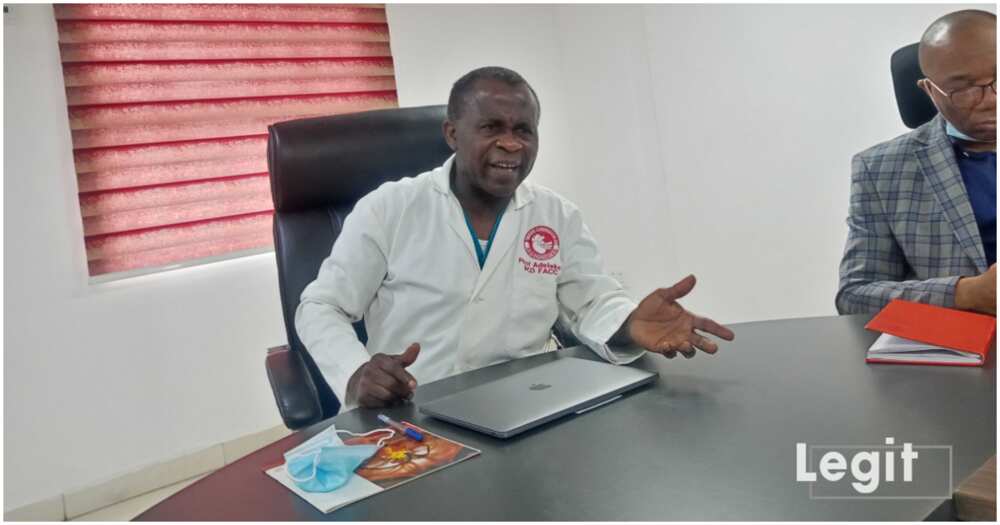 The health condition explained
In simple terms, the two major arteries leaving the baby's heart were transposed (wrongly connected) to the lower chambers of the heart (ventricles).
PAY ATTENTION: Share your outstanding story with our editors! Please reach us through info@corp.legit.ng!
Legit.ng reports that the life-saving procedure, known as an "arterial switch operation" – a complex type of pediatric cardiothoracic surgery, lasted 19 hours, and was carried out by a Nigerian team of specialists.
Only the most skilled paediatric surgeons in the world are known to carry out the procedure successfully.
The medical team
The medical team was led by Professor Kamar Adeleke, a professor of medicine/cardiology, interventional cardiologist – a conglomeration of best-in-class super-speciality healthcare providers.
Speaking with newsmen in Lagos, Adeleke, who is the chief division of Cardiac Catheterization and Interventional Laboratory, University College Hospital, Ibadan, Oyo state, said the arterial switch operation is an open-heart procedure that is done within two weeks of life, or it will be too late.
He explained that as a result of the abnormality, blood containing oxygen from the baby's lungs was being pumped back into the lungs, while blood that lacks oxygen was pumped throughout the body.
Prof. Adeleke said:
"We did an arterial switch in a 13- day- old baby. Normally, the heart has two sides; the right side takes in blood from the organs of the body. This blood is devoid of nutrients, and from here the blood is pumped into the lungs where it is oxygenated and purified and then transported into the left side of the heart where it is pumped to all parts of the body."
He noted that the left side of the heart normally pumps out 4-6 litres of blood every minute.
"This baby was born with a badly structured heart. What happened to this baby was that the left and right structures were switched, so the baby was not getting any purification of the blood. The mortality of this condition is 100 percent.
"What we did was to restructure the heart in addition to a bypass. All the blood vessels coming from the wrong sides were correctly repositioned. It was a complex surgery that took from 10.15 in the morning till 5 am the following day."
Significant feat
Noting that congenital heart defects occur in about 0.01 percent of the Nigerian population, Adeleke argued that the feat is significant in the sense that the condition was being tackled locally for the first time.
Nigerians react
Nigerians took to the Facebook page of Legit.ng and reacted to the development.
Most Nigerians lauded the feat and hoped for an improved healthcare system in the country while a few urged Nigerians to vote wisely for the right leader to emerge in 2023.
Uloma Williams said
"Nigeria will rise again."
Ifeanyi Erondu expressed joy and prayed
"Thank God for his grace, we are proud of you all, God bless you all and we pray for more success ahead ijn."
Omojola Oladipupo Dada lamented and prayed
"Thank God
"God blessed us in this country with professionals, But we lack good structure as A NATION."
Avin Anthony urged
"Nigerians are talented in all fields. Is only our bad leaders are killing our talents. With Peter Obi comes 2023. Foreign countries will be flying in Nigeria for medical attention. Vote wisely."
Mary Akinkunmi prayed
"More wisdom, knowledge and understanding in Jesus name."
Famakins T-square opined
"It's a wonderful great feat. Is there any good thing that come out from Lazareth. Yes! Nigeria will rise again."
Rotimmy El-Otuoze said
"I celebrate this feat. Nigerians are the best in their chosen field."
Fayomi Babatunde queried
"Hope this we end medical tourism in Nigeria."
Tony Sylvers stated
"We have great men and women in this country, our major challenge now is just the leadership."
Our goal is to have first heart transplant in Nigeria, Tristate boss Adeleke reveals
Meanwhile, Legit.ng had previously reported that Prof. Kamar Adeleke explained that Nigeria has what it takes to cater for the health of her citizenry.
It was reported that he said he came to Nigeria after spending over 40 years in the US to make the cardiac programme affordable and accessible to the people, saying that he is keen on making the first heart transplant in Nigeria.
The medical guru said that he became troubled in 2012 when he made a medical mission to Nigeria and realised that the average life expectancy was put at 46 years at the time.
Source: Legit.ng