Nigerians React as Three Military Officers Faint at Eagle Square Parade During Democracy Day Parade
About three military officers have fainted while participating in the Democracy Day Parade in Abuja
The incident has attracted negative reactions against the federal government from Nigerian on social media
Some Nigerians who reacted blamed the economic situation of the country while some said the civil service condition is not encouraging
PAY ATTENTION: Update Legit.ng App for free: the old version will be disabled soon
Following reports that three military officers who were participating in the Democracy Day Parade, on Monday, June 12, slumped at the Eagle Square, Abuja, Nigerians on social media have blamed the federal government for the occurrence.
The situation occurred after the military personnel stood for hours on one spot under the scorching sun.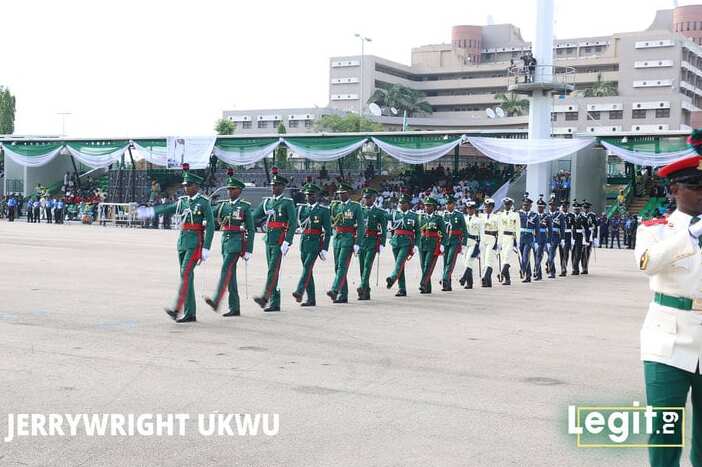 They were believed to have succumbed to exhaustion and it took the intervention of some security and medical personnel who rushed to the parade ground with stretchers and whisked the collapsed colleagues to the medical shed.
However, no casualties were recorded as they were successfully treated and soon regained consciousness.
Reacting to the incident, Moronkeji Ayo Aromire, said:
'They can't help but faint when the National Identity (Flag) is nothing to them. Stained with innocent bloods of able and armless youths by the order of the faceless and cruel cabals of the party, they will continue to faint."
Awodiran Robert
"That show the ways our country gallant soldiers who are ready to lay down their life being treated like slave dogs why the armed robber politicians who are supposed to be punished and jailed for their looting and embezzlement are enjoying all their looted money in air-conditioning offices and homes."
Cyprian Nwankwo
Imagine how hunger is dealing with the military...think of the impoverished masses. May Buhari never happen to anyone again."
Nathan Natnan
"Mr President should know by now there's serious problem. When the military personnel's faint in the face adversity."
James Oche Ogbada
They are part of Nigeria predicament today. Bad politicians used them against poor citizens to buy their ways into power. Imagine Nigeria professors rigging election for Illiterate."
Cliff Mbagwu
"Why will they not faint. In 2014, one dollar is exchanged for 160 Naira. Today one dollar is exchanged for more than N600. And since 2015 this regime took over, there has been no increase in civil service salaries. This regime is very insensitive to the sufferings of Nigerians. Very detached from the people and very arrogant in failure."
Prophesy: If Atiku does not rule Nigeria, an Igbo man can never be president, Prophet claims
Meanwhile, Prophet Emmanuel Chukwudi of King of Kings Deliverance Ministry, Gbonum Ulepa Ntezi, in Ebonyi state says he has seen revelations concerning the coming 2023 elections.
The cleric claimed that on November 15, 2015, God told him in clear terms that nothing can stop Atiku Abubakar from becoming the president of Nigeria. He said that Atiku presidency will pave way for Igbo presidency.
The cleric in a statement made available to Legit.ng said:
"If Atiku does not rule Nigeria, an Igbo man can never be president. What you are seeing now is a fulfilment of the word of God. The result of the PDP primaries is the prophecy of God coming to pass. In the spiritual realm, God has ordained Atiku President of Nigeria since 2015, to govern and rule Nigeria and better the life of the people.
Source: Legit.ng