New Look: Stunning Photos Emerge as Northern Governor Steps Out in Jeans, Polo, Trainers
Governor Nasir El-Rufai stunned the public with his new look on Wednesday, December 1, when he came to inspect a project
The Kaduna governor was seen in a polo shirt, a pair of jean trousers, and a pair of trainers footwear to match
This appearance must come across rather strange to some persons who are used to seeing the governor in northern attire
The Kaduna state governor, Nasir El-Rufai, on Wednesday, December 1, personally came out to inspect the painting on the Leventis underpass done in strategic parts of the bridge.
Governor El-Rufai who is usually seen in northern traditional attire each time he is in the public, stepped out this time looking much younger and smarter.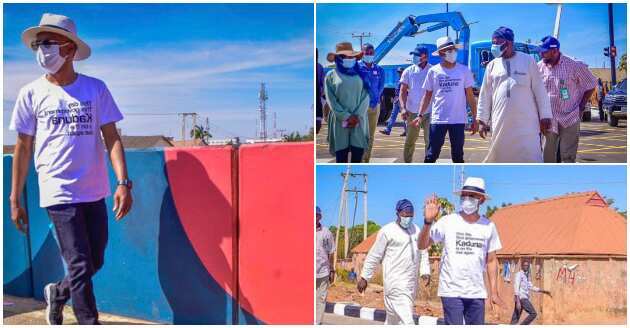 The Kaduna governor wore a polo shirt, a pair of jean trousers, and a pair of trainers footwear.
He wrote on his official Facebook page:
"This day,
"This government,
"Kaduna is on the rise again."
Teachers with fake certificates: Kaduna govt releases list of 233 workers to be sacked, prosecuted for forgery
Meanwhile, the Kaduna state government had released the full list of 233 teachers who allegedly presented fake certificates to get the teaching job.
In a press conference by Tijjani Abdullahi, chairman of KADSUBEB, said the teachers would be dismissed for presenting fake certificates.
Abdullahi added that the files of the affected teachers will be forwarded to the Ministry of Justice to initiate prosecution for forgery.
The state government has now released a document containing the full names of the indicted teachers on its official website.
Nigerians react
Mathew Mbom commented on Facebook:
"This is a very welcomed idea as long as it is done with integrity. Secondly, I suggest you hold on No. 6 (uploading the names of the indicted teachers) until you have finished your judicial process.
"Thirdly, for future purposes, your organisation of screening and examination for recruitment is very poor and needs improvement. Thank you."
Ibrahim Ibb said:
"I have no option than to commend you this time around for involving professional teacher training institutions like FCE Zaria, COE Gidan waya and National Teachers Institute to conduct test for Kaduna State SUBEB Teachers."
Source: Legit.ng