I Jumped from the 4th Floor; 19-Year-Old Boy who Survived Ikoyi Building Collapse Shares Escape Story in Video
A 19-year-old boy who managed to survive the Ikoyi building collapse has described his surviving the incident as an act of God
The Imo indigene identified as William Nwachukwu narrated that he was sleeping on the 4th floor when he noticed the foundation of the building shaking
Fearing for his life and acting on instinct, William escaped by jumping from the 4th floor into a nearby building
William Nwachukwu, a 19-year-old boy, is one of the survivors of the Ikoyi building collapse that has so far cost 38 lives, including the builder Femi Osibona whose body was recently recovered under the rubble.
The young lad became an internet sensation after his dusty shirtless photo was circulated on social media as one who jumped into a nearby building, thereby surviving the incident.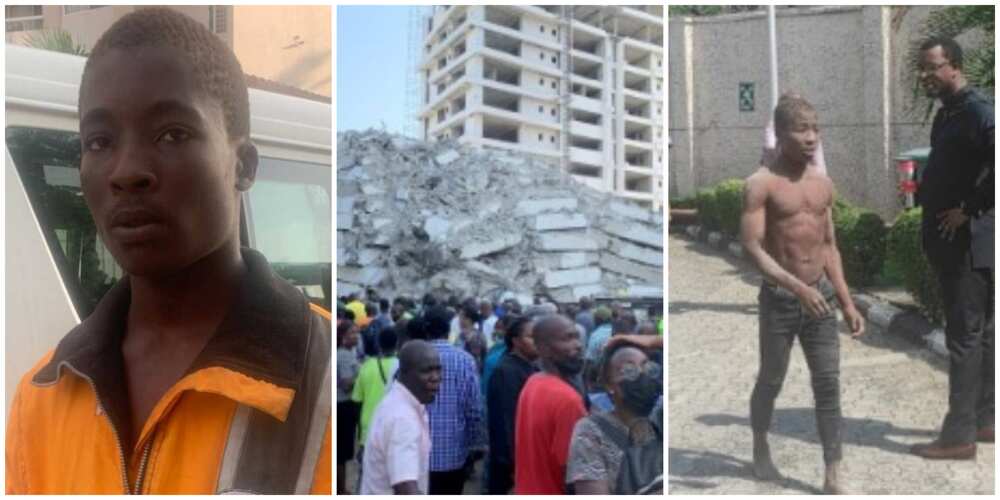 William slept and took his bath in the building occasionally
Narrating the real circumstances surrounding his escape, William said he used to sleep and have his bath in the building before the tragic incident.
PAY ATTENTION: Install our latest app for Android, read best news on Nigeria's #1 news app
In an interview with Guardian, the Imo indigene said on that fateful day, he was sleeping on the 4th floor when he was woken up by the building's foundation which shook vigorously.
"I was lying on the fourth floor when the incident happened and the vibration woke me up. I don't know how I was able to jump out of the building."
Acting on instinct, the young boy jumped from the 4th floor into a nearby building.
His survival is an act of God
The lad whose pay was N3500 as a casual worker on the building said his survival is an act of God.
William stated that he had been working in the building for two weeks before the incident.
His statement has debunked claims by some media outlets that he jumped from the 10th floor.
How US returnee became victim of Ikoyi building collapse
Meanwhile, Legit.ng previously reported how a US returnee had fallen victim to the Ikoyi building collapse.
A real estate dealer Bob Useni was said to be on his way back to the US on Monday, when he got a call from the owner of Fourscore Homes, Femi Osibona, to check out the ongoing development at Ikoyi.
Bob-Oseni's sister, Damilola Otunla, age 29, sat on the pavement across the street engaging in a three-day vigil for her brother who was believed to have been inside the high-rise building when it collapsed.
Bob-Oseni lived in Maryland, America, but had been home for the past few months and was visiting a friend working on the building site, his family said.
Source: Legit.ng