40 best John Mulaney quotes and jokes that are the height of luxury
John Mulaney quotes are some of the most hilarious sayings you will come across. While it is understood that his career as a comedian makes him automatically funny, he does a great job at it. In case you are having a dull day, consider going through John Mulaney memes, and jokes for a hearty laugh. You can never go wrong with his quotes.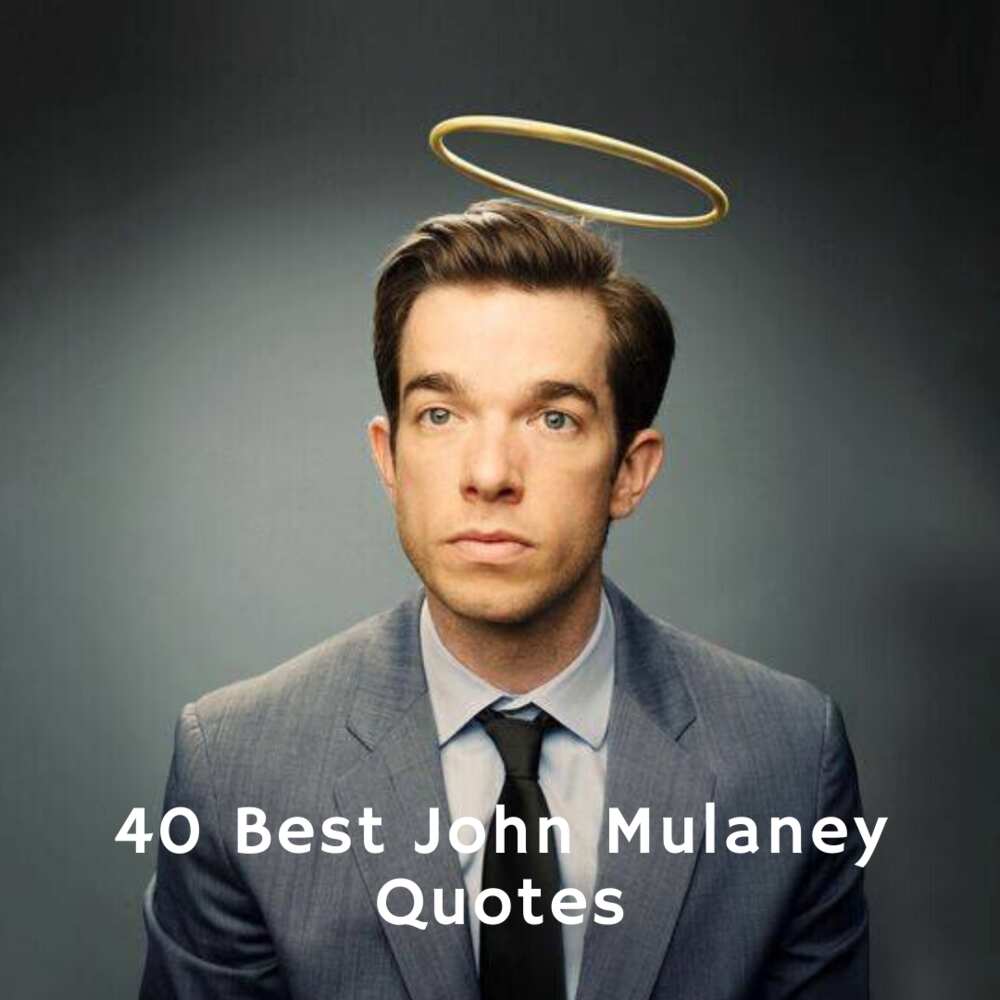 Having been born 37 years ago, John Edmund Mulaney is an American actor, stand-up comedian, writer, and producer. He grew up to become one of the best in the industry. Most fans appreciate his writing skills on the Saturday Night Live. He is also a famous stand-up comedian known for several stand-up specials. If you have seen a John Mulaney meme, or joke online, then you know that he is great at what he does.
The best John Mulaney quotes
This article brings to you some of John's quotes capturing most of John Mulaney jokes. He is one of the people whose dedication to making others happy is commendable. You can almost come across different types of jokes in John Mulaney quote. He talks about his experiences in most cases but delivers the message in one of the most hilarious manners that it is impossible not to be cracked up. The following are a few of the best of John Mulaney jokes and quotes that will definitely make you laugh your heart out.
Jokes for kids in college
One of the best places to create lasting memories is in school. College offers an opportunity of interacting and forming life-long friends even as you learn and work on a career. Mulaney has some jokes about college as listed below.
College was like a four-year game show called "Do My Friends Hate Me or Do I Just Need to Go to Sleep?
The greatest assembly of them all, once a year, was Stranger Danger. The hottest ticket in town. The Bruno Mars of assemblies.
In their letter, they were like, 'Hey, it's been a while since you've given us money.' I was like, 'Hey, it's been a while since you housed and taught me
I paid $120,000 for someone to tell me to read Jane Austen, and then I didn't.
Quotes about school
Just like college, school is the other place you create memories that you will tell your grandkids in the future. Whether you were bullied, were the bully, or even the laughing stock of the class, you know that you have some memories that are worth writing home about. You may be taken down memory lane as you reminisce on your own school days.
As I got into high school and after puberty, I was a little more inward. I was a real extrovert when I was little, but I don't know, I just got quieter... With my friends, I was still an extrovert.
You remember being 12 when you're like 'No one will look at me or I'll kill myself'.
13-year-olds are the meanest people in the world. They terrify me to this because 8th graders will make fun of you but in an accurate way. They will get to the thing that you don't like about you. They don't even have to look at you for long. They'll just be like 'Ha, ha, ha, ha hey look at the high waisted man. He got feminine hips' And I'm like 'No! That's the thing I'm sensitive about.
You are gathered together as a school, and you are told never to talk to an adult you don't know. And you are told this, by an adult you don't know.
Funny jokes that will help you get through the day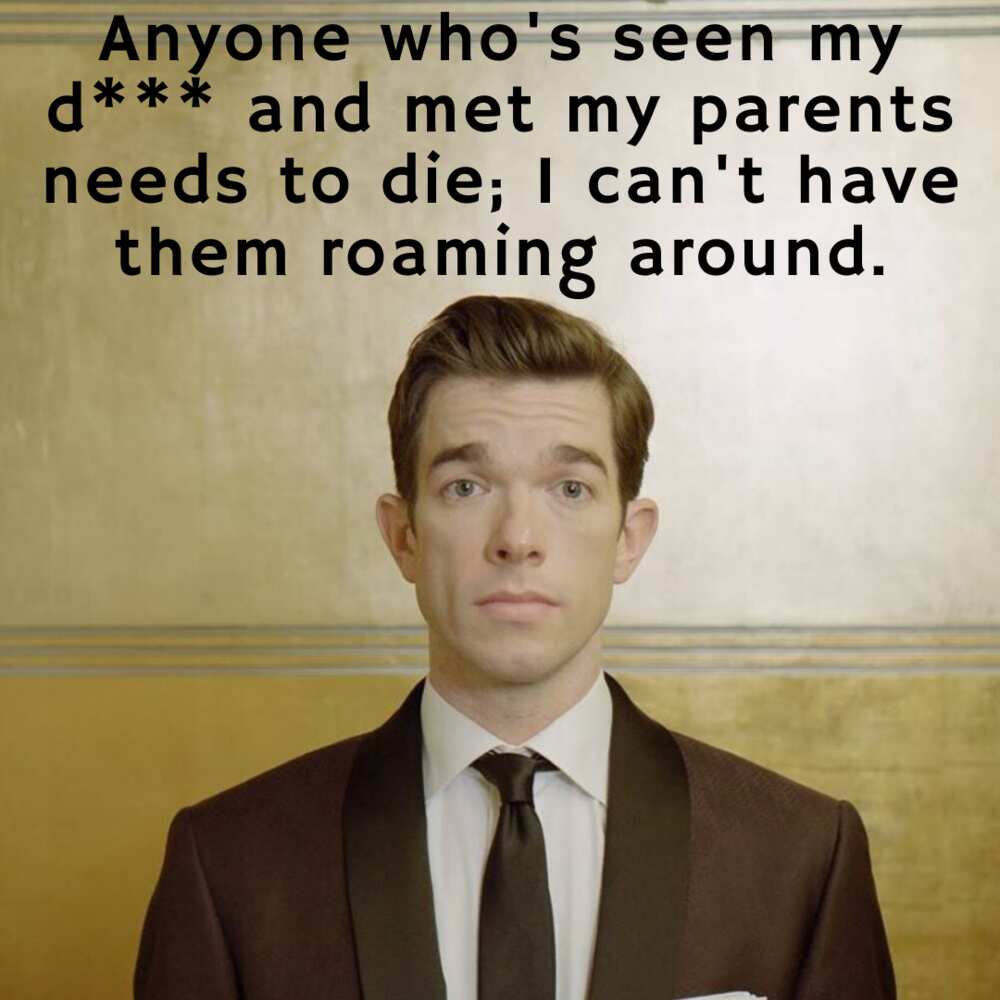 Away from school jokes, Mulaney has perfected his skill. He can talk to any audience, regardless of their age and make them laugh. Here are a few of his funniest jokes you may want to consider. They will not only crack you up but confirm that John is indeed a talented comedian.
Anyone who's seen my d*** and met my parents needs to die; I can't have them roaming around.
I'm standing in the basement and I'm holding a red cup, you've seen movies. And I'm standing there holding a red cup and I'm starting to blackout and I guess someone said like something police. And in a brilliant moment of word association, I yelled "F*** da police!" And everyone else joined in. A hundred drunk white children yelling f*** da police.
Donald Trump's not good at running for president. He's just good at Family Feud. So, when the Steve Harvey of this election is like, 'Name something that is bothering Americans!' And Ted Cruz is like, 'Benghazi!' WRONG! Then Trump is like, 'All the problems.' And that's the number one answer on the board.
I have found that people who really want to work at 'Saturday Night Live' and pursue it gets pretty close. You have to be funny - but everyone who works there, it was their dream to work there. So it's kind of nice in that way - there's a lot of people who say, 'I just always wanted to do this, and now I'm doing it.
I love comedians that dive into politics. I personally don't feel comfortable, with my background, weighing in unless I have a take that I think is funny enough that I would put it in front of an audience.
We started chanting, McDonald's, McDonald's, McDonald's! And my dad pulled into the drive-thru, and we started cheering and then he ordered one black coffee for himself and kept driving.
I had a producer tell me I couldn't use the word midget because it was 'worse than the n-word.' First off...no, it's not. If you're comparing the badness of two words and you won't even say one of them, that's the worse word.
I played basketball for five years and I was a benchwarmer all five years. If you were never a benchwarmer, I cannot express to you the humiliation of every Saturday morning, putting on a pair of breakaway pants and never having a reason to break them away —​ then they're just pants.
He did not look like his job description. He looked like he should be the conductor on a locomotive powered by confetti, but instead, he made his living in murder. He was the weirdest goddamn person I ever saw in my entire life. He was a man most acquainted with misery. He could look at a child and guess the price of their coffin. That line never gets a laugh, but once you write it, it stays in the act forever."
I quit drinking because I used to drink too much, then I would black out and I would ruin parties.
You're like the kid at the sleepover who, after midnight, is like, 'It's tomorrow now.' Get out of here with your technicalities. Just because you're accurate doesn't mean you're interesting.
The best quotes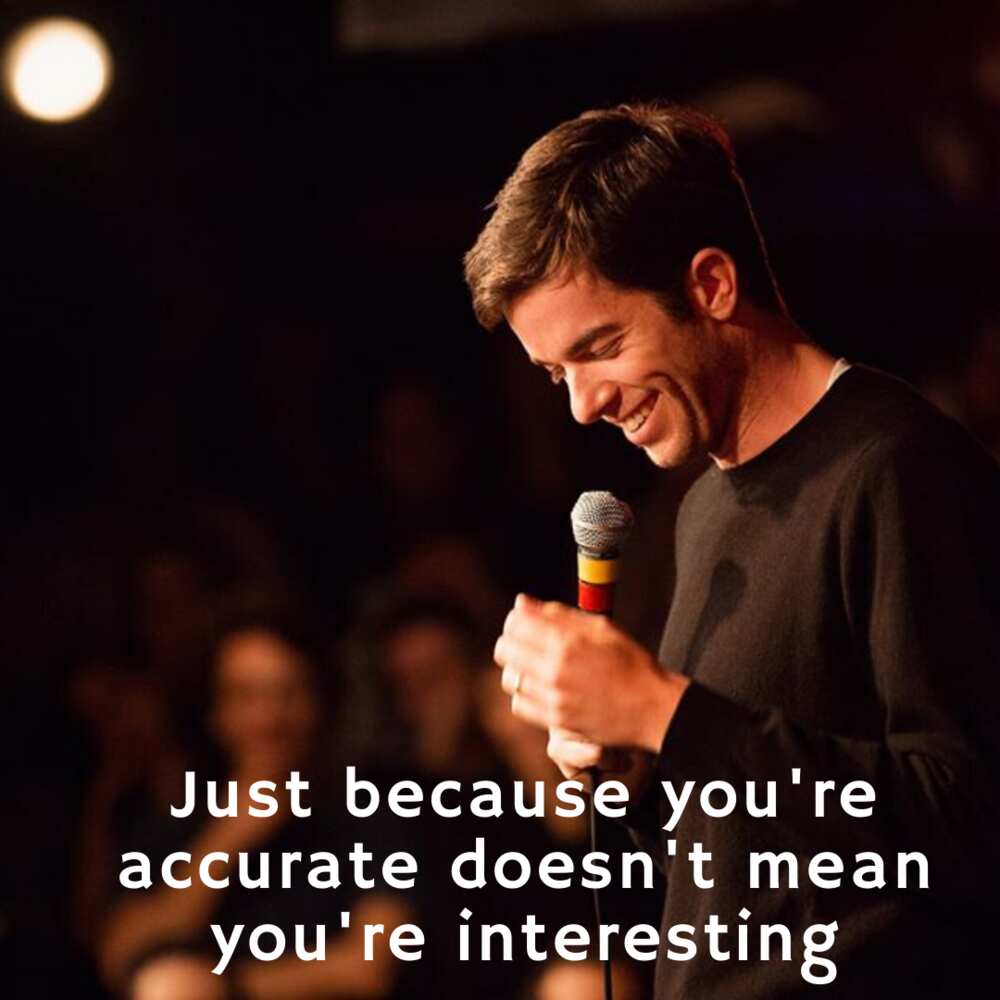 You may want to check out the list below. These are some of the best quotes, and all-time favorites from the stand-up comedian. Let us know what you think. These are not your typical sayings. In fact, you will not see them coming. Like all great artists and comedians, he can turn anything into something to laugh about. You need to have a bit of wit, though, to understand these jokes. Consider the examples listed below.
I don't look older, I just look worse.
It's been very funny to try to act like an adult. Even getting dressed. Every day, I'm like, 'Should I wear a blazer and walk around with an umbrella? Do I carry a briefcase?' Because I'm trying to be some image of the adults I saw on TV growing up.
I never knew you were supposed to push off of your feet when you walked. And I tried it, and I walked much faster.
If someone had written a review saying, ''Oh, Hello' is stupid,' we would have said, 'Yeah, it is. You're absolutely right.' That people liked it was extremely cool.
Just because you're accurate doesn't mean you're interesting.
My vibe is like, hey you could probably pour soup in my lap and I'll apologize to you.
John Mulaney Funny Quotes
I am very small and I have no money. So you can imagine the kind of stress that I am under.
If you are a school student, your opinion does not matter.
It's 100% easier not to do things than to do them.
You have your law practice, and me, I have all these f*cking markers.
When I'm walking down the street I don't think anybody goes, 'Hey look at that man', they're just like 'Woah, that tall child looks terrible'.
For those of you who don't know what it is, blackout drinking is when your brain goes to sleep, but your body gets all 'Eye of the Tiger' and soldiers on.
Now I get to say, 'my wife' which is very exciting. It has a lot of power to it. It's fun to say 'my wife'. I'm looking forward to saying it a lot. 'Get away from my wife!' 'No one talks to my wife!' 'I didn't kill my wife!'.
By 2029, I'll be drinking moon juice with President Johnathan Taylor Thomas.
I was bullied when I was in school for being Asian-American. The biggest problem with that is that I'm not Asian-American.
"Here's how easy it was to get away with bank robbery back in the '30s -- as long as you weren't still there when the police arrived, you had a 99% chance of getting away with it.
Girl Scout cookies are delicious! They come in Thin Mint and Samoa and also other flavors. How come I have to know a child in a beret to order them? Just sell me the cookies. I have American money. Just put them in a store and I'll buy them.
I was once on the phone with Blockbuster Video, which is a very old-fashioned sentence. That's like when your Gram would be like, 'We'd all go to play jacks by the side fountain.' And you're like, 'Nobody knows what you're talking about, you idiot'.
I always thought that quicksand was gonna be a much bigger problem than it turned out to be. You watch cartoons and quicksand is like the third biggest thing you have to worry about, behind the actual sticks of dynamite and giant anvils falling on you from the sky.
Do you want a salad or fries? That's like asking, 'Do you want to go for a jog or freebase c*caine?'
We've been pretty hot and heavy lately. I think it's time we bring in two older Catholic people.
Late at night, on the street, women will see me as a threat. That is funny, yeah! It's kind of flattering in its own way, but at the same time, it's weird because, like, I'm still afraid of being kidnapped.
All my money is in a savings account. My dad has explained the stock market to me maybe seventy-five times. I still don't understand it.
It was so beautiful today that I only watched four hours of 'Law & Order' in my apartment.
John Mulaney quotes are some of the best for anyone looking to laugh his or her heart out. He has a way of playing around with words, and memories that you cannot help but laugh in amazement. He is definitely one of the best stand-up comedians that is worth your time.
Source: Legit.ng