Finally! Atiku Reveals Why He Married From Various Regions of Nigeria
Atiku Abubakar has said that Nigerians are better united despite all the deepening ethnic and religious diversities
Former Nigeria's vice president said unity can be achieved through acceptance and tolerance for one another
Atiku also said that based on his effort to marry women from all regions of the country, his children have brothers and sisters from many diverse backgrounds
A former vice president of Nigeria and 2019 presidential candidate for the Peoples Democratic Party (PDP), Atiku Abubakar has opened up on why he married women from different regions of Nigeria.
Atiku while delivering his speech at the Arewa House on Thursday, November 4, said the unity of Nigeria should be about acceptance; accepting that everyone is one and united people for a common purpose - Nigeria.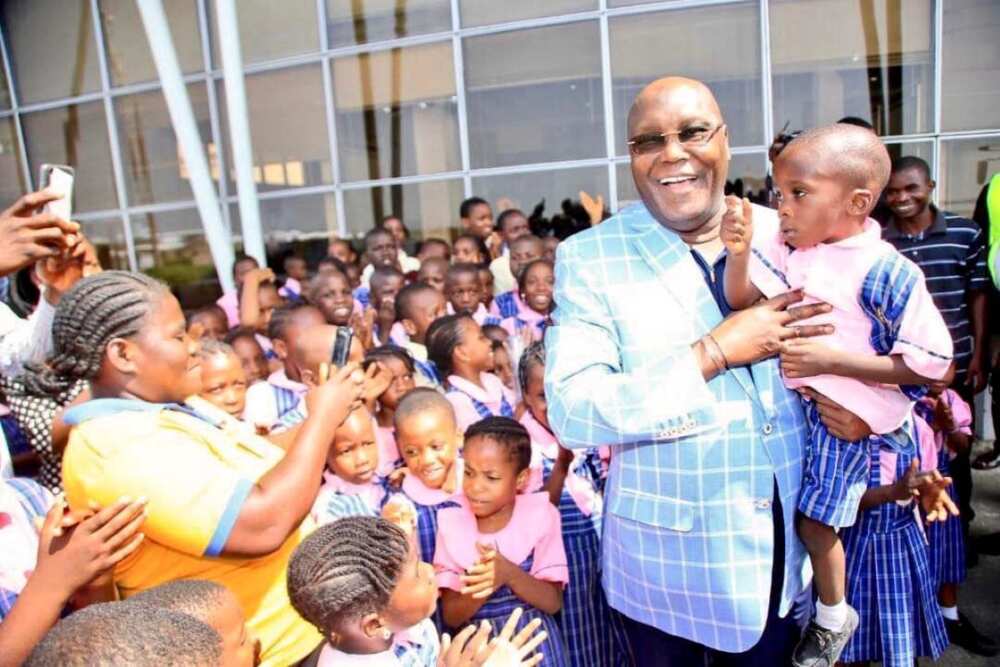 In his speech titled; 'Unity in Diversity, Atiku said throughout his life, he has never looked at Nigerians as diverse people.
According to the former vice president, all Nigerians are the same and whenever he sees a Nigerian, he does not see a Yoruba, Hausa or Igbo man but a Nigerian who he expects the best from.
Atiku said:
"That's why I did not preselect who or from where I should marry. I married women from diverse backgrounds because I don't look at their backgrounds, I only see them as wonderful Nigerian women."
"My children have brothers and sisters from many diverse backgrounds. That is why I am confident to promise you that a strongly united Nigeria is possible because I made it happen in my family."
For Atiku, his definition of unity in diversity is living in peace and tolerate one another despite the differences among the people.
He said:
"We have to move from enduring each other to accepting each other. We may tolerate what we may not accept, but we cannot accept what we cannot tolerate."
"The unity we aspire cannot be without acceptance. We have to accept that it is okay for someone to speak, belief, live, act and associate differently from us."
Atiku noting that acceptance and peaceful coexistence are just the plants, but justice is the seed to a developed system said that there is no way Nigeria can have security and patriotism, and achieve our development potentials without justice and equity.
He warned that if people are led fairly, they would embrace each other and imbue patriotism.
He added:
"When we no longer reward competence and hard work, and when we elect and appoint based on ethnicity and kinship, then we are doomed to disintegrate."
"Nepotism is the number one destroyer of national unity. I know a lot of capable Nigerians who migrated to other developed countries and excel very well out there, and they never regretted leaving Nigeria, because they believed there was no level playing ground for them to excel here. Would you blame them?"
He further said that Nigeria can get better as the current sad situation and challenges the nation is facing can be overturned.
He said:
"We only need the right leadership that sees everyone as equal. The right leadership recognizes only competence and hard work. Not the leadership that sees and recognizes only friends and families."
Meanwhile, Legit.ng previously reported that Governor Ahmadu Fintiri of Adamawa state has said that he would give his 100 per cent support to Atiku should he clinch the PDP presidential ticket.
Governor Fintiri said Atiku has all the needed capacity and ability to govern Nigeria and unite the people.
He said the opposition party is ready to take over power from the ruling All Progressives Congress (APC).
In other news, the media mogul and publisher of the Ovation Magazine, Dele Momodu, has said that he met with Atiku at the PDP's national convention in Abuja on Saturday, October 30 and 31.
Momodu who had just joined the PDP said he had discussions with the former vice president on his rumoured presidential ambition which he responded in the affirmative.
He further noted that Atiku said he has no words for him currently but there would meet at the polls to slug it out as the Party's presidential hopefuls.
Source: Legit.ng