List of all wallets in the new eNaira launched by Buhari
Following the launching of Nigerian Central Bank Digital Currency (CBDC), known as the eNaira, by President Muhammadu Buhari, on Monday, October 25, the Central Bank of Nigeria (CBN) has listed all the new eNaira launched by the president.
The eNaira is the digital form of the Fiat currency (Naira), issued by the CBN in line with Section 19 of the CBN Act. It is a direct liability of the CBN, a legal tender and will form part of the currency-in-circulation. The eNaira will complement cash as a less costly, more efficient, generally acceptable, safe and trusted means of payment and store of value. Additionally, it will improve monetary policy effectiveness, enhance government's capacity to deploy targeted social interventions, provide alternative less costly channel for collection of government revenue and boost remittances through formal channels.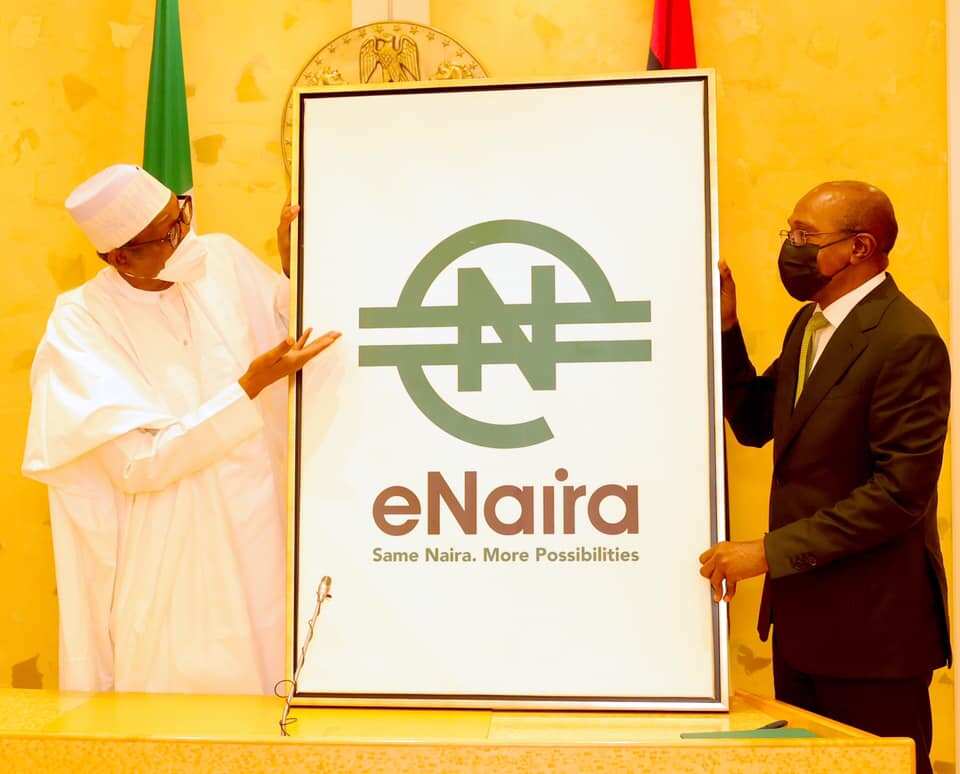 Here are all the eNaira Wallets available for different stakeholders.
eNaira Stock Wallets
The eNaira stock wallet belongs solely to the CBN and it shall warehouse all minted eNaira.
eNaira Treasury Wallets
A financial institution (FI) shall maintain one treasury eNaira wallet to warehouse eNaira received from the CBN eNaira stock wallet. FIs may create eNaira sub-treasury wallets for branches tied to it and fund them from its single eNaira treasury wallet with the CBN.
eNaira Branch Wallets
An FI may create eNaira branch sub-wallets for its branches. The eNaira branch sub- wallet shall be funded from the treasury eNaira wallet.
eNaira Merchant Speed Wallets
eNaira Merchant speed wallets shall be used solely for receiving and making eNaira payments for goods and services.
eNaira Speed Wallets
eNaira speed wallets shall be available for end users to transact on the eNaira platform.
Going further, the CBN also specified the roles of end users of the eNaira.
Here are the roles according to CBN.
a) Creating eNaira speed wallets and funding it;
b) Utilising eNaira as an alternative payment option for legitimate transactions;
c) Protecting their eNaira speed wallet access credentials; and
d) Notifying financial institutions in the event of fraud/complaints/disputes.
What is eNaira?
Meanwhile legit.ng has earlier reported that in July, the Central Bank of Nigeria (CBN) released the guidelines on eNaira.
The eNaira will be a non-interest bearing currency and won't serve as a hedge to escape inflation which many have used Bitcoin and Ethereum.
The Central Bank of Nigeria also noted Nigerians won't be charged by the financial institution for the utilisation of the eNaira through POS or the banks.
Source: Legit.ng