FULL LIST: World Bank Debars 13 Nigerian Companies, Other Individuals Over Sharp Practices
In the efforts to strengthen institutions and fight against corruption in Nigeria, the World Bank announced that 18 Nigerian companies and individuals have been delisted over sharp practices.
In its Fiscal Year 2021 report titled World Bank Group Sanctions System FY21, the bank said the department was made by its sanctions board, World Bank Chief Suspension and the debarment officer and the African Development Bank (AfDB).
The delisting made by AfDB was recognised by World Bank, making the affected firms to be barred under the cross-debarment policy.
In the bank's opening statement, David Malpass said the bank had granted over $157bn to assist developing countries.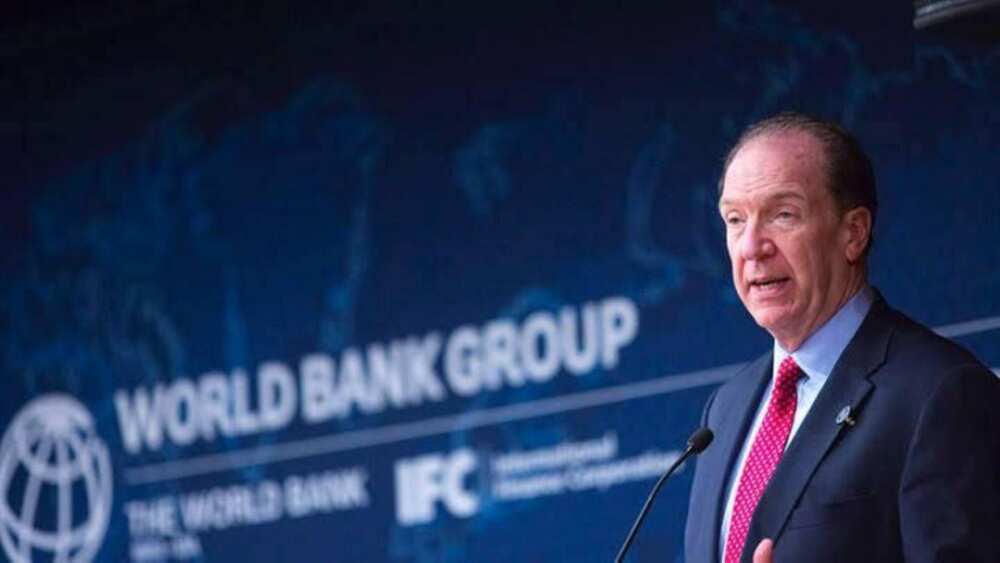 He also said that with this there is a need for integrity and transparency standards in public finance.
PAY ATTENTION: Install our latest app for Android, read best news on Nigeria's #1 news app
He added that as the world grapples with the impact of the COVID-19 pandemic, there is a need for everyone to be held accountable.
Malpass said:
"As the world moves toward recovering from the pandemic's damaging impacts, these costs can also restrict the private sector, which plays an important role in revitalizing economic growth and development in our client countries."
Below are the Nigerian companies and individuals debarred by the World Bank
1. Abou Ghazaleh Contracting Nigeria Limited
The company and their owners; Mr Elie Abou Ghazaleh and Mr Fadi Abou Ghazaleh, were debarred by the World Bank for six months for compulsive practices.
2. Swansea Tools Resources
Swansea Tools Resources was debarred for fraudulent practices for two years and 10 months.
The World Bank based on Sanctions Case No 651 noted that the company misrepresented its past experience in its bid for a road maintenance contract under state employment. It added that as a mitigating factor, the SDO considered the respondent's limited cooperation with investigators, noting that the respondent produced documents and agreed to be interviewed but did not accept responsibility for the misconduct.
3. Juckon Construction and Allied Services Nigeria Limited
Juckon was debarred for corrupt practices for three years. According to World Bank, the company made improper payments to a public official.
The payment was made in connection with the award and/or execution of two waste management and refuse collection contracts under a state employment and expenditure project in Nigeria. It was debarred for a minimum of four years with conditional release.
4. Unique Concept Enterprises
Owned by Ms Okafor Glory, Unique Concept Enterprises was debarred for five years.
Also, its owner was debarred for four years for the same reason.
5. Asbeco Nigeria Limited
It was debarred for five years for corrupt practices. The matter also involved Glory and Unique Concept Enterprises was presented under Sanctions Case No 691 for submitting false documents in connection with two refuse collection disposal contracts under state employment and expenditure project in Nigeria.
Also, the corporate respondent submitted a falsified income tax clearance certificate in its bids for the contracts.
Both respondents were said to have submitted a falsified advance payment guarantee in connection with the execution of one of the contracts.
6. A.G. Vision Construction Nigeria Limited
The company was debarred for fraudulent practices and collusive practices for four years and six months.
7. Salihu Tijani
Although not included in the report, Tijani, who was recently debarred is a consultant for the National Social Safety Nets Project.
He was debarred for 38 months for engaging in corrupt practices.
Other companies not mentioned have also been debarred by other multilateral organisations under cross-debarment.
Debarred by AfDB for two years under cross-debarment recognised by World Bank
8. Sangtech International Services Limited, Sangar & Associates (Nigeria) Limited
9. Mashad Integrated And Investment Co Limited
10. Medniza Global Merchants Limited
11. ALG Global Concept Nigeria Limited
Debarred by the AfDB for three years under cross-debarment recognised by the World Bank
12. Abuharaira Labaran Gero
13. Qualitrends Global Solutions Nigeria Limited
14. Maxicare Company Nigeria Limited
Meanwhile, Legit.ng previously reported that the Economic and Financial Crimes Commission (EFCC) had begun an investigation into the financial activities of a former Secretary to the Government of the Federation, Anyim Pius Ayim and Senator Stella Oduah.
Oduah is being investigated over a fraud allegation involving rehabilitation funds to the tune of N780 million.
Source: Legit.ng