"Nigerians Will Employ Chef and Turn Him to Nanny and Gateman": BBNaija's Tochi Says, Sparks Online Debate
BBNaija Lockdown star Tochi recently spoke on the reality of some Nigerian employers and how they treat staff on social media
On his Instagram stories, the reality star noted that some people would employ for a particular role but make them do other tasks while underpaying them
Tochi's candid post sparked an online debate as netizens reacted, while some shared their experiences
BBNaija star Tochi recently got netizens talking after he spoke on how some Nigerian employers underpay and overwork their staff.
Taking to his official Instagram account via his Instastories, the reality show star noted how some people employ for a particular role but end up bombarding the employee with other tasks while also underpaying them.
According to him, it is only in Nigeria that a person would hire a chef but also turn him into a driver, cleaner, gateman, nanny and more.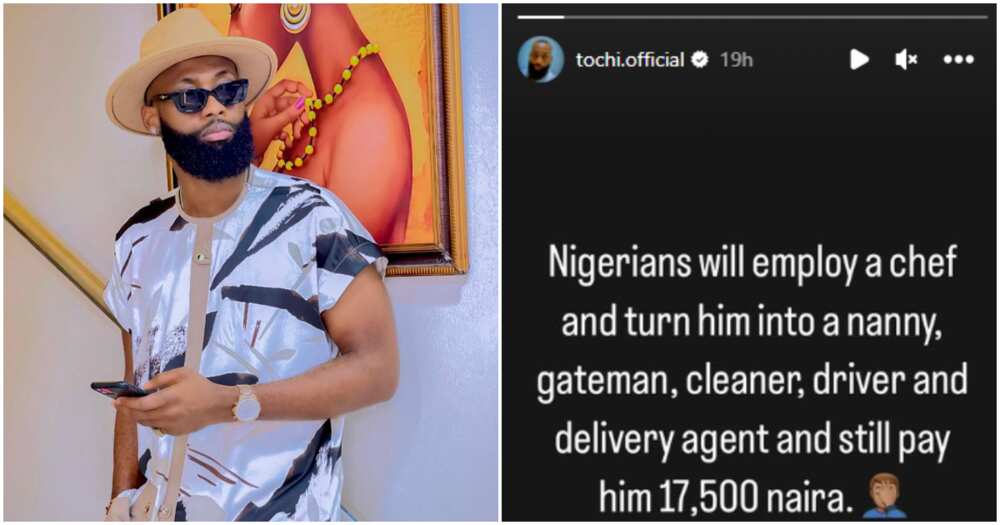 Not stopping there, Tochi added that the staff will take on all these new responsibilities and still get paid a very small amount.
In his words:
"Nigerians will employ a chef and turn him into a nanny, gateman, cleaner, driver and delivery agent and still pay him 17,500 naira."
See a screenshot of his post below:
Netizens react as BBNaija's Tochi speaks on Nigerian employers who overwork staff
Tochi's post seemed to strike a chord with a lot of Nigerians, seeing as it sparked an online debate. Some netizens agreed with the reality star's submission, while others shared their experiences. Read some of the comments below:
t4telma_:
"Even apprentice who registered to learn a skill, they'll send them fr school runs,market runs,delivery agent,house keeping,laundry,even to help date their husbands nd be their children's nanny,Nawa"
onyeje_agada:
"Chef wey the carry children go school."
rosythrone:
"When they lack professionalism they get to be used anyhow, I guess if all chefs are professionals none would settle for anything other than their jobs, let see if the employers won't change their £vil ways."
lone_wolfe1:
"China d learn for cheap labour where naija Dey."
queenies_hairs:
"No be only chef ooo, even in companies ooo. They would tell you is customer service but you go still do sales join."
lucky_chibuzor:
"True talk....I worked for this particular man,, he calls me his personal assistant,, I clean ,wash , think for him and even advance him to get a land in Abuja because when I came he doesn't have a property in Abuja and he was doing well at that time,,, and all this I was doing for just 17k every month, he will travel out and hand over all the properties to me including his car keys and house key ,he will stay for a month in the abroad and still come to meet his property just as he left it...I was a very good staff to him hoping one day he will increase my salary or make me become big just like how I see some boss do to their staff that serve them well,,, one day he called me and said he was looking for his belt,, (mind you,this man s so wuge) If I saw it ,, I said no but let me look for it in his wardrobe because I was in charge with that too.....I tot it was just like a normal thing that he will get away with..the next day he came to my room and was checking for it and of course did not find,, check again the next day and he kept on asking me about it......so I made up my mind to leave,,, cos I'm not sure of what will happen next that will be bigger than belt maybe Na prison I go sleep.... So I told him and he beg I should stay but I say no, I can't stay if u can't trust me ,,, I left ..the day I was leaving he was supposed to give me my salary for that month he did not and I did not ask till today."
cupcakee09:
"If you still pay your domestic staff less than 100k in 2023, you should be in jail. You should serve minimum of 10years without parole. Nigerians are slave drivers and wicked minded. That's why some of these people than made small change cannot stay abroad because their lazy asss cannot afford a nanny. Stop taking advantage of people, if you don't have money to keep a maid pls do your chores yourself."
metallic_ug:
"Driver into car wash. Apprentice into house boy. They looks of those doing this job could tell you we are so inhumane."
Being human is so stressful - BBNaija's Doyin laments
BBNaija Level Up star, Doyin, trended on social media over a post where she complained about the downside of being human.
The reality show star took to her official Twitter page to bare her mind as she lamented about how being human is tough.
Not stopping there, Doyin went ahead to add that she wished she had come to the world as a nylon bag instead.
Source: Legit.ng