"It's Not Fair": BBTitans Fans React As Yvonne Faces Possible Eviction Despite Getting One Nomination
The Big Brother Titans show is gradually coming to an end and the nine housemates on the show are feeling the heat
During the new week, all the housemates were put up for possible eviction and it caused a stir on social media
The new Head of House, Tsatsii was exempted as well as the two other finalists, Ebubu and Ipeleng
As the Big Brother Titans show nears its end, the remaining nine housemates on the show continue to battle for who will take home the $100,000 grand prize.
At the start of a new week on March 20, the housemates played their Head of House game to determine who would enjoy immunity from eviction for the week and also enjoy other perks that comes with being HOH.
Tsatsii won the Head of House games to the joy of her fans and this secured her another week on the show without fear of getting evicted.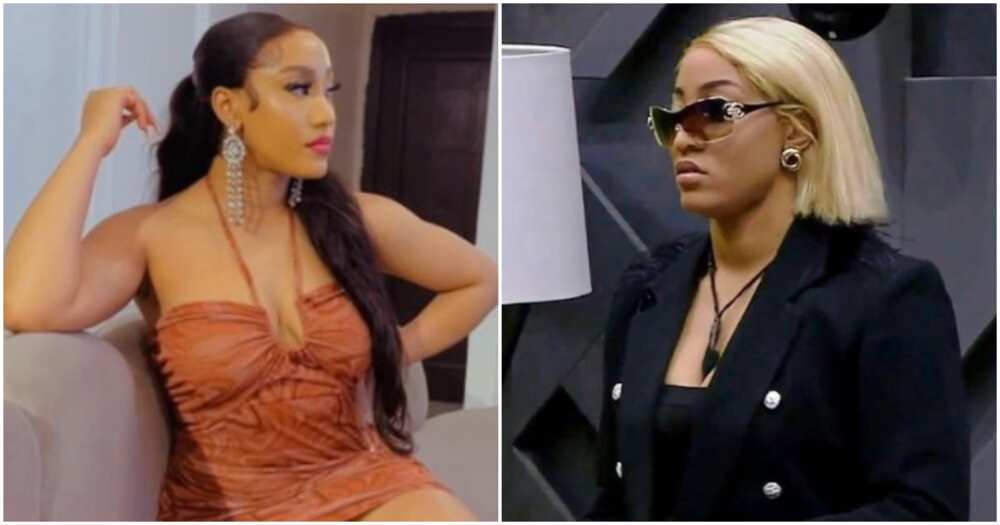 See below:
6 housemates put up for eviction
After the Head of House games, the housemates went into the Diary Room to nominate two of their fellow housemates for possible eviction.
See how they voted below:
Ipeleng: Khosi, Thabang
Yvonne: Thabang, Blaqboi
Khosi: Justin, Kanaga Jnr
Ebubu: Thabang and Khosi
Thabang: Kanaga Jnr and Yvonne
Blaqboi: Justin and Thabang
Kanaga Jnr: Thabang, Khosi
Justin: Kanaga Jnr and Khosi
Tsatsii: Khosi and Blaqboi
Total:
Yvonne: 1 nomination
Khosi: 5 nominations
Thabang: 5 nominations
Blaqboi: 2 nominations
Kanaga Jnr: 3 nominations
Justin: 2 nominations
However, after what seemed like a long moment of deliberation, Big Brother called the names of all the housemates and put them up for eviction. This caused an online stir.
Fans react as Yvonne is put up for eviction despite having one nomination
The nomination list for the week caused an online buzz and some fans of the show noted that Yvonne should not have been up because she had one nomination. Read some of their comments below:
official_wendy__:
"Thank you Khosi and blac for giving us Justin in a plater of gold ."
winifrediyaki:
"Khosi na regular customer Omo I give it to her fans real mvp."
fresh_fynshortboi:
"It's not fair by putting yvonne up she has just one vote."
feddy_aura:
"So in other words... All except the 3 with immunity, are up for possible eviction."
only1yada:
"Yvonne shouldn't have been on this list at all, INEC go cheat us,Big brother sef go dey do him own. I am giving all my votes to Yvonne!"
lilyunazi:
"Why did they put Yvonne there now which kind rubbish is this?"
plus_baebedoll:
"He sld have just said aside the hoh they were all up …. Because the nominations were done but he still stood by his own decision… once more than 4 ppl are up the one who get nominated only once is not up ….. biggie why."
nanaamaelikplim:
"Thank God all of them re up...that nomination nor jig."
Blue Aiva, Nana, Miracle OP evicted from BBTitans
Popular reality TV show Big Brother Titans (BBTitans) eviction show on Sunday, March 19, took place without the audience and the usual fun which the show is known for as Blue Aiva, Nana and Miracle OP left the house.
Recall that the show's organisers had earlier put an end to housemates being evicted in pairs, as Blue Aiva, Kanga Jnr, Khosi, Miracle OP, Nana, Thabang, Tsatsii, and Yvonne had all been put up for eviction earlier in the week.
Blue Aiva, Miracle OP and Nana's eviction from the show was trailed with mixed reactions.
Source: Legit.ng