"E Sweet Me Die": BBTitans Housemates Ebubu and Tsastii Become Heads of House for Week 4, Fans Rejoice
A new week has started in the Big Brother Titans show and the housemates gathered in the arena for the Head of House games
The housemates played three rounds of games with housemates dropping off at each stage till the last stage
The third game was played by the Royals pair, Ebubu and Tsastii and the Maya pair, Marvin and Naya, before the Royals emerged as the winner
To kick off the fourth week in the Big Brother Titans house, the remaining housemates on the show gathered in the arena to play their Head of House games.
The Heads of House for the previous week, Kanaga Jnr and Blue Aiva (Kaniva), were exempted from participating.
After the first round of games, the Juvone pair (Yvonne and Justin), were disqualified after Yvonne stepped on a line.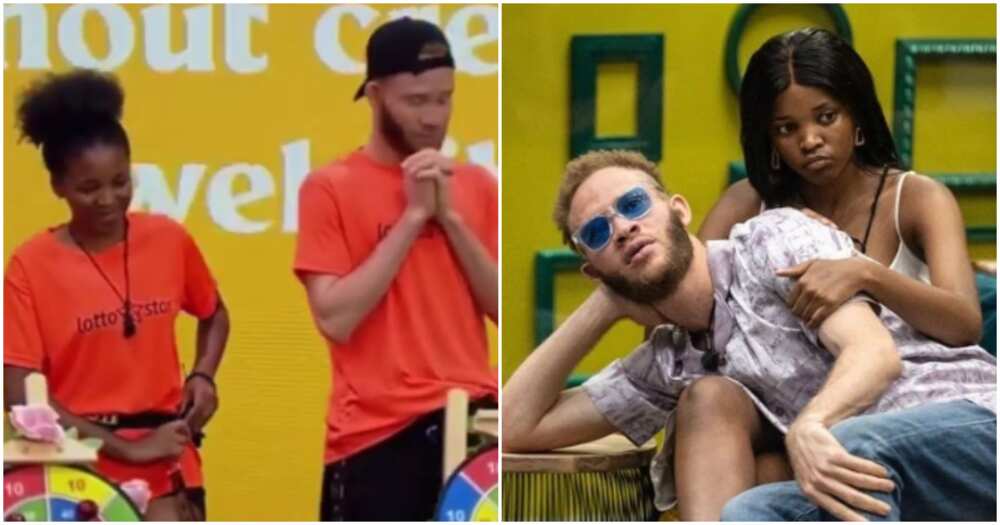 Blaqleng, Royals, Maya and Juolvia, qualified for the second round of games.
Ipeleng, Olivia, Ebubu and Yaya, represented their pairs for the second game which involved flipping plastic cups with their fingers.
At the end of the game, only Ebubu from Royals and Yaya from the Maya pairs qualified for the final round.
The third round involved the two qualifying pairs to arrange numbers in a square in an ascending order. Yaya represented her pair while Tsastii represented hers.
After playing the game, Royals (Tsastii and Ebubu) were named the new Heads of House.
See below:
Nigerians react as Tsastii and Ebubu win HOH for week 4
Some netizens rejoiced at Ebubu and Tsastii's win while others said Maya's pair was close to winning. Read some of their comments below:
hapistreat16:
"Am so happy for Ebubu.. Guy is soo articulated and well spoken"
official_wendy__:
"Tsatii will save KJ "
foodtray_abuja:
"Wow congrats to them KJ is safe again this week"
kaybs_wignature:
"Yes my Babies . Tsatsi taking over from Kanaga is the sweetest moment of this season so far. Marvin was so ready to disturb us with "Karma is a yen yen yen yen" ."
freshageless_:
"God of kaniva don show..but yaya make me vex o,they would have win."
ms_aritas:
"The way am happyy eeh las las they will be Fine God of Kanagaa From husband to Wifee yoo this ship is giving"
jey_ci_ca:
"Miracle no dy tire Jesus …husband last week,wife this week ,let's goooooo"
monalisa_cyprian:
"E sweet me dieeeee"
Jaypee and Lukay evicted from BBTitans house
Jaypee and Lukay have become the second pair to be evicted from the show.
The Big Brother Titans housemates who were paired were the least voted for by viewers after they were nominated by their fellow housemates.
Their eviction took place on February 5, on the third Sunday Live Show of the show, and comes a week after Sandra and Theo Traw left the show, making them the first pair to be evicted.
Source: Legit.ng