Big Brother Titans: Kanaga Jnr and Blue Aiva, 'Kaniva' Become Heads of House for Week 3 After Winning Games
The Big Brother Titans reality show has entered its third week and the 11 remaining housemate pairs gathered in the arena for a chance to become the new Head of House
After the first round of game, Kanaga Jnr and Blue Aiva's pair, Kaniva, as well as Jaypee and Lukay's pair, Jaykay, qualified for the next stage
After playing the second stage of HOH games, the Kaniva pair (Kanaga Jnr and Blue Aiva) was named as the new Heads of House for the week
The Big Brother Titans housemates recently gathered in the arena to play their usual Head of House game for the week.
The reality show has entered its third week with one eviction already done and all the remaining 11 pairs played for a chance to be safe from eviction for the week and to also enjoy other perks of being the Heads of House.
The game of the week was in two rounds and the first round involved the housemates and their pairs throwing eggs to each other and making sure to catch it without it falling or breaking or they would be disqualified.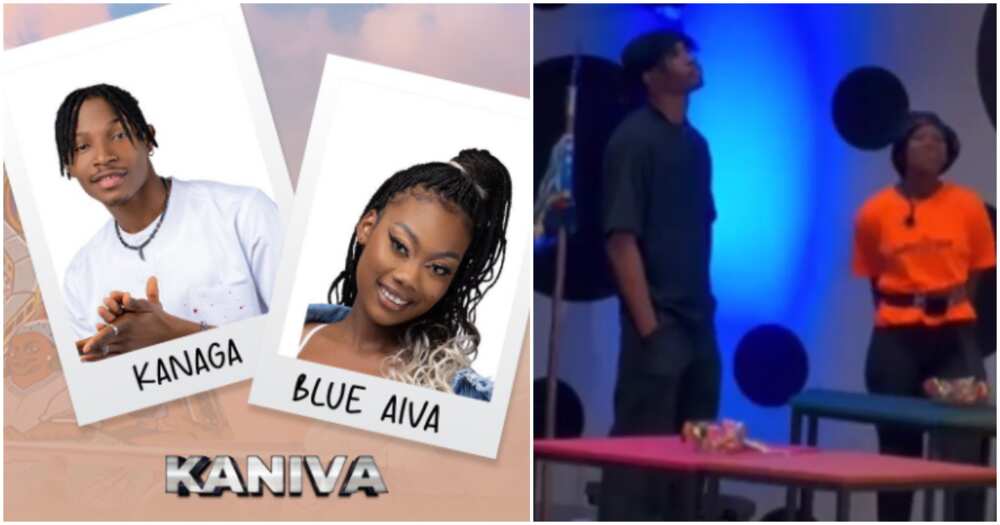 After playing the game, Jaypee and Lukay's pair, JayKay, as well as Kanaga Jnr and Blue Aiva's pair, Kaniva, qualified for the second round.
HOH game round 2
For the second round of the HOH game, the housemate pairs were told to carry each sweets from the opposite ends with their mouths from one point to the other without it breaking apart.
After some minutes of playing the game, Kaniva (Blue Aiva and Kanaga Jnr), were named as the new Heads of House for following the instructions properly.
See below:
Nigerians react as Kanaga Jnr and Blue Aiva become Heads of House for week 3
A number of netizens reacted after Blue Aiva and Kanaga Jnr won the HoH games meaning they had the veto power for the week while also being safe from nomination. Read some of their comments below:
official_wendy__:
"My Kanaga will save his girl nah so "
kwakyewaa.xx:
"If royals is up and yelisa is also up who are they going to save‍♀️ wahaluuurrrr"
annvy_kollie:
"Yes my people "
baby_feisty:
"Thank you Jesus "
olami_seyi:
"Osehy my people finally win ❤️"
kelechinene:
"Kosi will have Yemi in full force this week… no midnight hide and kisses again "
Sandra and Theo Traw get evicted from BBTitans house
Last week Sunday, January 22, was the first eviction show, but nobody was evicted from the house.
However, things got real on January 29 as Sandra and Theo were both kicked off the show during the second eviction show that took place.
Yemi Cregx, Nelisa, Sandra, Theo, Ebubu, Tsatsii, Justin and Yvonne were all put up for possible eviction, but it was the Santheo pair that got booted out of the house.
Source: Legit.ng