"Spiritual Things Are Real": Destiny Etiko Gives Testimony After Being Afflicted With Strange Ailment
Popular Nollywood actress, Destiny Etiko, caused a stir on social media after she shared her testimony online
In a video making the rounds, the movie star opened up on how she had been struck with a strange ailment that nothing seemed to cure
However, Etiko revealed that she eventually got herself back after she poured her heart out to God with a moving prayer
Popular Nigerian actress, Destiny Etiko, got netizens talking after she shared her testimony on social media.
The movie star posted a video online where she recounted how she woke up one day with a terrible pain in her neck.
According to the movie star, she initially thought it was because of the way she slept. However, she realised that was not the case after the pain persisted and even started to move around.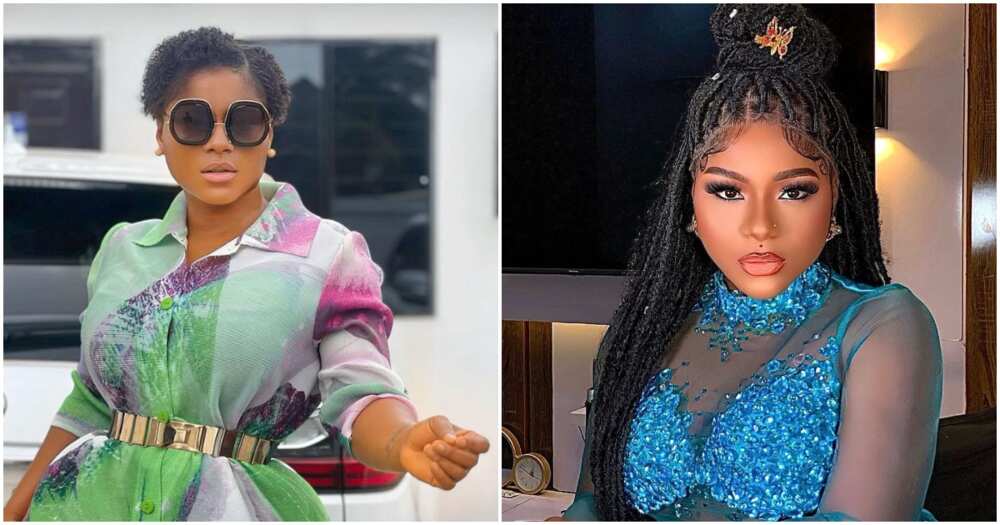 Destiny added that she decided to go to the hospital to get it checked but the doctors saw nothing wrong with her so she resorted to prayers.
However, Etiko explained that even after her pastor prayed for her as well as her mother's pastor, nothing changed and she knew it was not an ordinary situation.
The actress explained further that knowing the kind of industry she works in, some people could have wanted to attack her.
Destiny continued to narrate her story and explained that she had to go home to Enugu for more prayers from her mum's pastor but it did not work so she returned to her base in Asaba.
The movie star added that the pain in her neck got so terrible that she started to seek mercy from God and she heard a voice telling her to talk to her creator.
Etiko explained that she started to pray so fervently that she started to speak in tongues as she begged God to have mercy and remove the strife from her life.
According to the actress, she suddenly started to feel like cool water had been poured on her as the pain in her neck and back started to ease up.
See the video below:
Netizens react as Destiny Etiko shares testimony after getting delivered from strange ailment
The actress' testimony video made the rounds online and raised a series of mixed reactions from netizens. While some of them joined her in thanking God, others advised her to go for a checkup at the hospital.
Read some of their comments below:
_deagram:
"The courage she took to share this shouldn't be taken for granted. I wish her a speedy recovery."
only__xmimi:
"This is meant to be a testimony in the church not for us abi ."
ucheeeeeee:
"Better go nd do proper diagnosis and be sure it's not early stage of cervical spondylosis and treat it early before you will think it's pastor that prayed for u to heal..Yes bad people Dey and miracles happen but go to the hospital ."
nmajiaku:
"When you feel pains pls go to the hospital. Run tests and general check up. Sometimes everything isn't spiritual or enemies. It could be stress."
oluwa_damisire:
"If colleagues wanted to harm, there are places to attack and it won't be by inflicting neck pain. Maybe you slept with your neck placed the wrong way. I had similar experience and for almost two weeks I thought it was an attack until I stopped using a pillow and was mindful of how I slept. Not everything be attack."
adaobi_adah:
"If u doubt this story..just pray never to experience something like this that will make u believe. Cos u go run kiti kata for solution oo. Ha .."
lord_costa_z:
"Pastor abi herbalist auntie talk true Tell us the name of the pastor make he they pray for us too Funny so now na your colleagues do you Nawao dis is accusation go court."
petplusvets:
"Buy better pillow, make your colleagues rest. No be everything be spiritual attack."
chica_jay:
"Spiritual things are real. I believe her. And I pray God comes through for anyone who needs him. "
reid_reidman:
"Pastor no be doctor! Go hospital and find out is wrong with you."
Destiny Etiko shares fun video of her with James Brown
In an earlier report via Legit.ng, Destiny Etiko took to her Instagram page to share a video showing when she picked up James Brown after his arrival as they exchanged pleasantries.
Sharing the video, an excited Etiko added a caption that read:
"James Brown is in town for Destiny Etiko's production It's gonna be lit You welcome sweetheart ❤️."
Source: Legit.ng