I'm in No Position To Speak of Awards, They Are Democratic: Ruger Talks Music, Change of Name and More
Music star, Ruger, had an exclusive chat with Legit.ng about various topics like working with Don Jazzy and D Prince
The singer also revealed why he chose to change his name from Drey Milli to Ruger and his signature of covering one of his eyes
The young man talked about his style of music and his chances at the incoming awards seasons, noting that he will leave his fans to be the judge
Music star, Michael Adebayo better known as Ruger, during an exclusive interview with Legit.ng discussed various topics like working with superstar producer, Don Jazzy and his brother D'Prince.
According to him, it has been a family. He stated:
"Working with Don Jazzy and D Prince has been great, I'm signed to Jonzing world, it has been a family from the beginning and I'm grateful to God for bringing me this far, they are phenomenon people."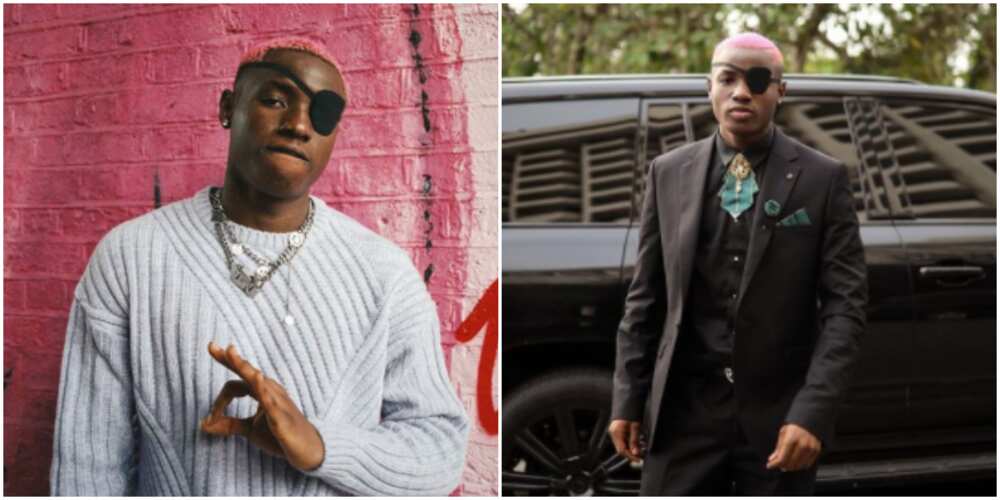 On why he changed his name, he said:
"I changed my name from Drey Milli to Ruger because change is constant, it helps also, when you change it helps you to build your brand and other things, I had to change it so I could own up to what I was already becoming."
Why he covers his left eye
Rugar also spoke about his signature one eye cover:
"I don't switch my eye cover, it's just the left eye, I don't have any eye problem, just my signature."
The singer also made it known that he has a lot of funny and embarrassing moments as an upcoming artiste before stardom came.
"I had plenty of embarrassing and funny moments as an artist, I can't remember many, they are plenty, I think when I wanted to go into a show and I wasn't allowed to go in, that was before stardom. I don't think I had anyone after stardom."
Fans should expect more
On what fans should expect from him, he said:
Fans should expect more from me, my music will be a blessing to people, they will connect more to my music than they have ever be before, they should expect real tunes for them to enjoy for the rest of their lives."
When asked about his chances at awards shows, he said:
"I think I'm not to speak for myself I will let my fans decide that, I'm not that kind of person, I've done the most important thing to create a very strong fanbase, Ruu Nation, they are the ones to talk about me, they are the ones to speak about that, I'm in no position to do that, it's a democratic process."
I used to repair phones at computer village and do music spare time
Legit.ng earlier reported that Ruger revealed that he used to repair mobile phones at computer village in Ikeja and do music during his spare time.
The singer took fans through a miraculous journey of how he met with D'Prince and got signed to Jonzing world.
Ruger said the internet helps artistes a lot nowadays because he can attribute his success to the direct message he got from D'Prince all the way from America.
Source: Legit.ng