GTCO Fashion Weekend 2023: Celebrating African Creativity and Runway Excellence of Top Designers
The 2023 GTCO Fashion Weekend was an extraordinary celebration of indigenous styles, creativity, and innovation
Held at the Water Cooperation Drive Oniru, Lagos, Legit.ng was present to bring you the sizzling highlights of the annual event
This year's edition not only entertained its audience with futuristic trends set to take over the market but also imparted knowledge about the fashion business
The highly anticipated GTCO Fashion Weekend took place on November 11 - 12, 2023, in Lagos, Africa's largest commercial city.
The event featured stunning runway presentations, a vibrant fashion shopping experience, captivating street-style exhibits, and insightful style masterclasses.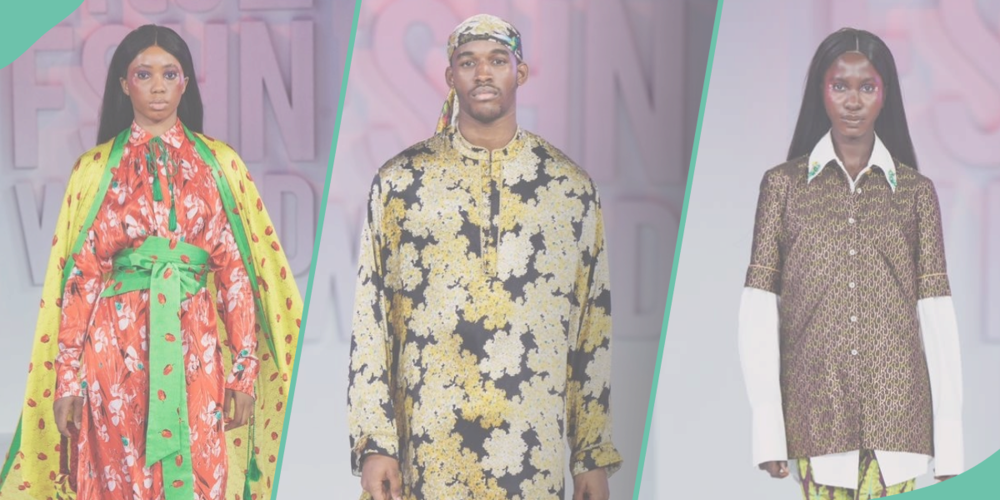 The GTCO Fashion Weekend, hosted by Guaranty Trust Holding Company Plc, has established itself as a must-attend event for fashionistas worldwide.
Hundreds of local fashion businesses have positioned themselves in the spotlight by participating in this year's edition, which provided good opportunities to break into new markets.
PAY ATTENTION: Share your outstanding story with our editors! Please reach us through info@corp.legit.ng!
Designers at the GTCO Fashion Weekend 2023
In addition, renowned fashion professionals hosted a series of masterclasses that taught crucial skills for creating and maintaining successful fashion labels.
During the master class held on day 1 of the event, Sergio Hudson, a renowned American fashion designer, highlighted the core of achieving one's dream as an entrepreneur in the creative space of fashion.
In his words:
"If you did not have designer you will not have fashion magazine, you will not have any style to show, therefore you need to love and have passion for the fashion business in order to work things out."
The Day 1 masterclass ended with insightful notes on building a successful career in the fashion space. The evening started with various stunning runway looks from some of Africa's most acclaimed designers and top international labels.
Here's a list of some of the spectacular designers that graced the runway at the GTCO Fashion Weekend 2023
Banke Kuku - designed a royal collection for the Buckingham Palace
Banke Kuku is a visionary in fashion and design. Her creations are sold locally and internationally, reaching a worldwide audience. Before launching her label, Banke gained experience at renowned worldwide fashion houses.
Her artistic touch was evident in her work with the Designers Guild, designing fabrics for the royal collection at Buckingham Palace. Banke expanded her talent beyond fashion to interior design, attracting famous clients including Selfridges,
Aynhoe Park Hotel, Le Bon Marché, and Bazar et Grande Manger. Her luxury loungewear is informed by her cultural experiences in London and Lagos, resulting in vivid patterns and enticing, striking prints.
Duaba Serwa - worked with British actress and model Michaela Coel
Duaba Serwa designs elegant style lines for women who want subtlety. Duaba's clothing is designed for comfort and simplicity, with harmonious lines emphasised by a vibrant colour palette and superb fabrics.
Duaba Serwa is known for its origami folds, triangle pleating, and smockwork fashioned from sumptuous silks and handwoven textiles, tie-dyes, and batiks. Michaela Coel wore a Duaba Serwa dress on the cover of Vanity Fair's Annual Hollywood issue in February 2021.
Bruce and Glen - designed for Beyonce, Nicki Minaj, Diddy
Bruce and Glen nurtured their passion for fashion into a long-term dream; their formal fashion education began at Albright College in Reading, Pennsylvania. They dived into the fashion business here, learning the principles of retailing, the concept that the fashion figure is nine heads tall, and the craft of pattern drawing.
Glen specialised in fashion merchandising and commercial marketing, while Bruce followed his dream of becoming a fashion designer. Their resume includes the creation and promotion of brands for celebrities such as Beyoncé, Nicki Minaj, Trey Songz, and Diddy. They shifted their focus to accessories in 2019, creating an outstanding bag collection that rose in demand, particularly during the pandemic.
Then, in 2021, they launched a sustainable apparel line that outperformed the handbags that had previously defined their brand.
Theophilio - integrate Jamaican and Caribbean culture
Theophilio is an eccentric fashion brand owned by Edvin Thompson, a Jamaican-American designer.
The brand is noted for its vibrant and contemporary designs that frequently integrate elements of Jamaican and Caribbean culture.
Theophilio has achieved notoriety for its vivid and expressive approach to fashion, which celebrates the designer's Jamaican roots while also exploring topics of identity and self-expression.
Ejiro Amos-Tafiri - one of the Best graduating fashion students from Yaba College of Technology
Ejiro Amos-Tafiri is a Nigerian fashion designer who has made significant contributions to the Nigerian fashion industry. Her designs specialise in contemporary African fashion.
The company was founded in 2010, following the creative director's tenures at Out of Africa, Zizi Ethnic Clothing, and Tiffany Amber. Through this voyage, she poured fresh life into the Iro and Buba ensemble, giving birth to the legendary Oleku attire.
Ejiro studied fashion at Yaba College of Technology, where she was awarded the Best Student Award. She has worked with prestigious brands such as Samsung, Vlisco, Belvedere, British Council, Lagos Fashion Week, and Paris Fashion Week, functioning as both a designer and a brand ambassador.
Ejiro Amos-Tafiri has shown her designs at fashion shows in the United States, Europe, and other African nations.
TORLOWEl - worked with DJ Cuppy Otedola, Naomi Campbell
TORLOWEL, a luxury ready-to-wear brand with a lingerie-inspired touch, was founded by Patience when she embarked on her journey in 2006 in Brussels. Patience Torlowei BVBA specialises in bridal wear.
Recognising a need for wedding lingerie, Torlowei expanded its offerings in 2008. TORLOWEI's creations have adorned dignitaries like the Ghanaian First Lady, Mrs.   Rebecca   Akufo-Addo,   and notable figures such as DJ Cuppy Otedola, Naomi Campbell, and many more.
Celebrities at the 2023 Lagos Fashion Week
The Lagos Fashion Week 2023 wouldn't have been complete without the attendance of some significant players who added to the glitz and glamour of the dazzling event.
Legit.ng compiled the names of renowned personalities who strutted the runway at the Balmoral Convention Federal Palace Hotel.
BBNaija Neo and Shaffy Bello, amongst others, graced the runway alongside professional models.
Source: Legit.ng