Video of Fashionista Kids Sparks Mixed Reactions: "This Feels Wrong"
A video of a group of kids dressed in stylish ensembles has sparked reactions among social media users
In the video, each little boy is seen sporting a glamourous street-style look, making them appear mature in a cute way
Several internet users who saw the post have taken to the comment section to share their thoughts
While many people continue to kick against the trend of kids being dressed up in adult clothing, there are those who are big fans.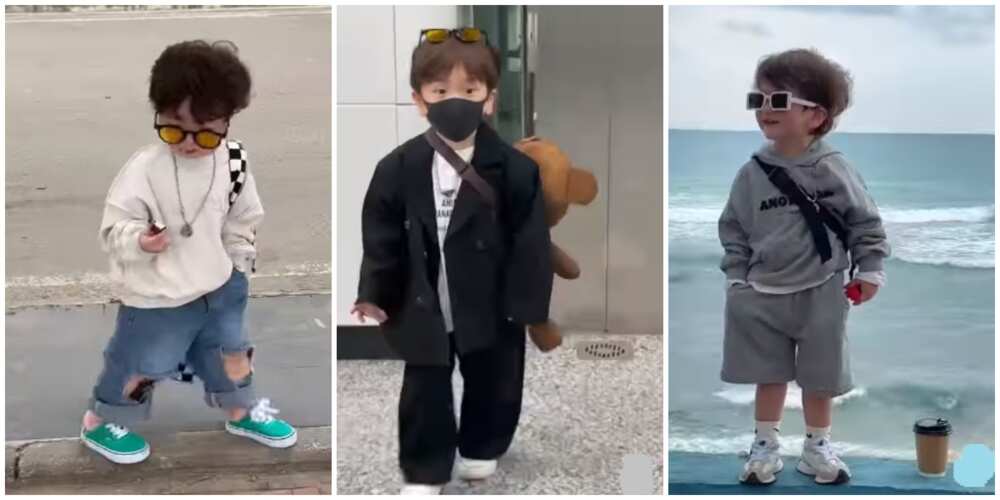 Fashion blogger, @lessiwore, recently got social media buzzing after a video was shared on their page.
In the video, little boys of around 3 or 4 years are seen on the street dressed in swaggy ensembles featuring dapper sunnies, baggy pants and stylish sweatshirts.
Check out the video below:
Internet users condemn video of kids in fashionable clothing
ralphhusher:
"Correction : "Kids dressed like adults". It's a very different thing from well dressed kid in general. Also it's a bit toxic unless it's purely for the lol."
carlamama4:
"Leave kids alone…"
nihilisticz:
"Kids are not props for Instagram likes or internet notoriety. Very sad."
youu_cef._:
"It just feels wrong, they should dress their age."
yisraelsamson:
"Fits hard but let them kids be kids."
thedulcebony:
"Let your kids express themselves and not be a ctrl c + ctrl v of yourself."
Netizens applaud kids dressing
However, there are some who defended the children's outfits.
solomon_burchell:
"Stop complaining everyone he looks happy and it's not like the clothes are uncomfortable you snowflakes."
desmondahr:
"Whether the kids outfits are well put together or not, their parents are still picking their clothes. So y'all saying "let kids wear what they want" is dumb asf. This is not abuse y'all are just weird asf."
nabeelx:
"its just clothes.. u guys have gOT to stop having aneurisms over social media posts.."
shantiflow:
"What's wrong with kids looking stylish and not childishly shabby, because kids clothes aren't always cute.."
Video of Laura Ikeji's N648k designer t-shirt that got people talking
Laura Ikeji may be a lover of all things fashion and style but she is undoubtedly a straight-talker who is not afraid to call out others and be called out too.
The fashionista brand influencer took to her Instagram Story to share a video in which she showed the Prada shirt she recently bought.
According to the mother of the two, the black t-shirt from the fashion house cost her a staggering £1,140 which is about N647,686 when converted.
Source: Legit.ng