My Bouncers won't Let Her in: Video of Wedding Guest in White Dress Sparks Mixed Reactions Online
Not so many people are thrilled about a lady's decision to wear white for a wedding she recently attended.
While the rule is considered flexible and has been broken by numerous people, the idea that a guest shouldn't wear white for a wedding appears to have been created for good reasons.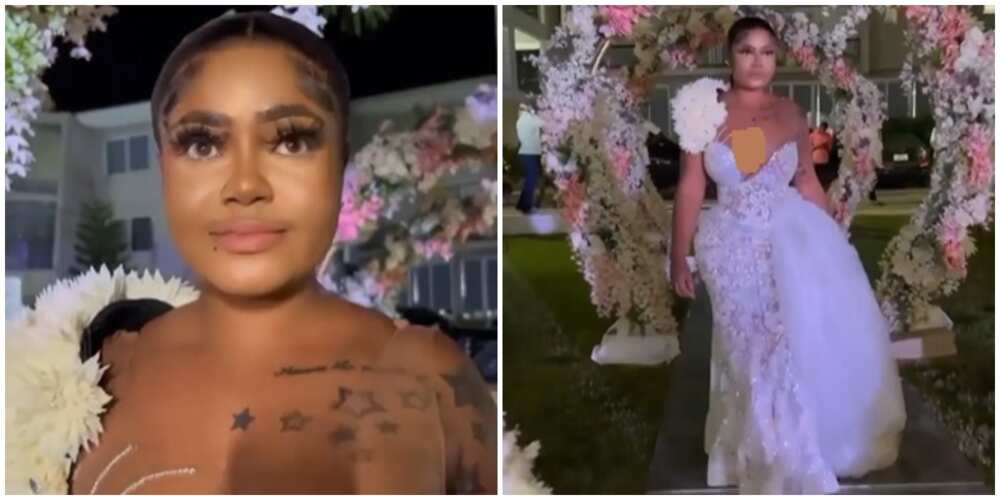 Just recently, a video of a lady at a wedding ceremony sparked mixed reactions on social media.
In the now-trending video shared via @asoebi_styles, the lady is seen dressed in a gorgeous mono strap lace dress with a deep sweetheart neckline.
However, that is not all there is to the look. The lady went a daring step further to add a train to the dress, making it stand out and share an interesting resemblance to a bride's look.
Watch video below:
Reactions
As expected, several people took to the comment section to voice out their displeasure, expressing what they'll do if they were in the bride's position.
ms_adunni:
"My bouncers wouldn't even let her into the venue....so no shaking for me."
niphemmy20:
"Maybe na u Dey do wedding u go tell me."
gildedyogi:
"My bouncers know what to do"
agboola_dammy:
"Well, bride must have known her kind of friends before inviting them. So no biggie nau."
omonigho655:
"She go stay outside o, I nor understand"
i_am_chinwe:
"Sha don't dress like this to my wedding. "
favour_timbowei:
"Aunty you for wait for own wedding day ooo shuooo , thought she was the bride no wonder bread dey ground "
ogbarsy:
"She must do her wedding that night oo, let's know that we have two brides "
vhickhy_shur:
"Thought she was the bride ooo"
monisolahh:
"Please where is the bride? Because it seems people are now moving M*D now ontop another another person's wedding"
vellous_food:
"This one na the groom ex girlfriend..I'm sure of it"
Asoebi fashion fails
Every weekend promises the thrill of wedding parties and the likes filled with beautifully dressed ladies in their various asoebi outfits. However, not everyone tends to impress people with their looks.
A while ago, Legit.ng had top Abuja fashion stylist, Opeyemi Mimi Ogunbowale, share tips on how to look classy at weddings without revealing too much.
Well, if the comments on these trending photos are anything to go by, it appears there are some people who didn't get the memo - or are simply living by their own rules.
Source: Legit.ng