"You've to Take My Permission": Yul Edochie Viciously Drags 2nd Wife Judy Austin Out of His Car in Viral Clip
It has been nothing but chaos recently between Yul Edochie and his second wife, Judy Austin, as yet another clip of the young couple engaging in a heated argument goes viral
The latest clip posted online by Yul showed live how Yul stopped Judy from taking his car out; the fight got quite physical as the actor was seen wrestling his keys from his 2nd wife
During their heated argument, Judy could be heard saying to her husband that something had changed about him, asking when it became a thing for her to ask for permission to use his car
It seems the issues between Yul Edochie and his second wife, Judy Austin, aren't set to die anytime soon.
The latest instalment of their face-off saw the pair get into a heated exchange that nearly became physical as Yul Edochie practically dragged Judy out of his car.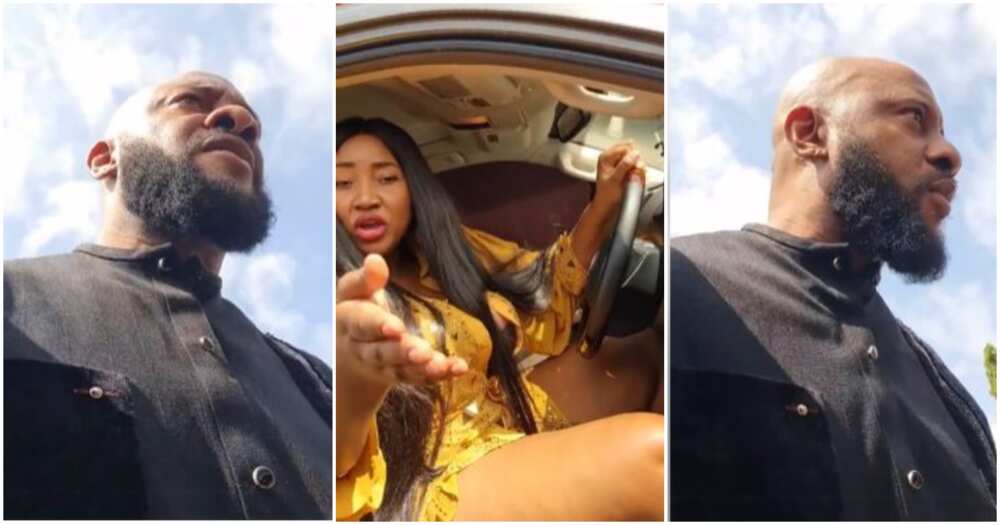 During the exchange, Yul could be heard telling his wife, Judy, never to take his car keys without permission while stopping her from going out with his SUV.
At some point in the 5 minutes long video Judy could be heard begging Yul while noting that he had completely changed his attitude towards her.
Watch an excerpt of the clip below:
Watch the full video of the heated exchange between Yul Edochie and Judy below:
See the reactions the viral clip stirred online
@jollyvikky:
"Now the issue is, even if they are having issues, we won't know because people will see it as content until we hear that they break each other's head someday before we start taking them serious, I feel someone close should reach out to them to let them know the impact of what they are doing online."
@thegemchemist:
"Now you see the impact of different women in the life of a man. Men choose wisely."
@joy__omotayo:
"It's the way each of them are readily alert with their camera for each scene the hustle is real."
@yo.niq_:
"Una no even rate us , are we that jobless that you guys think we'll watch your useles* contents ?? What is this."
@beeorlar32:
"Different women,different outcome.Yul went from that high to this low…Imagine a grown man/father going this low just for views."
@cleopatracedar__:
"This is one content that's paying on facebook,am ashamed upon all his level he succumbed to that!,they know pple will be so happy to hear they're having problems,they decided to use it to their own advantage to generate lots of money from facebook….Shameless pple."
@itz_sunshinee:
"From odogwu to odikwa ka odi."
@glamlooksbyife:
"Is it a reality tv? Let us know now o ehnehn."
@Chi'sJeannyBlog:
"I love this, please Judy return Odogwu's car to him cos he has to go to the location. Yul, chase after her o."
@kattygold:
"keeping up with Yul and Judy episode 10."
@OluchiLloydTV:
"I understand that both of you need new house as May win the mansion."
Yul Edochie and Judy Austin release part 2 of their "fight" video, netizens blast them
Meanwhile, Legit.ng recalls reporting that Nigerian celebrity couple Yul Edochie and Judy Austin are trending for the umpteenth time over their recent social media post where they were seen arguing.
In the video posted on Yul's official Facebook page, the controversial couple were seen engaged in a heated argument.
Yul was heard behind the camera complaining about how fed up he was as he threatened to do something Judy would not like. On the other hand, his actress wife also told him to do his worst.
Source: Legit.ng