Davido's Lawyer Dragged for Preaching Against Election Violence After His Dad Told Non-pdp Voters to Stay Home
Top Nigerian singer, Davido's lawyer, Bobo Ajudua, took to social media to react to the just concluded election and he caused an online buzz
Bobo heavily condemned the violence and admonished people to block people who supported the attacks
Netizens were quick to dig up a video of his father warning none PDP voters to stay at home in Delta state
Popular Nigerian singer, Davido's lawyer, Bobo Ajudua, has been called out on social media after he preached against electoral violence.
After the concluded gubernatorial elections in the country, Bobo took to Twitter to express his displeasure at the violence that went down.
According to him, the concluded election has been the most shameful one he has witnessed since he started following politics. He added that the violence as well as the people supporting it should be condemned.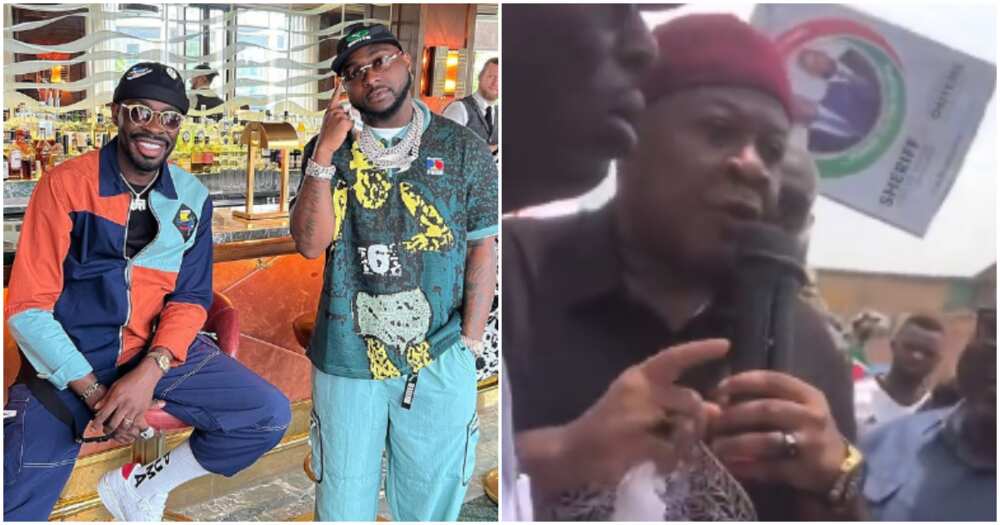 He wrote:
"Most shameful elections batch since I started following politics. What we can and should agree on for a start is that anyone unable to condemn or supporting any of the violence that's gone on, we should be blasting them and ready to leave them 'friendless'. No matter their party."
Not stopping there, Bobo added that the people who supported electoral violence should be blocked so that they feel the personal effects and get the message.
In his words:
"Blast them and block them etc. Yes, many of these practices are not new and are systemic, but trust me they'll get the message and go and give feedback to their principals. Only when they feel the personal effects of all that's transpiring, they'll start to get it."
See his tweets below:
However, some netizens were quick to point out that just a few days ago, Bobo's father, Barr. Fred Ajudua, had come out to tell people in Delta state that if they were not voting for PDP, they should not come out to vote.
See some of their posts below:
Social media users react as some netizens blast Bobo Ajudua over his dad's statement
Following the exchange between Davido's lawyer and the people who reminded him of his dad's statement about non-PDP voters, some other netizens shared their thoughts. Some of them noted that Bobo is not his father.
Read some of their comments below:
meenahofbeautypro:
"There's nothing wrong in what he said!!! Obviously he's not his father and he's saying nothing but the fact ✌️."
thatslimchef:
"Is he his father?? ."
kwueenie:
"He has a right to his own opinion. He isn't his father."
yes_we_can_cook:
"May we not bring shame to our children in Jesus name Amen."
clear_lifestyleblog:
"But he's a grown man and can chose his own path. He probably does not share his father's sentiments."
_sueldelioness:
"He is not his father. He said what he said…and what he said is different from what you are pointing out. Underline the word violence. Violence and convincing people to vote your candidate with words of the mouth are two different things."
omah_leeautos:
"At least he is a lot better than Mc O's kids. If his father is doing wrong, and he chooses to do right, why should he be judged because of his father?? Look at how Mc's Kids insulted everybody. At least this gentleman is empathetic and has a mind of his own. Love and light."
Funke Akindele breaks silence after losing gubernatorial election
Nollywood's Funke Akindele and every opposition party lost to the All Progressives Congress candidate in Lagos, Babajide Sanwo-Olu.
Hours after the declaration of the winner, the actress took to her page with an official statement expressing gratitude to her supporters.
Akindele noted that it was an insightful experience for her as she learned and unlearned new things. She added that she does not regret taking the huge step of running for office, and she put up a good fight.
Source: Legit.ng