"He Who Finds a Good Wife": Banky W Gushes Over Adesua As She Joins Campaign, Actress Sings, Dances With Women
Banky W's decision to delve into politics was not exciting news for his wife, Adesua Etomi
The musician-turned-politician in the post thanking his wife noted that she hated politics, especially the dirty and dangerous kind in Nigeria
The couple did a lot of talking and praying, then the actress agreed, and she has been supportive of Banky's every move
The politician urged people to thank his wife on his behalf as the video he shared showed her dancing and singing with women during Banky's campaign
Banky W couldn't help but gush over and praise his wife, Adesua Etomi, for being a great partner as well as his support system through his campaign.
The singer-turned-politician is vying for a seat in the House of Representatives for the Eti Osa constituency in Lagos.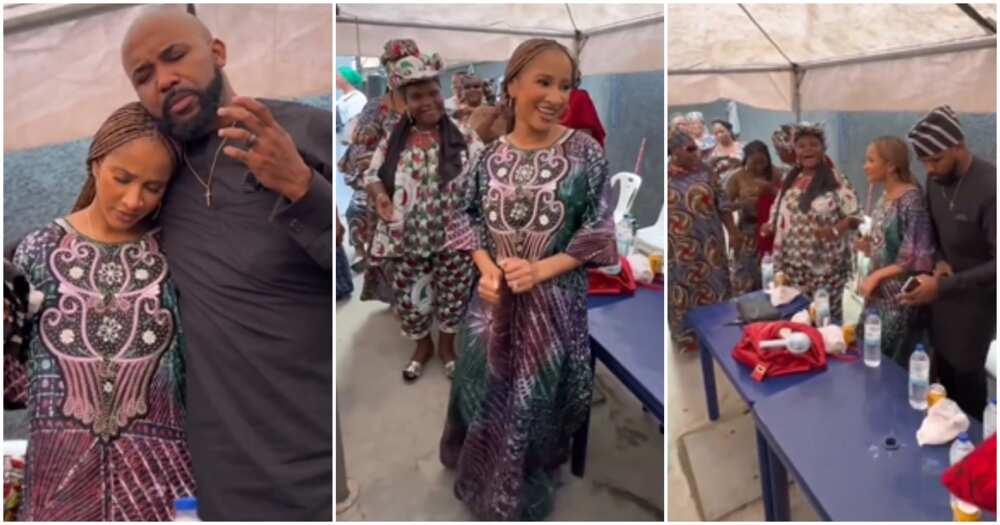 Banky W writes beautiful post to thank his wife
In a beautiful post on his page, Banky revealed how Adesua initially kicked against his running for office because she sees Nigerian politics as dangerous and dirty.
The actress who hated politics disclosed that she knows her husband has the love of the people at heart, but she doesn't want anything to soil or harm him.
After praying and talking over time, Adesua eventually agreed and Banky had not just his wife's blessing, but her unwavering support as well.
In the video that accompanied the post, Adesua was seen with Banky and his team as they campaigned in Eti Osa.
The actress danced, sang, and was warmly received by some women who pledged support for her husband.
His post read:
"Susu always hated politics... So when I began talking about the burden I had to run for office, I'm sure you can imagine how she felt. She said "Banky I know you, and I know your heart... and if you're given an opportunity, I'm sure you would do a great job and make a difference... BUT politics in Nigeria is dirty and dangerous. And I don't want anything to soil you or harm you."
"There's no way I'd have been able to do this without Susu. So today please take a moment to help me say thank you to Mrs W. My friend and lover. My personal person and purpose partner. Thank you Shuga. Thank you for everything. I love you, and I'm grateful to God for you."
Watch the video below:
Netizens react to Banky's post
keturah_king:
"He who finds a (good) wife, finds a [beautiful] thing and obtains favour from the Lord."
iamenado:
"Awwwww. Bless. May God continue to hold you both down. Amen ❤️❤️❤️"
yomicasual:
"Honorable Banky ✔️"
akinalabi:
"Proud of you for taking the bold step. The "urge" to participate and contest is like a calling you cannot run away from. It's like when God calls someone to become a pastor. You can run but you can never hide. Despite the physical, mental and financial challenge, the calling keeps you going."
theonlychigul:
"My Humans❤️❤️❤️❤️❤️ @adesuaetomi Susu God bless you real good."
therealrhonkefella:
"As you both hold yourselves down! May God hold you both together, strengthen your bond and grant you overall success."
Banky W cries out against destruction of his political posters
In an earlier report, Banky W raised concerns about his political posters being ripped out from the locations they were mounted.
The politician took to his social media account to share a video that showed touts destroying his posters around an unidentified bridge in Lagos state.
Mr Capable believed it was an agenda from his political rivals.
Source: Legit.ng