"Nigerian Youths Need to Do Better and Make Their Voices Heard," Frank Donga Talks About 2023 Elections
Ace Nigerian comedian Frank Donga recently joined his colleagues who have aired their opinions about the forthcoming 2023 elections
Frank recently had a conversation with Legit.ng where he shared his thoughts about the presidential elections, and who he would be supporting
During the chat, Donga also spoke with us about his career, favourite food and the creative process for most of his content
Famous actor, skit maker and comedian Kunle Idowu, better known by his stage alias Frank Donga recently spoke to the hearts of many Nigerian youths as he demanded that they make their voices heard at the next elections.
Frank Donga made this clarion call of the Nigerian youths during an interview with Legit.ng's Oke-Hortons Nosa.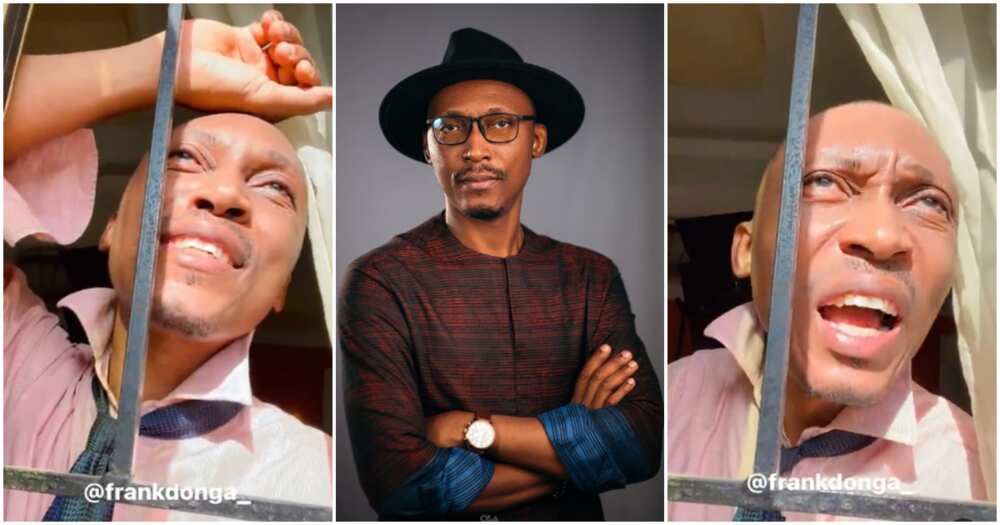 The comic, during the exchange, noted that if the Nigerian youths don't take a stand now, they might not get the opportunity to make a more defined one later.
Frank Donga spoke about his upcoming international collaboration with an Israeli film director and revealed his love for Amala, which he said he could eat at 2 am.
PAY ATTENTION: Follow us on Instagram - get the most important news directly in your favourite app!
"More young people need to participate in governance" - Frank Donga says
"First of all, I think more Nigerian youth, professionals, and entertainers need to participate more in politics and encourage their audience to participate more in election processes because the only legitimate way to put who you believe in, change the country and develop it, is through elections."
He continued:
"Over the years, you've seen a lot of young people get discouraged and get pessimistic about participating in electoral processes, and arguably understandable. A lot of people show election apathy because they feel their votes don't count and even when they trust someone when they get there, most times they disappoint the people, but we can't give up."
Frank also discussed the need to hold elected leaders accountable more to their campaign promises. He touched on the need to create an office of the citizens that can closely monitor the activities of elected leaders in government.
Kunle noted that this singular act would help keep elected leaders on their toes once they know they're being watched. He then revealed who he would endorse and support to be president of Nigeria and governor of Lagos state.
"As per who I want to be president, I endorse any good person that is physically, mentally, academically and creatively sound to take the country forward. That's all I would say on an endorsement."
"I am currently writing a movie with an Israeli producer," Frank Donga reveals
After talking about politics, Frank Donga also shared his creative routine and what he has been up to recently.
He said:
"I am currently writing a movie with an international filmmaker, an Israeli. It is an international collaboration. However, that's all I would want to share; I won't want to let the cat out of the bag."
Kunle then shared with us his favourite food and why, even though Pounded Yam is his favourite, Amala is his everyday fuel.
"Pounded Yam is my favourite food, but Amala is an everyday necessity for me, so I am usually caught in between. I don't think anyone can make a better Amala than me. I can wake at 2 am to eat Amala."
"Leaving Nigeria does not guarantee you'll get rich," Frank Donga tells followers
Meanwhile, Legit.ng recalls reporting that the country's current situation has got many Nigerians travelling to other countries in search of a better life.
Actor and comedian Frank Donga has shared his thoughts about this. In a post on Twitter, the comedian stated that leaving Nigeria does not guarantee a person will get rich.
According to him, deciding to stay in Nigeria does not mean a person is patriotic.
Source: Legit.ng