NECO Releases 2022 External SSCE Result, Gives Other Details
NECO has released the result of the November/December 2022 senior senior certificate examination (SSCE)
The council's registrar, Dantani Wushishi disclosed, that 58,012 pupils sat for English Language and 44,162 got Credit, while 57,700, sat for Mathematics and 43,096 got credit
Wushishi further disclosed that 11,419 candidates were caught in various forms of examination malpractice
Minna, Niger state - The National Examination Council (NECO) has released the result for the November/December 2022 Senior School Certificate Examination (SSCE).
Professor Dantani Ibrahim Wushishi, the council's registrar, made the announcement in Minna, the Niger state capital, The Punch reported.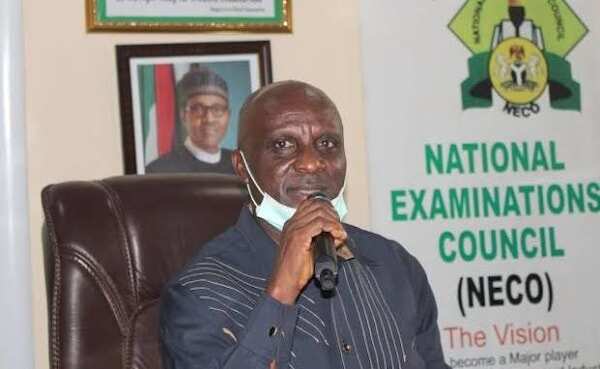 How many students pass 2022 NECO exams
The NECO chief disclosed that a total of 59,124 candidates wrote the examination. 52.96% are males while 47.03% are females.
Wushishi further stated that 58,012 students sat for English Language with a total of 44,162 of them having Credit, representing 76.13. Also, the number of candidates that sat for Mathematics was 57,700, out of which 43,096, representing 74.69%, got Credit and above.
The NECO registrar revealed that 33,914 candidates who sat for the examination got 5 Credits and above in subjects that included English Language and Mathematics, which represented 57.36% of the total candidates.
He said:
"Also 46,825 candidates, representing 79.20% got five Credits and above irrespective of English Language and Mathematics."
Latest about NECO exams in 2022
He further spoke on the issue of malpractice during the examination when he said:
"11,419 candidates were booked for various forms of malpractice is, as against 4,454 in 2021, which shows a sharp rise in the number of malpractice cases".
According to him, this is largely due to the improvement in the strategy and technique adopted by the monitoring officers.
"This led to the blacklisting of four supervisors, one each from Rivers and Plateau States and two from Ogun State for aiding and abetting as well as poor supervision," he said.
Source: Legit.ng