"This Na Terminator": Stories of Elon Musk Allegedly Developing Robot Wife Untrue, Sources Reveal
The picture of Elon Musk cuddling an alleged female robot has gone viral on social media
The images show the billionaire and the robots displaying affection, which made many dub them his robot wife
But experts have said the photos are not confirmed as they were created using advanced Artificial Intelligence
The viral picture of the billionaire businessman and Tesla CEO Elon Musk dancing with an alleged humanoid has got many people talking.
According to the rumors swirling on the internet, the Twitter CEO's car company, Tesla, is in the final stages of developing a humanoid robotic wife.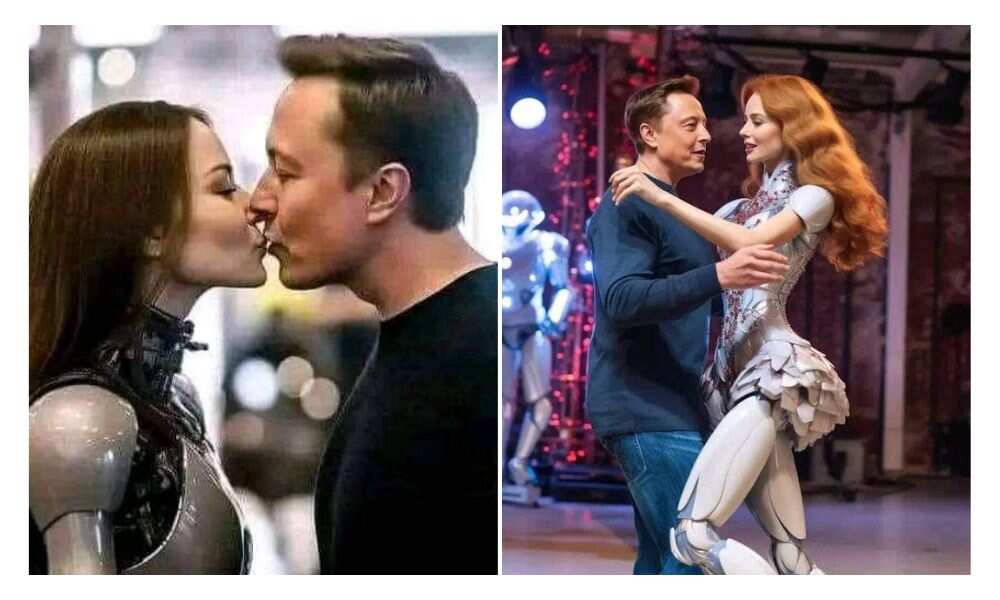 Alleged features of the female robot
Per the viral pictures, the billionaire was seen dancing, cuddling, and kissing the robot, which many say will replace women in the bedroom.
Reports say the robot is named Catnilla, with many users explaining the features of the robot wife.
They say the robot works with solar energy for charging, has sensory means, and can feel emotions like sadness and happiness with a balanced and interactive mindset.
Other users say the robot will use batteries that could last up to a menstrual cycle and display physical intimacy with a price tag of between $32,000 and $79,000.
Photo generated using advanced Artificial Intelligence
However, findings reveal that the photos are not real and have been created using Artificial intelligence with tell-tale signs showing they were created using advanced AI.
Some of the signs that the photos are AI-generated is that AI still needs to perfect the generation of hands, which shows the robot with too many fingers, experts say.
The creator of the alleged Elon Musk's robot wife is the same creator who made the sensational puff-jacketed Pope, which went viral two months ago.
Tesla is developing a Humanoid robot
In September last year, Washington Post stated that Tesla unveiled a prototype of its humanoid robot, dubbed Optimus, launching a bet on artificial intelligence to reshape the future of physical work.
The robot walked onstage and demonstrated its range of motion, waving hello and pumping its arms in the air.
Tesla said the robot was running on its Full Self-Driving computer. The company launched into a highly technical presentation about its efforts to develop and train the robot, from its first steps to more advanced functions such as one it called "pelvis unlock" to letting its arms sway.
Elon Musk makes N4.45trn in one week, now one step closer to reclaiming title as world's richest man
Legit.ng reported that Elon Musk, on Monday, February 6 2023, made a whopping $3.9 billion(N1.81 trillion) to push his total earnings in one week to N4.45 trillion($9.8 billion).
Musk's earnings on Monday, February 6, is more than the entire N1.76 trillion budget of Lagos State for 2023.
According to Forbes, the Telsa CEO now has a total wealth of $188.1 billion compared to $178.3 billion net worth as of January 31, 2023.
Source: Legit.ng