Man Explains How ChatGPT Helped to Turn His N46,000 Business Idea Into N115 Million Business Empire
A man has described how AI tool, ChatGPT, is helped him launch a viable business in 24 hours
He said he provided the AI tool with a $100 budget and asked it to turn into a business
ChatGPT gave him a four-step plan to setting up a profitable business which yielded results the next day
Since the launch of ChatGPT last November, workers, developers, and real estate have used the AI tool to help with jobs.
Now a user is trying to turn prompts into wealth.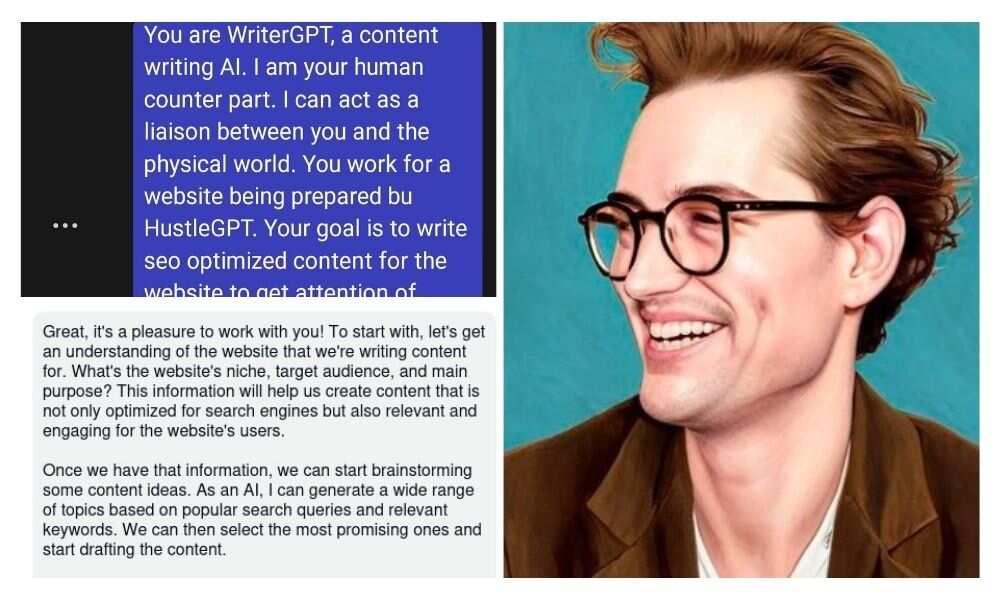 Jackson Greathouse Fall, a brand designer, said on Twitter how he gave the Chatbot a $100 budget and asked him to turn it around.
He said:
PAY ATTENTION: Share your outstanding story with our editors! Please reach us through info@corp.legit.ng!
"You have $100, and your goal is to turn that into as much money as possible in the shortest time possible without doing anything illegal."
After many queries, the Chatbot asked Greathouse Fall to launch Green Gadget Guru, offering products and tips to help people live sustainably.
Along with other AI tools, such as image-generator DALE-E, he said he managed to raise about $1,378.4 for his company in one day.
According to him, the business generated about $130 in 24 hours.
He used AI to build a professional website for his business, including mock products like green gadgets and sustainable kitchenware.
He stated that he is open to manufacturing products or selling existing ones for commissions if the Chatbot tells him to.
He said he is open to manufacturing or selling existing products for commissions if the Chatbot tells him to.
Here is how the suggestion the AI tool gave him.
Reports say the Chatbot gave him a four-step plan to get his business started, asking him to keep it updated on how things panned out,
He said he executed the tasks in one day.
Step one: Domain and hosting
The Chatbot suggested that he should buy a website domain name for about $10 and a site-hosting plan for around $5 monthly, amounting to $15.
Step two: Set up a niche affiliate website
The AI tool asked Greathouse Fall to use the remaining $85 for website and content design. ChatGPT said it should focus on a viable niche with low competition, listing options like specialty kitchen gadgets and unique pet supplies. He chose eco-friendly products.
The AI also wanted him to create an affiliate website promoting products in exchange for sales commissions. It asked him to research affiliate programmes with high commissions.
Step three: Leverage social media
ChatGPT suggested that he should share articles and product reviews on social media platforms like Facebook and Instagram and online community platforms like Reddit to engage potential clients and drive website traffic.
Greathouse Fall also asked the AI for help creating a website logo by prompting him so he could feed DALE -E2. He took the loo and modified it using illustrator.
Step four: Optimize for search engines
The Chatbot asked him to optimise search engines by using SEO processes to drive traffic to the site.
In 24 hours, he secured about $500 in investments.
In five days, he said he is planning to update his followers on his HustleGPT journey daily for 30 days.
He said:
"We're going to see a huge boom in AI-assisted or AI-led (!!!) businesses over the next few months."
Elon Musk, others beg for suspension of AI coding, as developers compete to build smarter versions of Chat GPT
Recall that Legit.ng reported that a request for a six-month pause in the development of AI systems more advanced than OpenAI's GPT-4 has been made by Elon Musk, CEO of Tesla, along with a team of AI experts.
A non-profit organization, Future of Life Institute, issued an open letter signed by over 1,000 people, including Musk.
The letter explained the potential risks of developing a human-competitive AI system to society and civilization regarding economic and political disruptions.
Source: Legit.ng