Dangote Loses N66.2bn, Drops in Billionaire Ranking as Zuckerberg Makes First 10 Richest Men in The World List
Meta CEO, Mark Zuckerberg is now the 10th richest man in the world
Zuckerberg, whose net worth is estimated to be close to $100 billion, rebounded for most of 2023
Aliko Dangote, however, dropped four places in the billionaire ranking after losing about $143 million in 24 hours
Meta CEO Mark Zuckerberg is now ranked as the 10 wealthiest men in the world after gaining over $50 billion in 2023 to see his net worth skyrocket to almost 100 billion, according to Bloomberg Billionaire Index.
Reports say the Facebook founder earned about $10 billion after laying off thousands of staff in an industry-wide shake-off.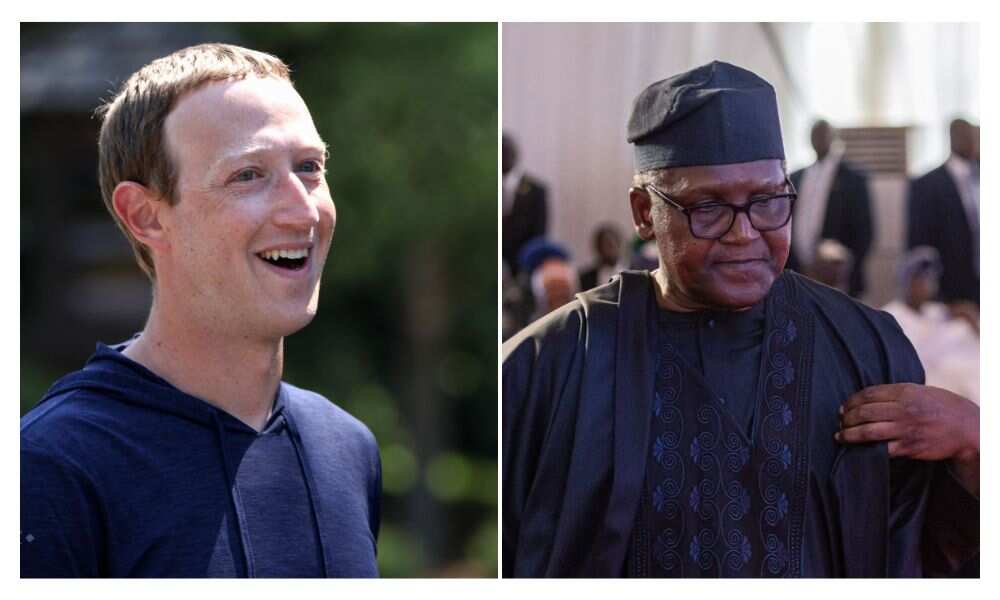 Zuckerberg to fight for top 5 richest men in the world
Zuckerberg bounced back from being the 26th wealthiest man in the world he occupied for most of 2022 to the new ranking, placing him below Google founders Larry Page and Sergei Brin, who are worth $112 billion and $106 billion, respectively.
Analysts predict that the Meta CEO is positioned to comfortably fight for the top five wealthiest men in the ranking.
Meta has reportedly faced turbulent times, thanks to the ill-fated metaverse project, which experts say poked deep holes in the company's pocket, losing investors' confidence.
The rebounding Zuckerberg's net worth signals rejuvenated investors' optimism in Meta shares which traded at $273.2, above the electric car maker Tesla, owned by Elon Musk, whose shares traded at $207.52, a 1.76 increase.
Dangote loses billions, drops in billionaire ranking
Meanwhile, Nigeria's richest man, Aliko Dangote, dropped to the 76th position in the Bloomberg Billionaire ranking released on Thursday, June 1, 2023.
The chairman of the Dangote Group dropped four places from the 72nd position he held for a day after a massive leap on Tuesday, May 310, 2023, and Wednesday, May 31, 2023.
Dangote also saw $143 million, about N66.2 billion, slashed from his net worth.
Africa's richest man is now worth about $21.1 billion from the $21.2 billion recorded on Wednesday, May 31, 2023.
Dangote Cement's share price remained unchanged on Thursday, June 1, 2023, trading at N290 per share. However, it witnessed low investor confidence as the market thawed following a charged week when the Nigerian Stock Exchange broke its record, gaining over N5 trillion.
Analysts say the new investors' optimism is buoyed by renewed confidence in the Nigerian economy following a successful change of government in Africa's biggest economy.
Elon Musk reclaims world's richest man title, Dangote now ranked 72nd wealthiest in the world
Legit.ng reported that Tesla CEO Elon Musk had reclaimed the world's richest man title from the French luxury merchant Bernard Arnault.
Musk, who earned over $1 billion in the last 24 hours, dethroned the Frenchman after occupying the second spot for over six months.
The Twitter CEO saw the shares of Tesla roar to trade at about $203.93 on Wednesday, May 31, 2023, to shore up his net worth to about $192 billion, while Arnault moved to the second position at $187 billion, having lost $5 billion in the last 24 hours.
Source: Legit.ng