Naira Value Falls to Lowest Level in History Against Dollar at Official Market, and It Could Get Worst
Nigeria's currency has dropped to its lowest level against the US dollar at the official market
Naira depreciation comes amid rising demand for the dollar by importers and Nigerians relocating
Foreign reserves, which are used to satisfy demand, have also decreased, dropping by $1.53 billion in 2023
The Nigerian currency has hit a major low against the US dollar at the official market, and from all indications, the situation may worsen in the coming days.
Data from FMDQ securities, the platform used for tracking the performance of the local currency in the official forex window, shows that on Monday, April 1, 2023, the Naira was valued at N463.50 per dollar.
This marks a significant drop from the previous closing rate of N461.38 per dollar and is the lowest value the Naira has ever recorded against the US dollar at the official market in recent times.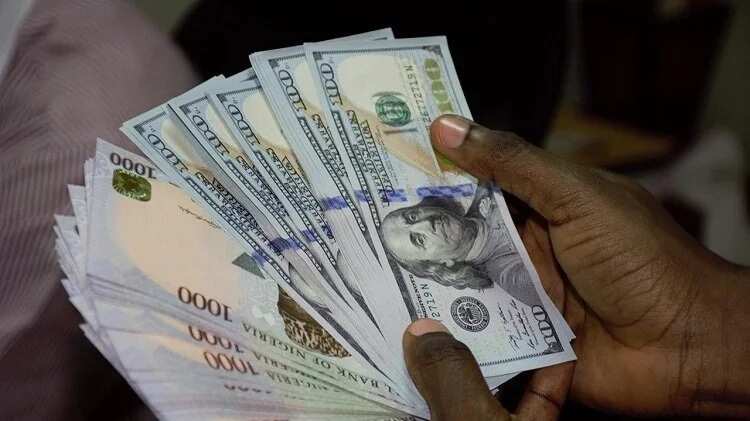 During the trading period, FMDQ data further revealed that participants such as foreign investors, exporters, and banks bid to buy dollars for as high as N466.00, indicating a lack of confidence in the Naira.
At the close of trading on Monday, April 3, a total of $175.40 million exchanged hands, representing a 6.9% or $12.97 million decrease compared to the previous session, BusinessDay reports.
Naira value at unofficial market
Checks by Legit.ng from street traders, also known as the black market, show that the Naira is exchanged for the dollar at N745 when buying and N735 when selling.
Meanwhile, in the Peer-2-Peer (P2P) arm, the domestic currency trades at N760-N770, depending on the online platform.
Why is the Naira dropping in value
There has been an increase in the demand for foreign currency from Nigerians travelling, importers, and investors looking to export their earnings.
Legit.ng had earlier reported that many foreign airlines now prefer to sell their tickets in dollars to Nigerians because of rising trapped funds.
However, the Central Bank of Nigeria (CBN) continues intervening across the various FX windows. As a result, Nigeria's external reserves have decreased to $35.53 billion compared to $37.06 billion as of January 3, 2023.
The drop in reserves is not good news for the Naira as it could mean more pressure and no firepower to defend from the CBN.
Banks release names of customers using fake visas to buy cheap dollars for resale
Meanwhile, in compliance with CBN directives, 10 Nigerian banks have revealed the names of customers buying cheap dollars to resell on the black market likely.
In a circular in July 2021, CBN directed banks to publicise the identities of persons who engage in such behaviour and to restrict them from obtaining currency in the future.
The massive gap between the black market and the official rate has further created a market for some unscrupulous Nigerians to profit from
Source: Legit.ng