Dangote Leads Forbes' List of Black Billionaires in the World, Alakija Falls Off, Oprah Winfrey in
Nigeria and Africa's richest man, Aliko Dangote, has remained the wealthiest black man in the world
The latest list contains three Nigerians and one woman and is dominated mainly by Africans.
However, as Oprah Winfrey has her hat on, Nigeria's Lola Alakija is conspicuously missing from the list.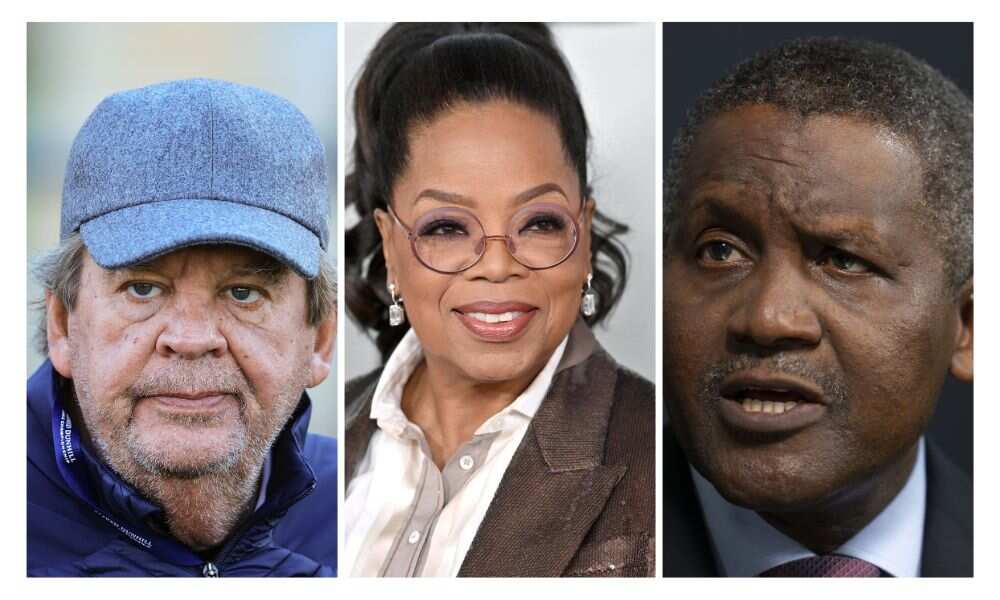 List dominated by Africans
There is a vast wealth between the rich black and whites which has remained over the years, despite the fight against racial inequality.
The number of black billionaires in the world remains abysmally low.
Surprisingly, according to Forbes, the list of black billionaires is dominated by Africans led by Nigerian industrialist Aliko Dangote who has kept a firm grip on wealth for the past 12 years.
The only female billionaire in Nigeria, Folorunsho Alakija, appears to have disappeared from the list of top black billionaires as America's talk show host, Oprah Winfrey, remains one of the world's richest black women.
Aliko Dangote- $13.5 billion
The business mogul is the wealthiest man in Africa and the richest black man in the world.
Aliko Dangote owns the Dangote conglomerate, spanning several sectors of the African economy, including refinery, cement production, infrastructure, and diversified businesses.
His refinery project will be commissioned in 2023 and produce about 65,000 barrels of refined petrol to feed Nigeria and Africa.
Johann Rupert- $10.7 billion
Johann Rupert, a South African billionaire businessman and the owner of luxury goods firm Richemont, Africa's second richest man.
The son of the founder of Richemont, Johann inherited a vast wealth which included the Rembrandt Group.
He led the Group to become a leading player in luxury goods with portfolios in some of the world's most renowned brands.
Robert F. Smith-$8 billion
The American billionaire and investor was born in Colorado in 1962 and is the founder and CEO of Vista Equity Partners, a private firm specialising in investing in software firms.
After graduating from Columbia Business School, he founded Vista Equity in 2000 and worked in companies such as Goldman Sachs and Craft General Foods.
Abdulsamad Rabiu- $7.6 billion
The Nigerian business mogul is Dangote's closest rival in Nigeria, with a vested interest in cement, Sugar, and food.
He is the Chairman of the BUA Group, a conglomerate operating in Africa's real and commodities market.
He founded the BUA group in 1988 as a trading company and has since branched into other segments of the African economy.
Nassef Sawiris- $7.3 billion
The Egyptian billionaire business mogul owns Orascom Construction, an engineering firm in the Middle East and Africa. He is the owner of Lafarge Holcim, a multinational building materials firm.
Orascom Construction has grown under his leadership as Africa's largest construction firm, operating in over 25 countries.
Mike Adenuga- $6.3 billion
The billionaire telecoms and oil mogul founded one of Nigeria's leading telecommunications companies. He owns Conoil, a Nigerian oil exploration company.
Issad Rebrab- $4.6 billion
The Algerian businessman founded Cevital, an Algerian conglomerate interested in food processing, retail, real estate, and automotive industries.
He founded Cevital in 1998 and has since become of the largest private employers of labour in Algeria.
Patrice Motsepe- $3.2 billion
The South African is a mining magnate and the Chairman of Africa Rainbow minerals, a mining firm operating in South Africa and other African countries.
Morsepe also owns African Rainbow Capital, a private equity investment firm.
He is one of South Africa's wealthiest men with a net worth of about $3.2 billion, Forbes estimates say.
Mohamed Mansour- $3.6 billion
The Egyptian billionaire businessman founded Mansour Group, a conglomerate invested in the automotive, consumer goods, real estate, and industrial sectors.
Oprah Winfrey-$2.8 billion
Oprah Winfrey is the only black woman on the world's list of richest black people.
The talk show queen ran The Oprah Winfrey Show for 25 years. It became one of the top-rated television talk shows in the US, earning Winfrey a house name.
The media mogul owns Oprah Winfrey Network (OWN) and O magazine.
Dangote, others brace up as new dollar billionaires emerge in Africa in 2023
Legit.ng earlier reported that Africa is currently experiencing an upsurge in wealthy individuals, despite not having the highest number dollar billionaires globally.
Forbes reports that the continent is home to about 46 billionaires and that in the next decade, private wealth is expected to rise by 30%, with millionaires and billionaires leading the growth.
BusinessInsider says the continent has many up-and-coming billionaires with high net worth. These individuals have succeeded remarkably in various industries, including technology and real estate.
Source: Legit.ng