Aliko Dangote to Pocket N293bn From His Cement Company, an Amount More Than the Budget of 25 States
Africa's richest man will be walking home with over N293 billion as dividends from his cement company, Dangote Cement.
Aliko Dangote's cement company recorded a revenue jump of 16.96% in 2022 to hit a high of over N1.61 trillion
Dangote's dividend is more than the budget of 25 states for the fiscal year of 2023
Aliko Dangote, Africa's richest man, is set to earn N293 billion as dividends payment from his cement company.
According to the financial statement filed to the Nigerian Stock Exchange, Dangote Cement said in the year ended 2022, the company recorded N1.61 trillion in revenue.
This is a 16.96% increase when compared to N1.38 trillion recorded in 2022.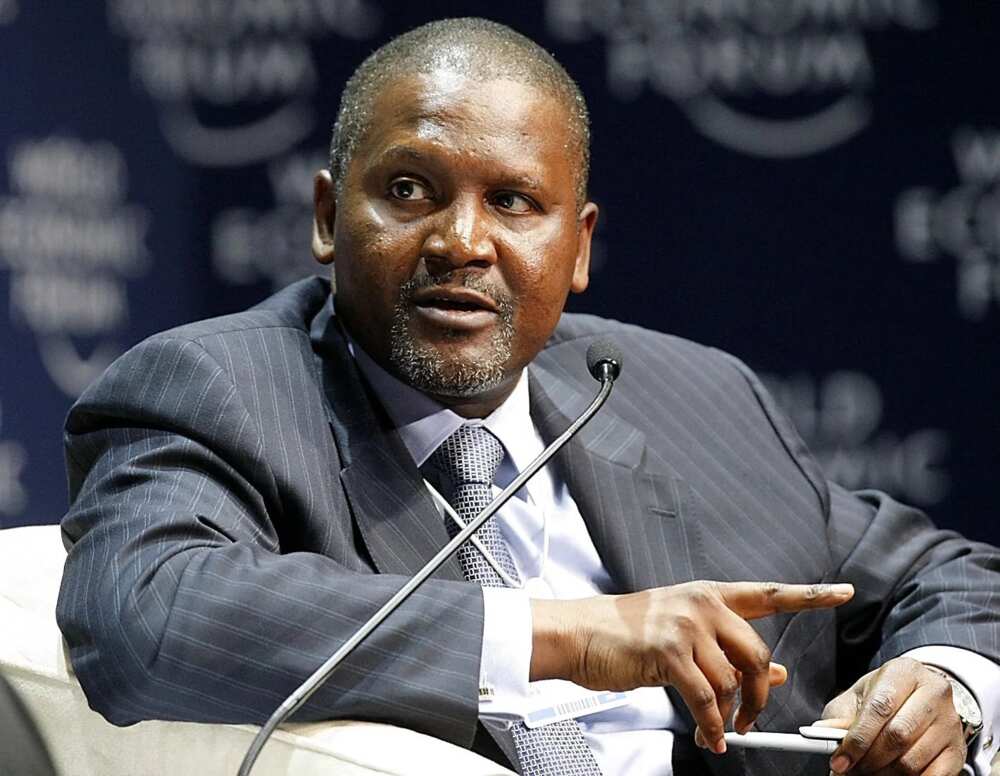 The reports also revealed that the board of Dangote Cement proposed a 20 per share on all the issued ordinary company shares as dividends for the financial year 2022.
How much is Aliko Dangote going to earn?
Aliko Dangote is the single majority shareholder of Dangote Cement Plc, one of his most profitable assets.
Dangote holdings breakdown includes direct ownership of 27,642,637 units and indirect investment of 14,621,387,610, totalling 14.65 billion ordinary shares.
With a proposed 20 per share dividends, Dangote is set to make a whopping N293 billion from his firm outstanding performance for 2022.
Dangote makes more money than 2023 states budget
With the N293 billion revenue, Dangote will be pocketing more money than the budget size of 25 states for 2023.
According to a report by DailyTrust, Dangote dividend payments is higher than the budget size of Katsina State (N289.6bn) , Ondo State (N272.7bn), Anambra State( N258bn).
Kano has a budget of N268bn, Niger State (N243bn), Borno State (N234.8bn) and Bauchi State (N202bn).
Other states, Sokoto State(N198.5bn) Kwara State(N189bn), Zamfara State (N188.8bn) , Benue State (N179.7bn).
Other states Dangote dividends is higher than include Jigawa State, (N178.5bn), Adamawa State is set to spend N175bn.
Gombe State budgeted N176bn for 2023, Taraba State, a budget of N173.2bn, Kogi State budgeted N172bn.
Kebbi State, (N166.9bn) in 2023 , Enugu State is N166.6bn, Yobe State proposes to spend N163bn.
Abia State, Nasarawa State, Plateau State, Ebonyi State, Osun State, Ekiti State all have lower budgets than Dangote's net worth.
Rabiu brothers make over N110bn in 8 hours, as company's market value soars
Meanwhile in another report, Abdul Samad Rabiu and his brother Kabiru Rabiu, who co-own BUA Foods Plc, saw their fortune grow as the market value of their firm boomed
The market value of BUA Foods, which is part of the BUA Group, increased by N119 billion due to a significant rise in the company's share price
The Rabiu brothers are the largest shareholders of BUA foods, hence the increase in the firm's market value made them over N110 billion in 8 hours of trading
Source: Legit.ng