Nigerians Stage Protest at Banks Over Scarcity of New Naira Notes, as POS Operators Cash Out Big Time
Nigerians have staged a protest at the headquarters of different banks over the scarcity of new naira notes
They expressed displeasure with the attitude of banks to the Central Bank of Nigeria's guidelines for the new Naira notes
Since the scarcity of the new notes worsened PoS operators have raised their charges for cash withdrawals
A group of Nigerians have staged a protest in front of the headquarters of various commercial banks in Lagos.
In the video making rounds on social media, the protesters accused banks of working against the Central Bank of Nigeria's redesigned policy thereby making life difficult for ordinary Nigerians.
The protest which was staged under the auspices of the Coalition of Civil Society Organizations for Good Governance (CCSGG), chanted and called for the release of new naira notes.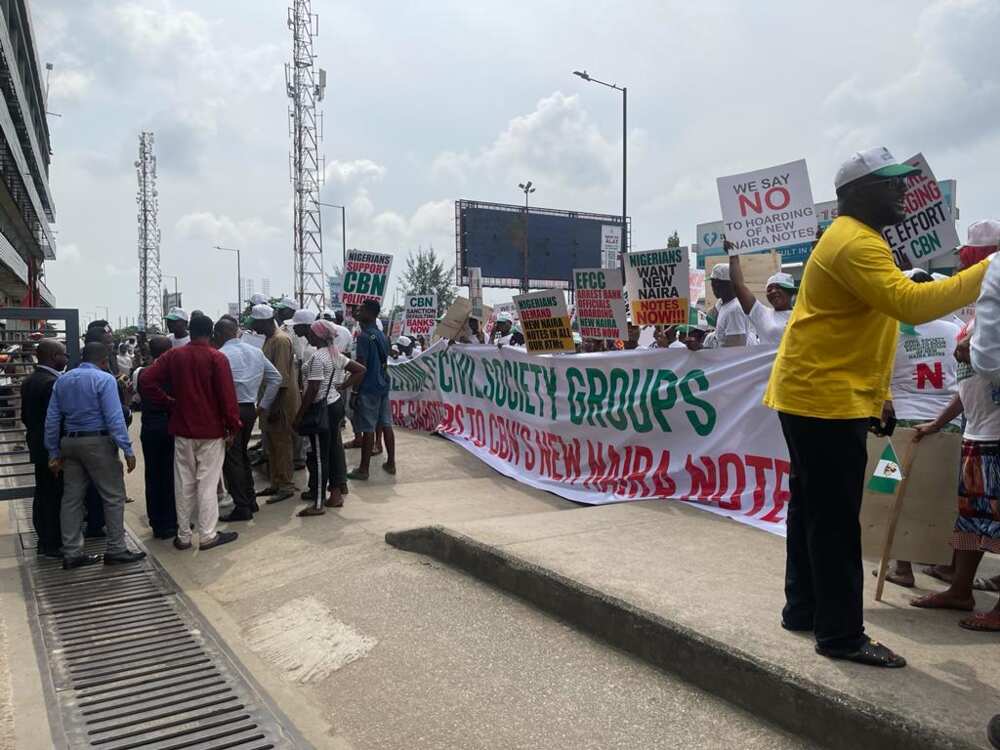 Civil society organisations accuse banks of sabotage
Etuk Williams Bassey, the president of CCSGG, who led the protest said the organisations are unhappy with how banks are responding to the CBN's new Naira notes guidelines.
Bassey said the coalition has chosen to support the CBN to make sure banks comply with the instructions from the Apex Bank.
He said:
"We gathered here today to show our unalloyed solidarity to the CBN Governor and President Buhari on the new currency note policy that has come to stay.
"From the time of the introduction of the new naira notes we have seen saboteurs working against the policy via several collaborative efforts to derail the entire process.
"We are grateful for the unreversed position taken by the CBN governor with support from Mr. President on the policy. It is on record that the last time we embarked on such policy was 19 years ago, and it can only be made possible with a determined leader as exemplified in the Governor of CBN with full support from Mr. President."
He said they will monitor the independent activities of the banks to ensure that they comply with the CBN guidelines.
"A visits to banks revealed that no new naira notes, neither is it available at their ATM machines."
"We hereby use this medium to send strong warning to the banks whose aim is to further connive with enemies of the state to sabotage this great window given for masses to do the needful"
Leadership reports that Bassy also warned that:
"They will not hesitate to shut down any bank henceforth fingered in this sabotage process."
He also called on Nigerians to take advantage of the extension and go out to swap their old Naira notes.
Customers break into bank premises
Another video showed desperate Nigerians forcing their way into a bank.
POS operators adjust prices
Meanwhile, PoS operators all over the country have adjusted their charges for cash withdrawals.
Legit.ng spoke to some POS operators around the Lagos metropolis and they all confirmed an increase in charges.
Nigerians are expected to return their old naira notes before the deadline of February 10, 2023, according to the Central Bank of Nigeria
Source: Legit.ng