Zenith Replies Customer Who Complained N4m Vanished From Her Account in a Two-Page Letter
Zenith Bank has written a two-page letter to one of its customers who watched over N4 million vanish from her account in 20 minutes
The tier-one bank insisted that there was little they could do and offered to help her recover a small percentage if she obtained a court judgment
The missing money went viral on Tuesday, January 13, with the victim captured in a video crying at the banking hall
Zenith Bank Plc has put out a two pages defence letter detailing how one of its customers, Chiamaka Agim's NN4.039 million vanished from her account.
Legit.ng had earlier reported that Agim had approached the bank questioning the debit alerts without her approval.
In a response letter signed by Anyar Ikwor, Internal Control Unit, Zenith Bank noted it can only recover a sum of N800,500 out of the missing sum.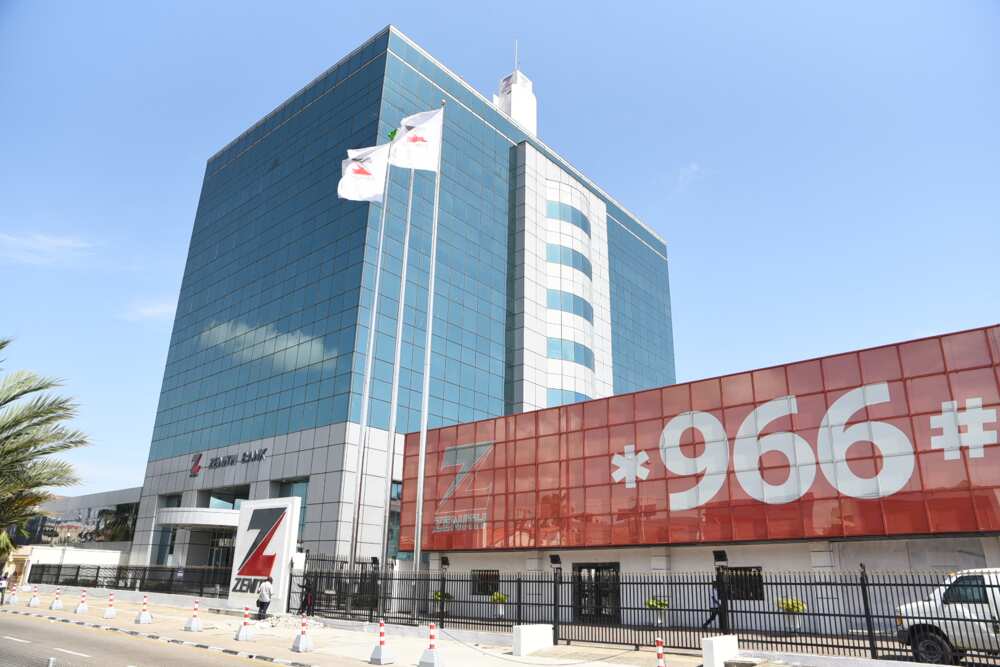 FIJ reported that Ayim was called around 6 pm on Tuesday, January 10, by a bank official who notified her during the phone conversation that the transaction was done via her e-token.
The bank official further enquired that she must have given out the token pin.
However, Ayim said she has never applied for a token nor has one linked to her account.
Zenith bank provides details of her transaction
The Zenith bank customer explained that the bank official informed her that the N4 million transactions were sent to two accounts.
N3.71 million was sent to one Isah on Monday, January 9, at 8.28 pm, the same account received another N222,900 three minutes later.
While another Abdulraham Sani received N102,000 15 minutes lateR at 8.48 pm.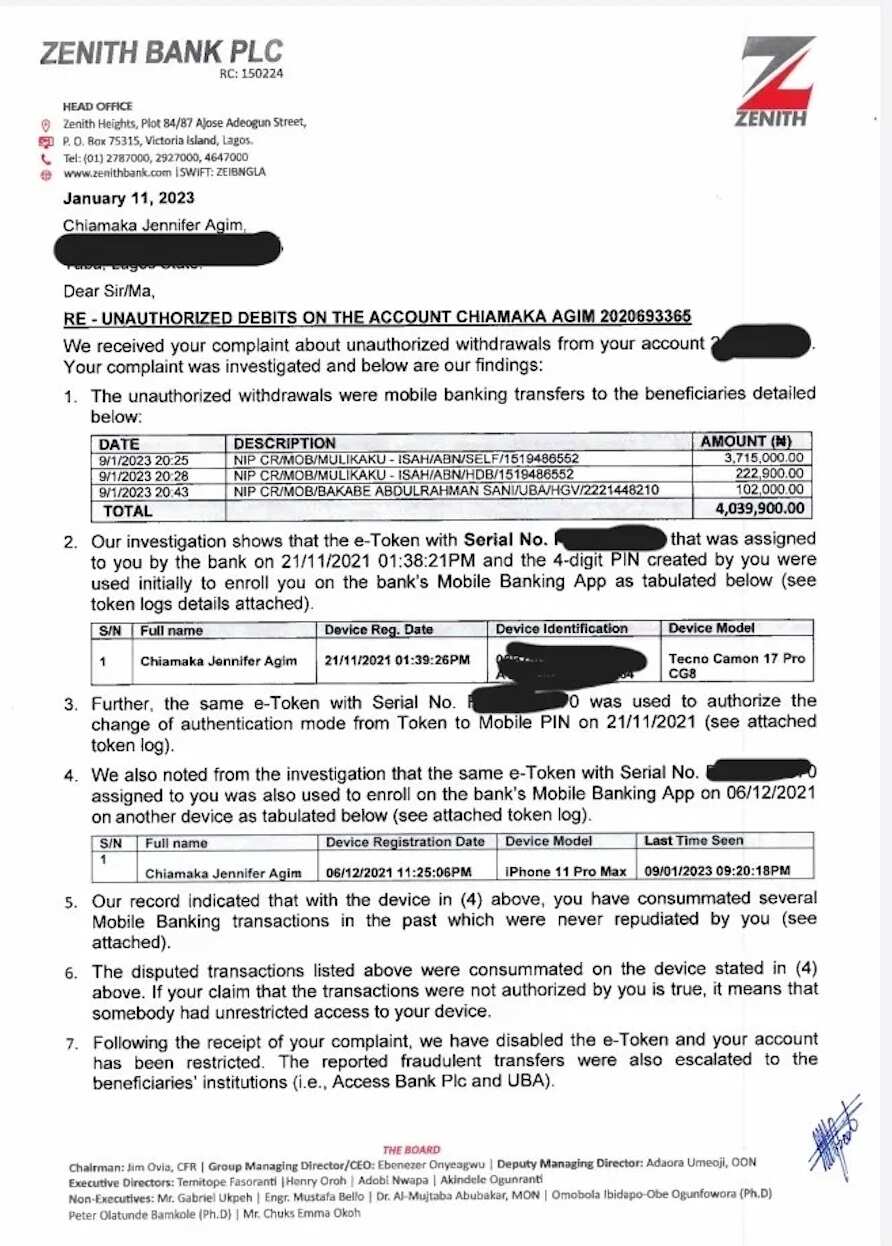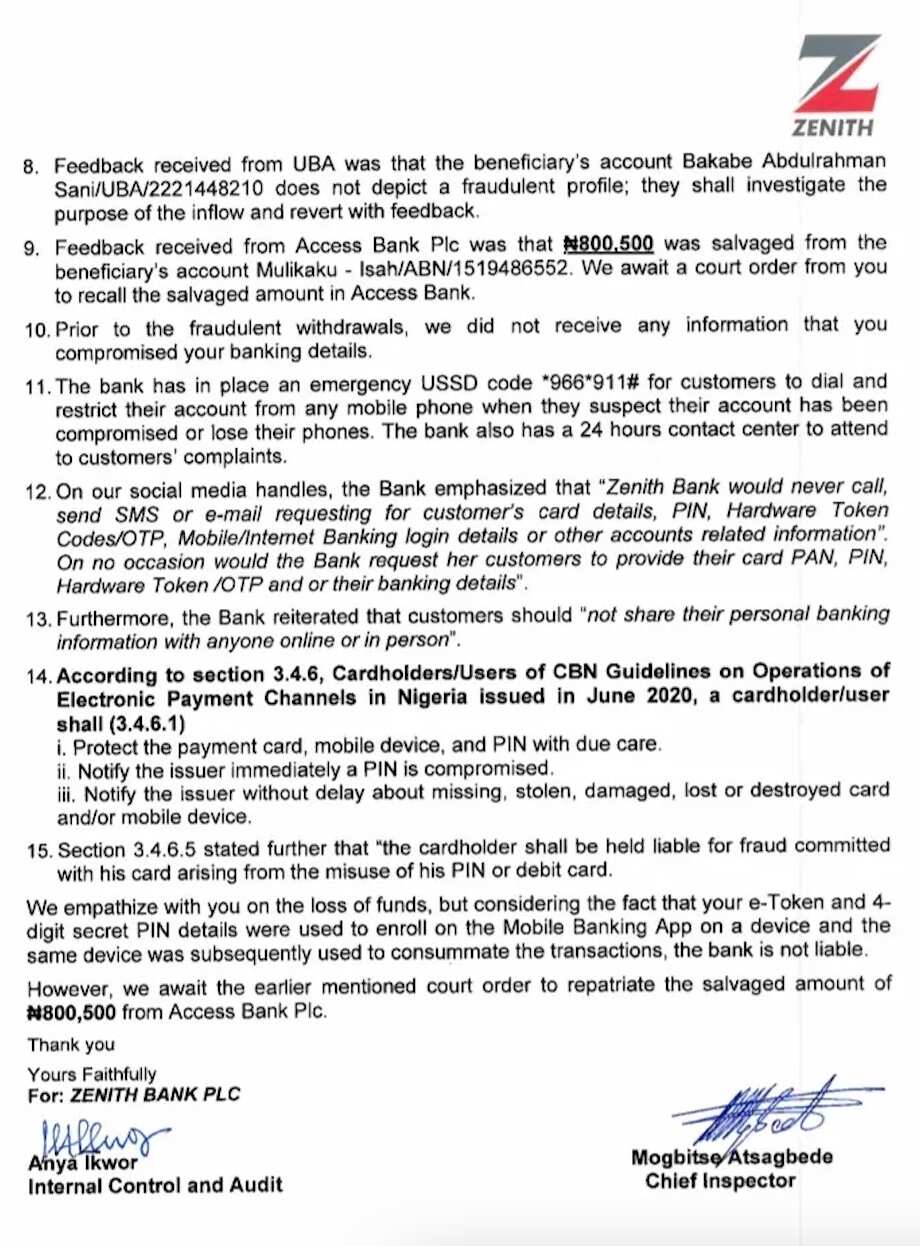 One case too many
The Nigerian banking sector is awash with stories of similar incidents with many unresolved.
As at December 2021, Punch reports that only four top banks recorded a total of 477,405 unresolved customer complaints and most are related to fraud.
The banks are Zenith, Guaranty Trust Bank, United Bank for Africa, and Access Bank.
The reports also revealed that the number of unresolved complaints carried forward by the banks in 2021 grew by 172,399 from 305,791 recorded in December 2020.
For Zenith bank, a total of 166,314 complaints remained unresolved as of December 2021. This figure is almost double the amount recorded in 2021 (83,899).
List of Nigeria's most valuable banks
Meanwhile, in another report, Legit.ng revealed the list of the most valuable bank in Nigeria at the start of 2023.
Zenith Bank and GT Bank are the most valuable on the Nigerian market among the 13 banks ranked.
The banks were ranked based on their market capitalization as of Friday, January 6, 2023.
Source: Legit.ng