List of 64 Countries Nigeria Is Importing Petrol From As NNPC Buys N1.2trn in Three Months
A new report has revealed that the Nigerian National Petroleum Company Limited spent over N1.2 trillion importing petrol in three months
The fuel was imported from different countries around the world which include Niger republic
In the last few days, many Nigerians have been grappling with petrol scarcity as queues have surfaced in filling stations across the country
The National Bureau of Statistics has disclosed that Nigeria spent N1.199 trillion on the importation of Premium Motor Spirit (PMS), also known as petrol, in three months, between July and September 2022(Q3,2022).
NBS stated this in its Foreign Trade Statistics for the third quarter of 2022 obtained by Legit.ng from its website.
According to the report, the amount spent importing petrol for the period July to September 2022 is a 16.9 percent increase when compared with the N1.026 trillion spent to import the commodity in the same period in 2021.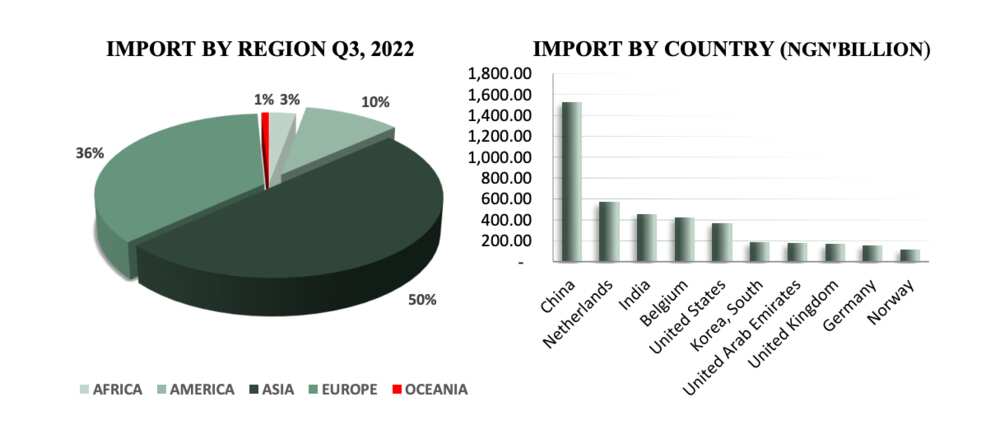 The NBS further revealed that the petrol importation bill for Q3, 2022 was the highest in recent times.
PAY ATTENTION: Share your outstanding story with our editors! Please reach us through info@corp.legit.ng!
In the same Q3, 2018, 2019, and 2020, respectively Nigeria spent N883.565 billion, N371.8 billion, and N532.615 billion respectively to import the commodity.
It is important to note that Nigerian National Petroleum Company Limited is the sole importer of petroleum products.
Top three imported commodities into Nigeria
Nigeria's total imports, according to the NBS, in the third quarter of 2022 was N5.664 trillion.
NBS disclosed that premium motor spirit ranked top among Nigeria's total imports in the quarter under review, followed by gas oil with N261.595 billion spent on its importation.
Durum wheat imports gulped N252.621 billion, ranking as the third most imported commodity.
List of countries Nigeria is importing petrol from
The NBS report did not specify the nations from which Nigeria purchased its fuel in Q3, 2022; however, according to data from World Integrated Trade Solution (WITS) in 2020, Nigeria imported petrol from 64 countries.
The countries are:
United Arab Emirates
Austria
Belgium
Benin
Bulgaria
Canada
Switzerland
Chile
China
Cote d'Ivoire
Germany
Denmark
Egypt, Arab Rep.
Spain
Estonia
Ethiopia(excludes Eritrea)
Finland
France
Gabon
United Kingdom
Ghana
Guinea
Equatorial Guinea
Greece
Hungary
Indonesia
India
Ireland
Iraq
Israel
Italy
Japan
Korea, Rep.
Kuwait
Lebanon
Sri Lanka
Lithuania
Luxembourg
Latvia
Morocco
Mexico
Malaysia
Niger
Nicaragua
Netherlands
Norway
Other Asia, nes
Pakistan
Poland
Korea, Dem. Rep.
Portugal
Romania
Russian Federation
Saudi Arabia
Singapore
Sweden
Eswatini
Togo
Thailand
Tunisia
Turkey
United States
Vietnam
South Africa
Dangote seeks smart Nigerians to work for him, free accommodation
Meanwhile, Legit.ng has revealed that the Dangote refinery is nearly complete, which might mean the end of Nigeria's reliance on imported fuel.
As the refinery prepares to begin operations, a new job recruitment page for Nigerians has been launched.
The job also includes free accommodation for 20,000 employees, and images of the work and housing have surfaced online.
Source: Legit.ng