First Bank GMD, U.K Eke, Makes a Whopping N15.35million After Femi Otedola Reportedly Takes Over First Bank
First Bank Nigeria Holdings' Group Managing Director, Urum Eke, made over over N15.35 million in eight hours today
Eke's total investment in First Bank is now worth N1.25 billion today, but during this period last year, the GMD was valued at N520.13 million
Femi Otedola has been linked to the reason First Bank stock value has been skyrocketing since the beginning of October 2021
The Group Managing Director of First Bank Nigeria (FBN) Holdings, Urum Kalu (U.K) Eke, network in the lender has increased by 1.23% after reports circulated that billionaire, Femi Otedola, plans to take over the company.
Following various media reports, First Bank stock value rose from Thursday's N12.1 kobo per share to N12.25 kobo by end of capital market on Friday evening, and one of the gainers is U.K Eke.
The GMD made over N15.35 million in eight hours, as his total networth in First Bank increased to N1.25 billion today, rising from N1.23 billion he held on Thursday.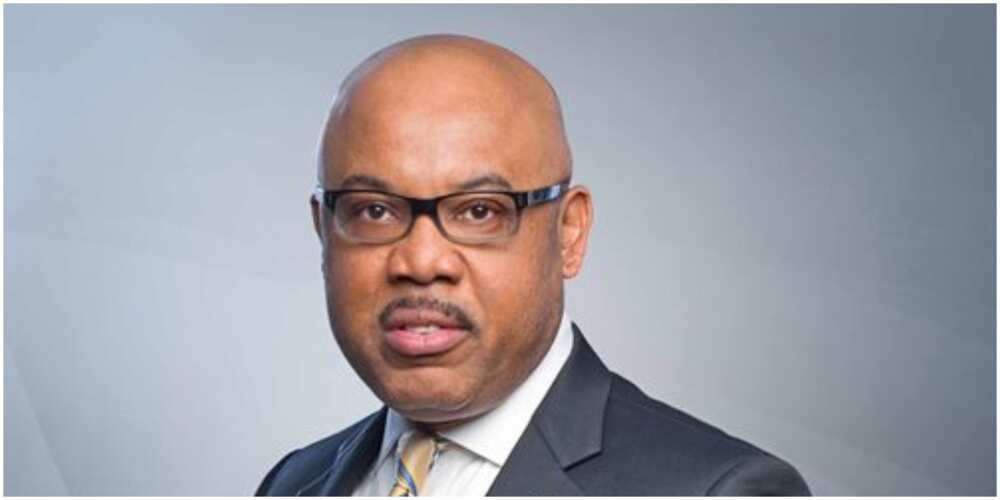 What you need to know about Eke's First Bank investment
Eke made the whopping sum due to the 102,373,309 direct shares he owns in First Bank. As of this period last year, the bank boss held 85,268,414 in the Nigerian lender.
The 85.26 million investment was worth N520.13 million, but he increased his stake in Nigeria's oldest bank this year, and now Eke's fortune in First Bank is N1.25 billion (if Eke had not increased his shares, his networth will be N1.04 billion).
Otedola's quest to takeover First Bank
Since Otedola sold his shares in Forte Oil, the billionaire hasn't been publicly linked to any investment aside from his partnership with Africa's richest man, Aliko Dangote, for oil refinery business.
Earlier today, it was circulated that Otedola reportedly has been purchasing shares in First Bank to become the majority shareholder, in a bid to takeover from Oba Otudeko, who remains the largest stakeholder in the lender.
Otedola is said to have acquired between 5% to 10% controlling stake in First Bank, a move that will most likely make him the chairman, replacing the incumbent, Remi Babalola.
The report hasn't been confirmed by the bank, but once a company records a new majority owner, the firm is mandated to publicly announce it.
Nigeria's Top Four Business Leaders of Post-independence are Worth Over N9trn; Obi Cubana Makes Notable List
In Bank related news, Segun Agbaje, the chairman of Guaranty Trust Holding Company (GTCO) has been named as one of Nigeria's post-independence business leaders.
Agbaje shares the list with the likes of Aliko Dangote, Rabiu Abdulsamad, Folorunsho Alakija and Obi Cubana - all of whom operates in different industries.
The bank mogul and his countrymen changed the face of business environment in Nigeria, taking Nigeria out of the kola business era to banking, cement and other lucrative ventures.
Source: Legit.ng