"It's a Fraud": FG Breaks Silence Confirms Nigeria Air Aircraft Was Hired, Belongs to Ethiopian Airlines
The Federal Government has broken its silence and confirmed that the aircraft used for the Nigeria Air unveiling was chartered from Ethiopian Airlines
The managing director of Nigeria Air Dapo Olumide disclosed this while speaking with members of the House of Representatives
The lawmaker in their response described the unveiling exercise as a fraud while calling for the prosecution of officers involved
After days of silence, Dapo Olumide, the interim managing director of Nigeria Air has confirmed that the aircraft used for the unveiling of Nigeria Air, the country's national carrier, was an 11-year-old aircraft chartered from Ethiopian Airlines.
He made the revelation while appearing before the Senate Committee on Aviation on Tuesday, May 7, 2023, Punch reports.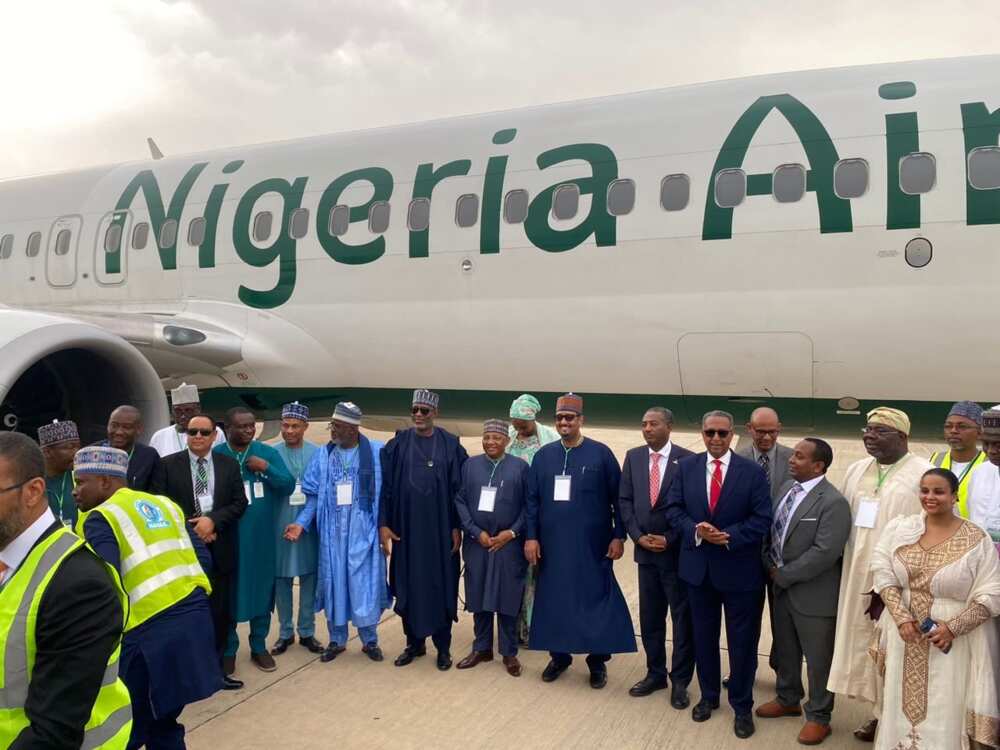 You will recall that Hadi Sirika, former minister of aviation, unveiled Nigeria Air, the national carrier, about three days before the end of former president Muhammadu Buhari's administration.
The event was celebrated with great enthusiasm and optimistic visions of Nigeria Air's prospects.
PAY ATTENTION: Follow us on Instagram - get the most important news directly in your favourite app!
However, it was later revealed that the aircraft is actually 11 years old and owned by Ethiopian Airlines.
Nigeria Air's MD explains his mandate
Speaking further, the Nigeria Air MD noted that the aircraft had been returned to Ethiopian Airlines after the unveiling.
He added that his mandate was to secure an operating license for the airline, which is still in its early stages, rather than to operate the airline itself.
Olumide explained,
"The aircraft that came in and left was a legitimate charter flight for 48 hours. Anyone of us here, if we have a destination wedding in Senegal, we can charter an aircraft. You don't need to have a license to do that; you just charter an aircraft, an aircraft you paid for it, it will be brought here, take your passengers, and off you go."
He also clarified that the Ethiopian-registered aircraft was brought to Nigeria to showcase its appearance to institutional investors and shareholders.
Olumide emphasised that the aircraft was not yet Nigerian-registered and that acquiring three Nigerian-registered aircraft is a prerequisite for obtaining an air operating certificate from the Nigerian Civil Aviation Authority (NCAA).
However, the explanation provided by Olumide has not convinced the lawmakers.
Senator Olujimi, Chairman of the Committee on Aviation, expressed suspicion about the arrangement and criticized the lack of transparency surrounding Nigeria Air.
In response to lawmaker concerns, Olumide stated that the unveiling was intended to show shareholders what the actual aircraft would look like.
His words:
"So when this aircraft came on a chartered flight, everybody said we have launched Nigeria Air.
"There are learned people in the aviation industry who could have countered that when social media came out, they chose not to."
Reps make a decision on Nigeria Air
Following the session, the House of Representatives Committee on Aviation held an investigative hearing with representatives from the Airline Operators of Nigeria (AON) and the Ministry of Aviation.
Nnaji Nnolim, the chairman of the committee, described the unveiling of Nigeria Air as a fraud and passed a resolution calling for the suspension of the airline's operations.
Ethiopian Airlines removes Nigeria Air painting from aircraft, resumes carrying passengers, live tracker reveals
In another report, Legit.ng reveals that Ethiopian Airlines has removed the Nigeria Air painting from the aircraft that was initially unveiled as part of Nigeria Air's fleet.
According to a live tracker, Ethiopian Airlines uses the same aircraft for regular operations.
The aircraft, a Boeing 737-800 which has registration Number ET-APL, Mode S Q4005C, and serial number: 40965/4075, was repainted and rebranded to represent Nigeria Air at the request of Nigeria's Minister of Aviation, Hadi Sirika.
Source: Legit.ng