Nigeria Prospects 30 Billion Oil Barrels in New Drilling in Borno
Nigeria began the search for 30 billion barrels of crude oil in Borno State on Tuesday, May 23, 2023
At the inauguration of the oil drilling campaign, President Buhari said that there is sub-commercial gas in the area already
He stated that the success of the Nasarawa oil drilling campaign is an indication that the Borno exploration drive will succeed
President Muhammadu Buhari inaugurated the Wadi-B oil and gas exploration drive in the Jere Local government area of Borno State on Tuesday, May 23, 22, intending to add 30 billion barrels of oil to Nigeria's reserves in the next seven years.
Buhari said at the virtual event that it marks the formal resumption of physical activities and the exploration of crude oil and gas in the Chad Basin area.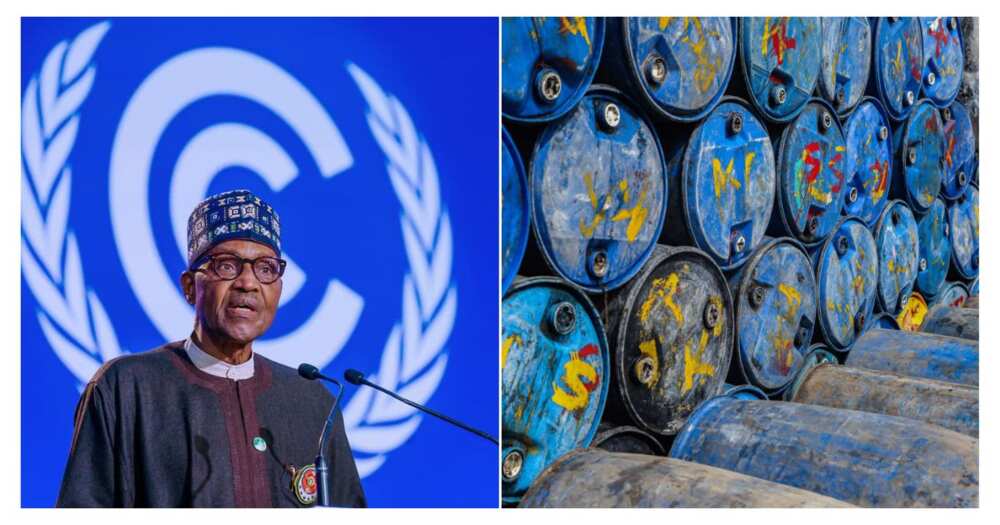 Commercial gas has already been discovered in the area
According to the president, the search for oil began in the area in 1976, while sub-commercial gas was found in 1985.
PAY ATTENTION: Follow us on Instagram - get the most important news directly in your favourite app!
BusinessDay reports that Buhari stated that the success recorded in the Komani oil field and Ebenyi-A Oil wells in Nasarawa State were indicators of success in the Wadi-B oil field.
NNPC Group Chief Executive Officer Mele Kyari said the drilling drive would be successful, stating that the oil drill performed in the area was in 1995.
Kyari said:
"We stopped drilling here in 1995 because the successes were weak, and findings were not commercial. We understood very clearly that we have to understand the Basin very well. We need to have a different approach to exploration activities in this Basin.
"That is why NNPC and her partner, the NUPRC, decided to embark on a data review on all the frontier basins in the country, and our findings have been helpful. Our understanding of the ridge system in Nigeria has enabled us to have successful outcomes in the Kolmani area and helped us to mobilize to Nasarawa State.
"Now we are back here, and we are much more confident, and we believe this campaign will be successful,."
Nigeria seeks to shore up its oil reserves to 40 billion barrels
The Chief Executive Officer of the Nigeria Upstream Petroleum Regulatory Commission (NUPRC), Gbenga Komolafe, said an essential regulatory focus of the agency is to grow Nigeria's national reserves from 37 billion barrels of oil to 40 billion in seven years.
The NUPRC boss said that the outcome of the appraisal would significantly contribute to the growth of Nigeria's national oil reserves and facilitate sustainable domestic energy security.
Komolafe said:
"Considering the positive productivity results recorded so far in OPL 732 from previous exploratory activities, we are optimistic that through this appraisal drilling the huge case prospective hydrocarbon resource estimated at 9403 million barrels of oil, initial oil in place will be matured and migrated into proven reserves."
Borno State Governor Babagan Zulum stated that the oil drilling in the region would reduce youth unemployment and create opportunities for thousands of youth.
Nigeria discovers new oil field that can produce 681,000bpd and 1.52 billion cubic feet of gas daily
Legit.ng reported earlier that the Nigerian government had identified new oil fields that can deliver about 681,000 barrels of crude oil and 1.52 billion typical cubic feet of gas per day. This quantity is expected to boost production.
The Nigerian Upstream Petroleum Regulatory Commission (NUPRC) disclosed this in a document.
According to the Chief Executive Officer of NUPRC, Gbenga Komolafe, an increase in crude volume was expected from new oil wells and well re-entry.
Source: Legit.ng