100+ sweet birthday prayers, wishes and messages to a friend or family member
A birthday is usually a great time for one to celebrate the life and grace God has given them. When a friend or family member's birthday comes, it is nice to celebrate them by sending some thoughtful messages, quotes, and prayers. At times, coming up with the perfect message is easier said than done, which is why we have come up with a collection of amazing birthday prayers and messages to send your loved ones.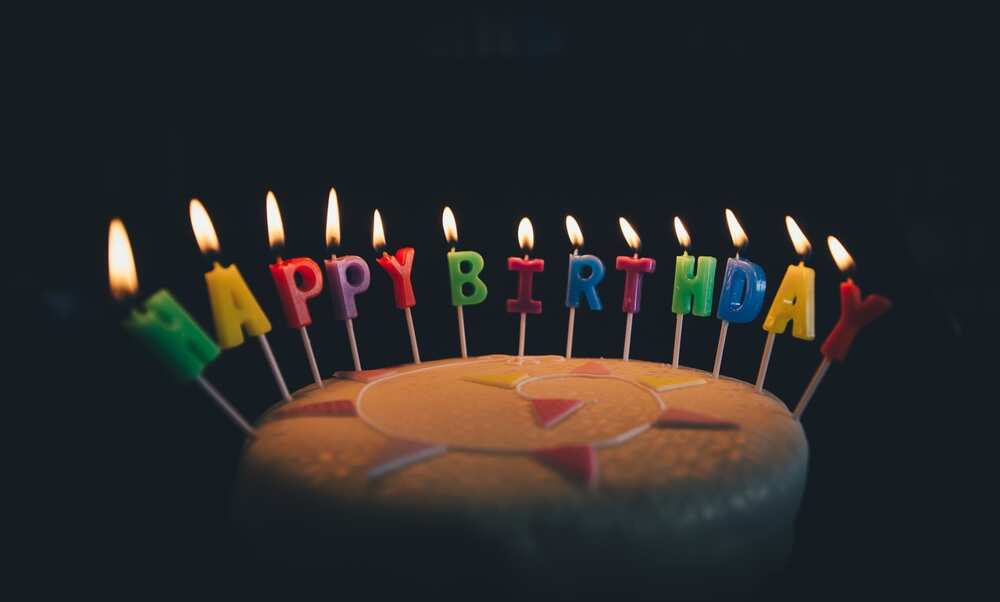 When a person turns a year older, encourage them by reminding them of God's unending love and presence in their lives. Whether the person in question is a family member, a colleague, or a friend, these messages will make them smile on their special day.
The best birthday prayers, messages, and quotes
How do you say God bless you on a birthday? Here is a look at some great birthday wishes and prayers for different people.
Birthday prayers for a son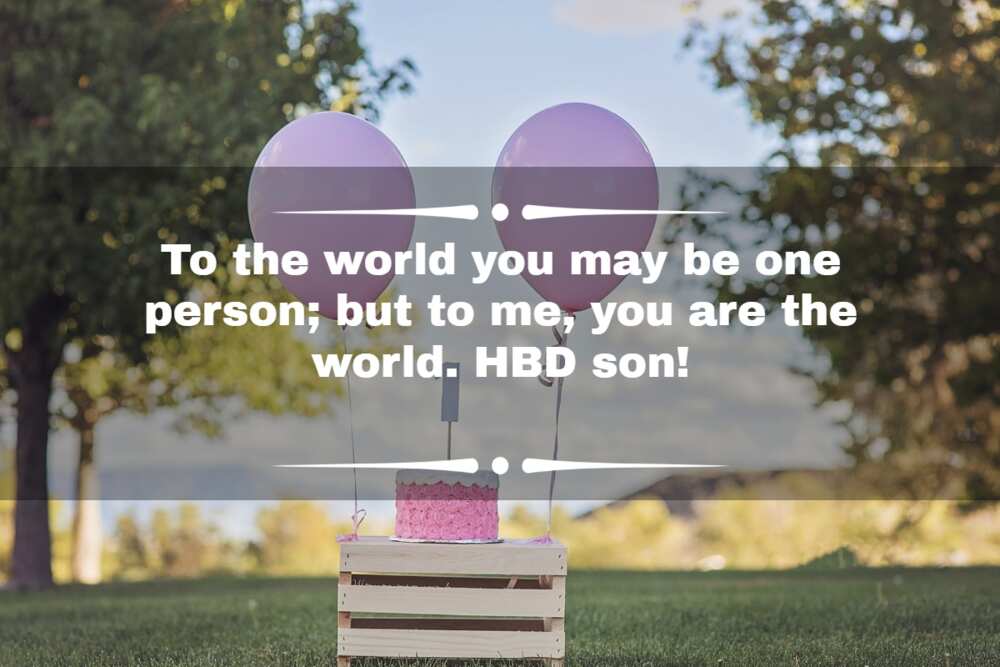 A son's birthday is a special day. It marks the anniversary of the day your baby boy was delivered to the world and placed in your arms. If you are looking for the perfect birthday prayer for a child, here are some amazing ones to choose from.
May the life of this little child be blessed in a special way that will bring joy and happiness to the parents.
Happy birthday to my incredible son. You are the light in my life who lifts me every day!
Lord, I call upon your Holy Name. I ask for your infinite favour and mercy upon our child. Happy birthday to our prince.
I have such sweet memories of you as a child, but I have faith that your future will hold even sweeter ones. I hope your cake is half as sweet as you are. Happy birthday, son!
May all of your hopes, dreams, and aspirations come true for you as you begin this new year of your life. You deserve all of the very best things to come your way, my dear boy.
Sometimes I wonder what I did to deserve a son so wonderful as you. But most of the time, I just thank God that He blessed my life and gave it meaning by giving me you. Happy birthday, my dear son."
On your special day, I pray that you will be gifted with divine wisdom to soar on the wings of success in all your endeavours. Have a beautiful day.
Son, today you turn another year older, and I'm prouder of you than I've ever been. You truly are my biggest blessing and my eternal joy, my dear boy. HBD from mom.
I wish you a prosperous life ahead, my dear son. Happy birthday!
You may be one person to the world, but to me, you are the world. HBD son!
When times are tough, all it takes are thoughts of you to pull me through. Your hugs and kisses nourish my soul, and I'm so grateful that I have a son as precious as you.
I wish a very happy birthday to our awesome son. I pray that all your dreams and hopes will come true!
Happy birthday prayers for a daughter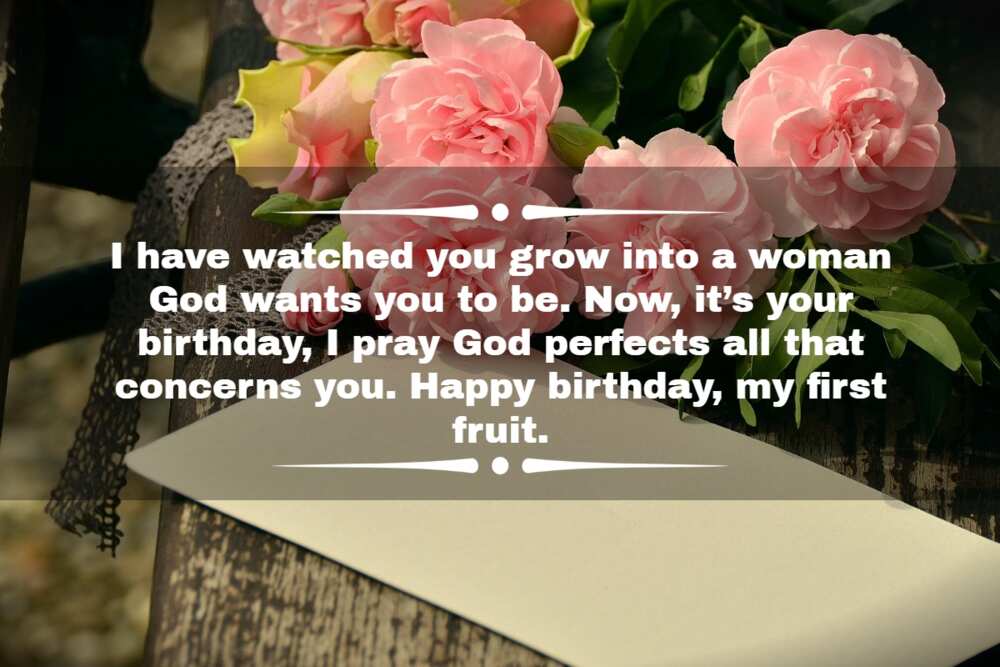 Sending your daughter a sweet prayer on her special day is one of the best ways to show her love. Daughters are such a blessing to us, and for that, it is important to pray for all the good things they could ever need in life, including good health, happiness, prosperity, and long life. If you are looking for the best thanksgiving birthday prayer for your daughter, here are some great options.
As God lives, you'll stand tall among your equals. Happy birthday, my daughter.
Dear God, I thank You for blessing me with children. My daughter has brought such love, appreciation, and happiness into my life, and I am extremely grateful for her. I pray that you bestow blessings upon her on this special day.
Dearest daughter, you're the first fruit of my womb; may you be first, relevant and fulfilled in every area of your life. May the Lord heap His favour on you as you celebrate your birthday today.
I have watched you grow into the woman God wants you to be. Now, it's your birthday. I pray God perfects all that concerns you. Happy birthday, my first fruit.
May you forever sparkle and shine like the star you are, and may you continue to flourish and grow amazingly. HBD, my darling.
My daughter, I always thank God for gifting me with such a beautiful creature. I think of you every day while away; I miss you every minute you're not by my side. Enjoy your special day, baby.
Since you've grown, you've never stopped making me happy. I find so many things parents couldn't find in their children. Age gracefully, my daughter.
You are the greatest gift life has ever given me. I am glad you are my daughter. Happy birthday, love.
Today is the day the Lord has made; I rejoice with you, my beautiful princess! Happy birthday, my cute daughter
We celebrate your new age today as your parents, and we are looking forward to celebrating more beautiful years in your life. Happy birthday to you, our princess.
Your love for me has made me stronger, and your friendship has brought joy to my life. I am so proud to be your mother. Enjoy your special day.
Birthday prayers for a friend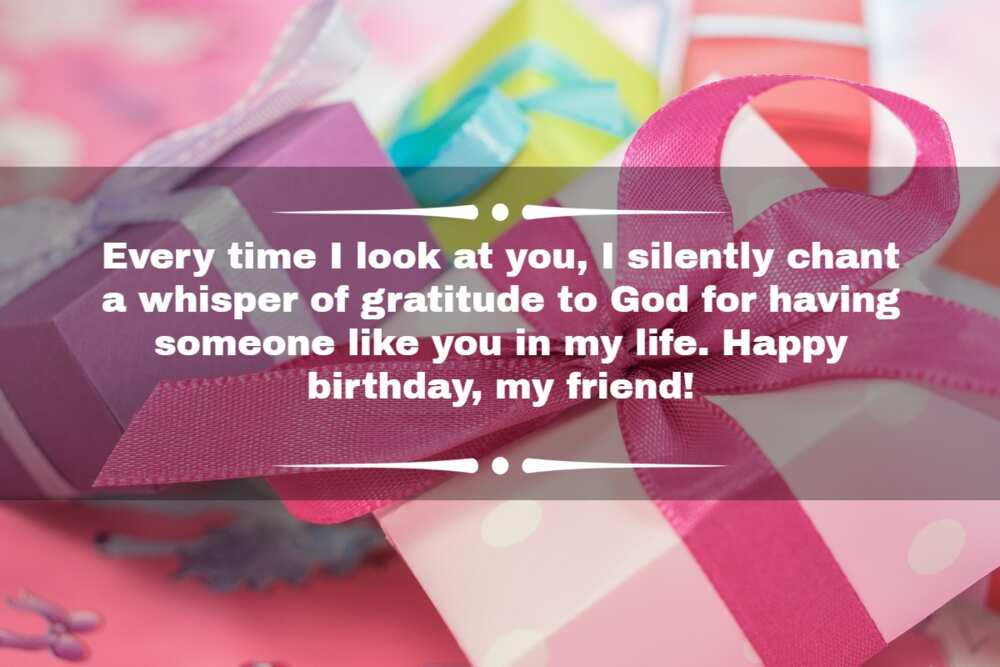 A friendship is one of the best bonds among humans. Celebrating your friend on their special day is important and lets them know how special they are. Here are some profound happy birthday prayers to a friend on their birthday.
A lot of times, I am amazed at your strength and resilience. Thank you for the way you inspire me to be better and the times you have come through for me. May this be your best year ever.
Every time I look at you, I silently chant a whisper of gratitude to God for having someone like you in my life. Happy birthday, my friend!
God has great things ahead planned for you. As you celebrate your special day, I pray that he reveals them to you one by one. Happy birthday, friend!
I pray on your special day that your faith in God continues to increase as you grow older and that you find comfort in God's love for you. Wishing you many blessings on your special day.
May God bless you today on your birthday and every day after. May you be comforted by His presence in your life, and always follow His guiding light. Amen
May the Lord shower you with his numerous blessings. Many happy returns of the day.
My prayer on your special day is for your life to be filled with joy and happiness. Enjoy your special day, pal.
On your birthday, I pray that your moments are filled with joy and peace, and I thank God for all that you bring to my life.
The power of God will be behind you in all you do, and you will never fail or fall. May your life increase even more than your age has increased. HBD, sweet friend!
This is my birthday prayer for you: I ask for God's unconditional love and blessing upon you as you celebrate the day you were ushered into this world. I wish you all the best in life, and may you never lack.
Your passion and commitment towards all you do are exemplary. Your sacrifices will never go unrewarded. Have an amazing year. HBD!
What are some nice birthday prayers for myself?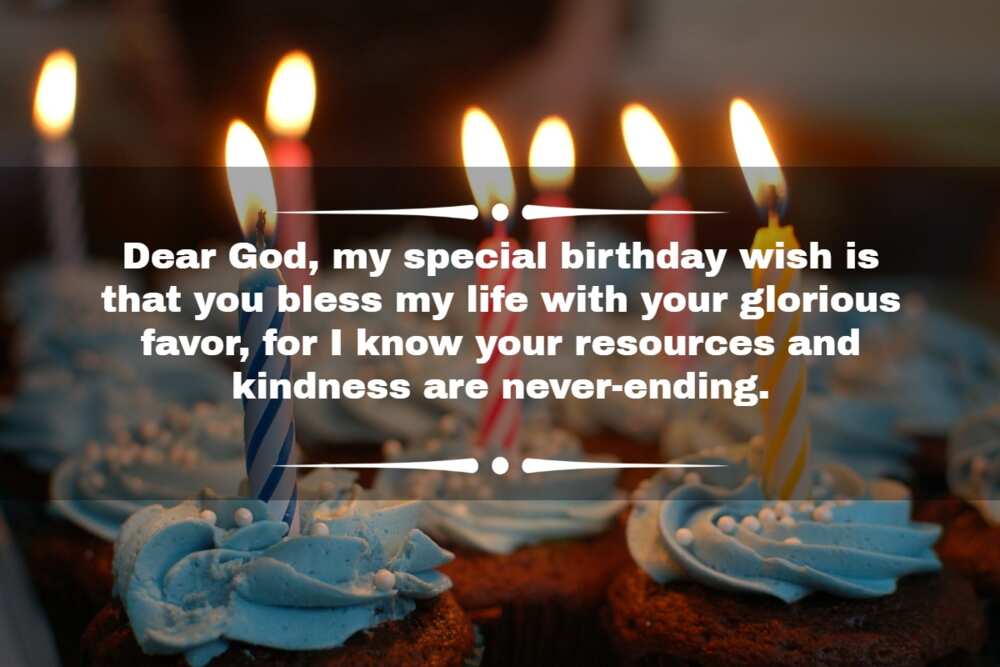 Loving yourself is often said to be the perfect gift you can ever give yourself. No other person can love, cherish, or pray for you as you can. Every time you turn a year older is the best time to thank God and ask him for that thing you've been hoping to get. Here are some nice examples.
Dear God, my special birthday wish is that you bless my life with your glorious favour, for I know your resources and kindness are never-ending.
Even as I add another year, I pray that you continue to make things happen for me. Thank you for filling up my life with countless blessings. Happy birthday to me.
Everlasting Father, I appreciate the kindness and love you've shown to me in the past years. I ask for more as I start another today. Amen.
As I become a year older, God, I ask for the ability and strength to love and serve you faithfully and truthfully.
I walk around believing there's nothing I cannot accomplish because I believe in myself. Happy birthday to me.
Lord, I thank you for granting me yet another day of celebration. Thank you for the gift of another beautiful year. I'm grateful, Lord.
I am alive and healthy today because of none other than the almighty God. I'll forever be grateful to you, God. HBD to myself.
On this special day, o God, I humbly come before you asking for special blessings. May ill-fortune never cross paths with me, and may your protection and favour always be with me.
Thank You for bringing me to this new age. May it now also be marked by new manifestations of Your goodness in my life.
Thank You, Lord, for all the beautiful happenings in my life in the past years. It can only be You, Lord.
Wisdom and might, peace and love, prosperity, and longevity, I pray the heavens to bestow upon me as I turn a new chapter in my life.
Happy birthday prayer to my brother or sister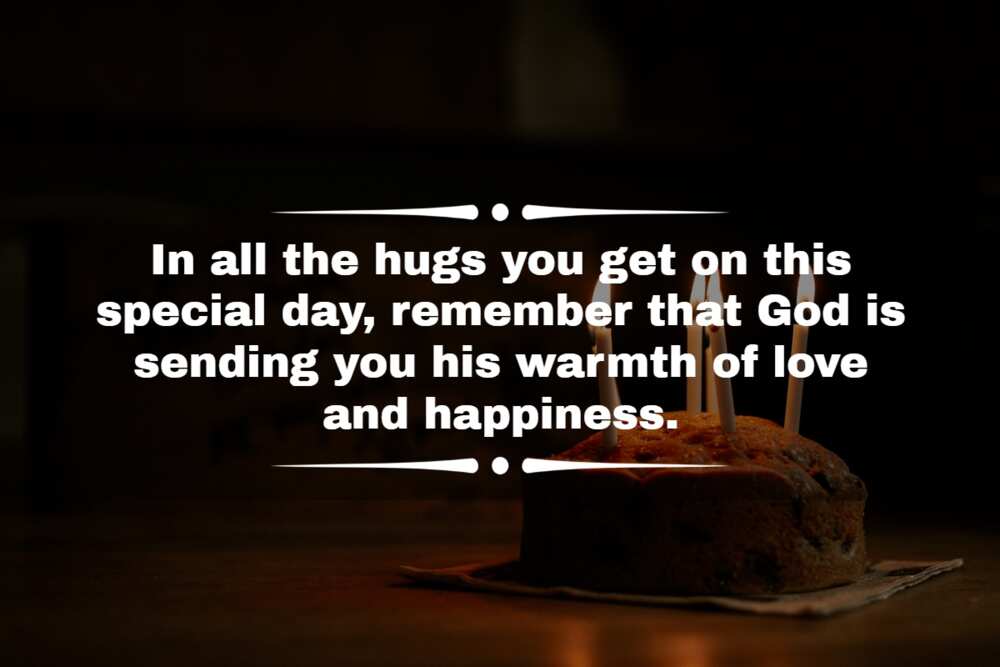 Sending your sibling a sweet prayer on their birthday is surely one of the best things you can give them on their birthday. Siblings are such a blessing to us, and for that matter, it is important to pray for and wish them well as they grow older.
Almighty Lord, I want to thank you for granting my brother another 365 days in his life. I pray that you surround him with an abundance of grace and mercy.
As you celebrate this special day, I pray that happiness, grace, and peace will forever be your portion.
Birthdays may come and go, but my love for you will last forever. May your cup never run out of God's favour, sweet brother.
Dear brother, you keep astounding me with your phenomenal life every year. I'm so proud to call you my brother. May God be with you as you celebrate your special day today and all the days of your life.
Dear Lord, I pray that you enrich my brother's world with immense happiness, laughter, success and good health on this wonderful day that marks his special day.
As you clock another year, I pray that goodness, mercy, and favour will not depart from you in Jesus' name.
In all the hugs you get on this special day, remember that God is sending you his warmth of love and happiness.
May God grant you sufficient conscience and wisdom to live your life with uncompromising ethics, elegance, love, and dedication towards the betterment of humanity. May you age gracefully.
May lord ensure that your special day is full of jaw-dropping surprises, life-enriching adventures, and meaningful relationships.
May today be the beginning of success for you. If you have ever experienced success, it will be too small compared to the new success you will begin to experience. HBD Sister.
You are a miracle of God in this world. You were created to make it a more peaceful and happier place. Let's celebrate your arrival on this earth. Happy birthday, brother!
Birthday prayers for a boyfriend or girlfriend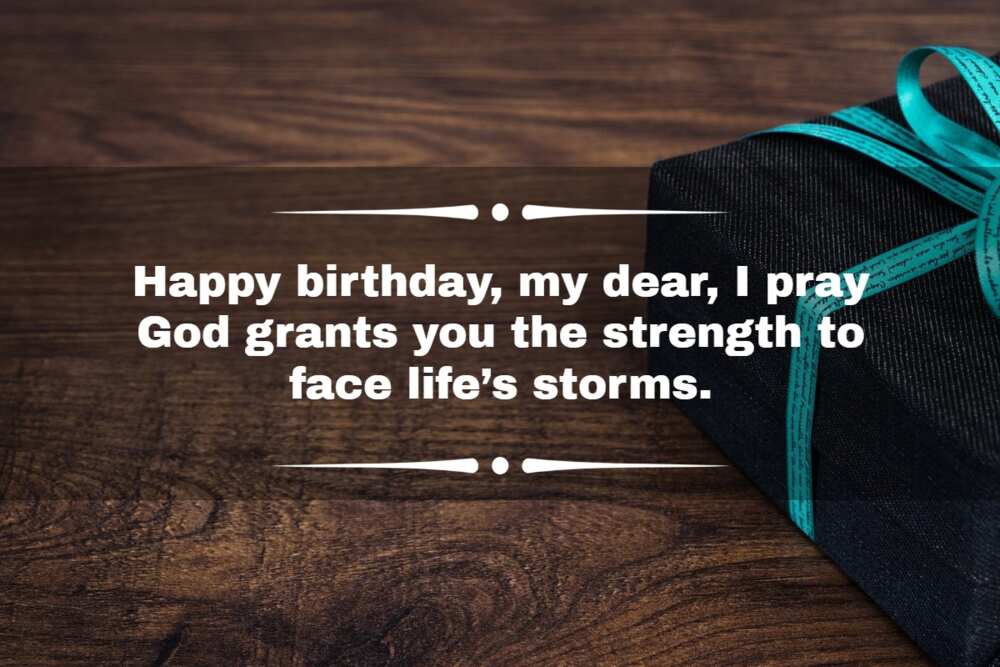 Unlike every other day, birthdays are of great essence as they mark an additional year in a person's life cycle. This is precisely why we should make them special, especially for important people in our lives such as girlfriends or boyfriends.
Darling, you've shown me what it means to love and be loved, and I can't thank you enough for that. On your special day, I pray that you will be blessed with more wisdom, good fortune, and happiness.
Happy birthday, my dear. I pray God grants you the strength to face life's storms.
I pray God's mercy, peace, and grace speak for you as you turn a new year. Happy birthday my princess.
I pray that you flourish like a palm tree and grow like the cedars of Lebanon. Grow graciously now and always, baby. HBD to the love of my life.
May the good Lord work great and awesome things in your life from this day. I wish you a beautiful life. Enjoy your day.
May the light of God's love shine down from above as we celebrate the day of your birth. May His sweet angels guide you, and stand guard beside you, each day that you live on this earth.
May the Lord bless you for as long as you live; I pray that you overcome every challenge that may come your way. HBD, my sweetheart.
I hope the same God who spoke the universe into being will speak to your heart today. I pray he will inspire you to live another year in His grace and love, enjoying His bountiful promises.
May we continue to live together in happiness and Joy. Enjoy your special day, my hero.
May you always be positioned for increase and advancement, now and forever. Happy birthday, angel.
May you experience divine favour all the days of your life. The favour of the Lord encompasses you as a shield. You live to fulfil your purpose. Enjoy your special day, sweetheart.
Spending my life with you is a huge blessing for me. May the times always bring us together in love, unity, and cheer. HBD!
What are the best birthday wishes for a wife?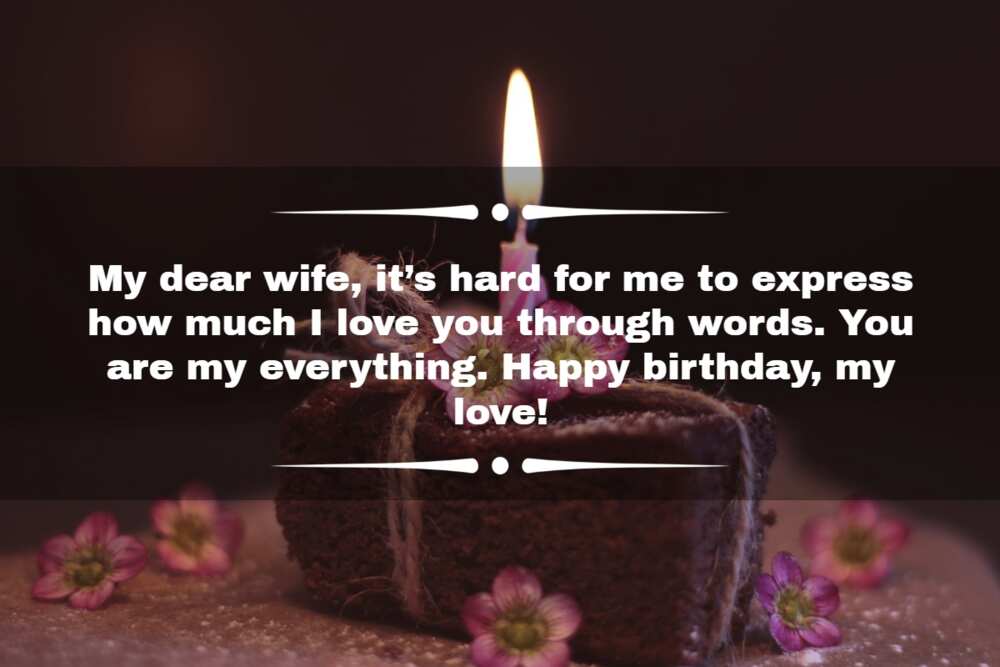 Are you the husband of a sweet, loving, intelligent, and caring woman? Does your wife have that affectionate smile that always melts your heart? If so, why not send her one of these nice b-day prayers and messages on her special day?
Dear Lord, thank you for giving my wife a long life with me to spend the rest of my life with her. Thank you for blessing this wife of mine. May you give her joy as she grows older.
Happy birthday to my wife and the mother of my children. You have been an amazing wife ever since we got married. I have no expensive thing to gift you today, but I want you to know that I will always love you.
I've talked to God today to be with you and guide you every day in this new year of yours. It shall be well with you.
If there ever was a soul as beautiful as the sun, it is my own dear wife. Your smile is more radiant than all the diamonds on this planet, and I am confident that no one's heart burns as bright as yours. I wish you blessings as you turn a year older.
It's another year of greatness, fulfilment, endorsement, happiness, promotion, and all you yearn for. Amen. A beautiful birthday to you, love.
May every one of your wishes come true as you step further in the journey of life. Happy birthday, wifey.
My dear wife, it's hard for me to express how much I love you through words. You are my everything. HBD, my love!
My love, every day with you is the best day so far. I cherish all the fun times that we have had together. I believe your special day should be celebrated every day because I love everything about you.
My sunshine, I said a birthday prayer for you wholeheartedly since I wouldn't be where I'm now without you.
On this special day, I hope that you will be happy and fulfilled. I know you have been the most loving and caring wife for my family and me. Thank you for all you do and all that you mean. Wishing you a very happy birthday!
You are my knight in shining armour, the love of my life, the only woman I will continue to be in love with, the one who made me a father. Enjoy your special day, my love.
Prayers for a husband on his special day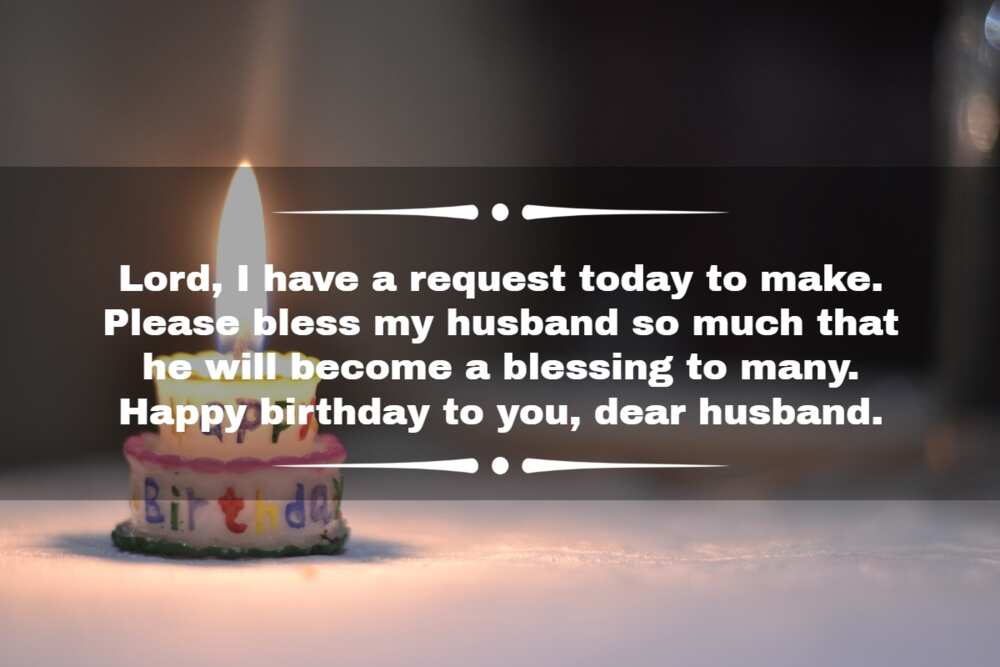 Every day is an opportunity to tell your husband how much you value and love him. Still, his birthday is an extra special occasion to let him know why he is important to you. Here are some nice messages a wife can send to her husband on his special day.
May the Lord give you his endless peace as you turn a year older. I hope this day will be filled with much happiness, love, and faithfulness throughout the year.
Happy b-day, my beloved husband! You make me feel proud and safe. I can't explain how grateful I am for your life. Being your wife is an incredible blessing!
Happy birthday, my love! I'm so thankful to God for your life! You are an amazing man and husband; being next to you makes me a better woman. I pray that the Lord always fills you with his strength and happiness.
HBD to my loving husband! I pray that the Lord's grace guides you in pursuing your life aspirations just like he has always done for me. I am so grateful that you are a part of my life.
Lord, I have a request today to make. Please bless my husband so much that he will become a blessing to many. Happy birthday to you, dear husband.
My darling husband, I feel the moment you came into my life was the best day of my life. Your love has lightened my heart beyond measure. I wish you all the happiness in this world.
My darling husband, I wish you nothing but a year of resounding testimonies, overflowing blessings, unlimited favour and extravagant grace.
My love, I pray that you have uncountable blessings today and every day. You have to know how much I admire you, my handsome and amazing husband. Happy B-day, dear!
The oil of gladness on your life will never run dry. All the best on your special day, my lovely husband.
There is one thing that I am confident of; the Lord will never abandon you. On your special day, heaven will shine its light on you.
To my sweet husband, I cannot imagine a life without you. You have been an inspiration and the pillar of strength in my life. I am blessed to have you as a husband and a friend. Enjoy your special day.
What are some short birthday messages and prayers?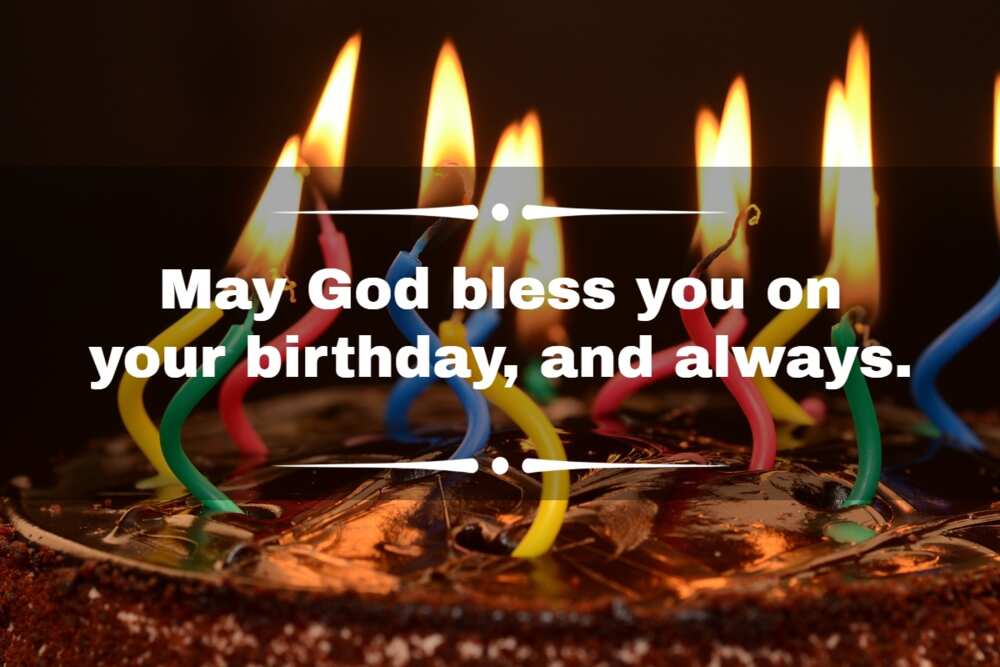 While numerous sweet words definitely can't hurt, some people often prefer short messages and quotes to send to their loved ones. If you are looking for the perfect short birthday prayer, here are several to choose from.
Happy b-day! I pray that God will continue to shower you with his loving grace!
I know I am not showing you love as often as I should. Still, I am forever grateful that God is there to back me up. Enjoy your day, happy b-day!
I pray on your birthday that your faith in God continues to grow as you grow older.
Life is a wonderful journey, and God is usually the destination. Let us celebrate that day you were born and started your journey.
May God bless you on your birthday, and always.
May God's loving presence in your life be felt strongly on your special day and every day.
May Jehovah be the provider of all your needs as you continue your amazing journey of life.
On your special day, I pray that the almighty God of life will shape your life and make it as beautiful as the morning star. I love you.
This is your special day, my friend. Today, my prayer is that God never stops showering his divine blessings in your life.
Today, in the most special of days, take God's hand and allow him to guide you into the most exciting and joyful ride you'll ever take in your life. HBD!
I am wishing the happiest of birthdays for the best of friends.
What is a good Bible verse for birthday?
The words in Numbers 6:24-26 sound like the perfect prayer to make for someone on their birthday. Here is what the verse says.
The Lord bless you and keep you. The Lord make his face shine on you and be gracious to you. The Lord lift up his face toward you and give you peace.
Some well-thought birthday prayers, wishes and messages can go a long way in making someone's day. Luckily, we have compiled numerous prayers and messages one can send to their son, daughter, friend, or spouse.
READ ALSO: 100+ romantic loving you SMS 2021: Best romantic messages
Legit.ng recently explored a list of the best romantic messages one can send their spouse via SMS. Words are said to be quite effective in letting someone know how important and valued they are. Still, crafting the perfect words to express one's feelings can be a challenge.
Decades ago, people used to handwrite letters and send them to their loved ones. Today, things have drastically changed, and the smartphone has taken the letter's place. Read on to discover some amazing messages to send your other half.
Source: Legit.ng