Nigeria Back on Top as Africa's Largest Oil Producer Following Increased Output
Nigeria has risen back to the top of the ladder as Africa's largest crude oil producer
It bested countries such as Angola and Algeria by producing about 1,235 million barrels of crude oil daily in December
OPEC report said that Nigeria has also seen improved oil output for November 2022
Nigeria has regained its lost position as Africa's biggest crude producer as it witnessed increased oil output in December 2022.
The nation recorded the highest crude oil production rate on the continent, according to the latest monthly oil market analysis by the Organisation of Petroleum Exporting Countries (OPEC).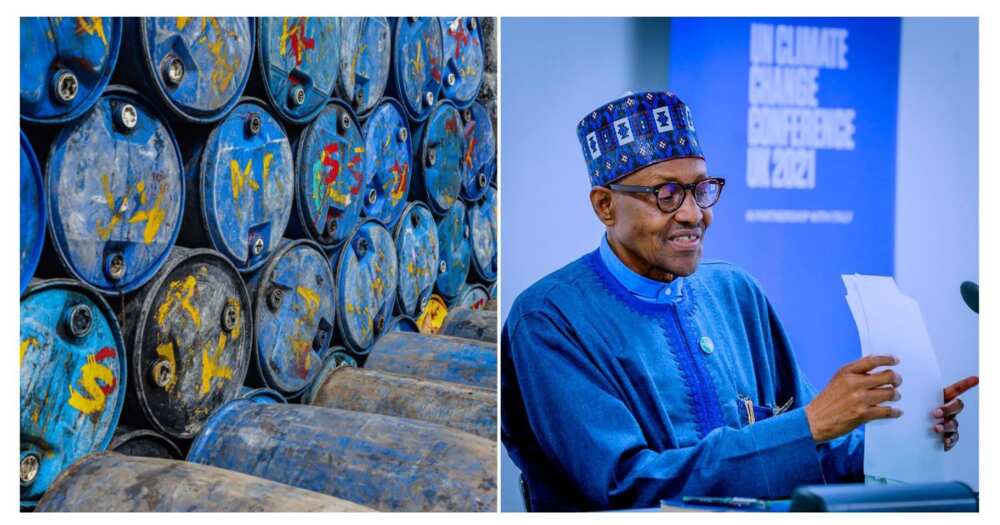 OPEC thumbs up Nigeria's crude output
The report, published on Tuesday, January 17, 2023, revealed that the West African country produced a total of 1,235 million barrels of crude oil daily, higher than the 1,186 million barrels per day produced in November 2022.
Per the OPEC data, Angola came second in Africa with 1,088 barrels of crude daily while Algeria emerged as the third-highest oil producer in Africa with 1,099 million barrels daily.
OPEC said:
"According to secondary sources, total OPEC-13 crude oil production averaged 28.97 mb/d in December 2022, higher by 91 tb/d m-o-m. Crude oil output increased mainly in Nigeria, Angola, Libya and Venezuela, while production in Kuwait, Congo and Algeria declined," part of the report said.
Nigeria battles oil theft
Nigeria has witnessed a challenging 2022 in the oil sector as crude oil theft intensified in Q2 of last year and affected oil output in the country.
The Nigerian National Petroleum Corporation Limited (NNPC) estimated that Nigeria lost about 700,000 barrels of crude oil daily to oil theft.
The country has also experienced unprecedented fuel scarcity on different levels as the issue of fuel subsidy removal is brought back to the front burner.
The Tompolo effect helping?
Some analysts believe that the involvement of Government Ekpemupolo, popularly known as Tompolo in the fight against oil theft may have helped to stall oil theft in the country.
The former Niger Delta militant leader secured an N48 million pipeline surveillance contract from the federal government which was approved by Nigeria's legislative upper chamber.
Tompolo and his security team were instrumental in tracing and destroying large barges of illegal crude oil and locating an illegal oil pipeline running into the sea used to steal crude oil.
Buhari's government pegged the 2023 benchmark crude oil rate at 1.69 million barrels per day, according to reports.
Angola Overtakes Nigeria as Africa's biggest oil producer after worst production output in Months
Legit.ng reported that Nigeria is no longer Africa's top oil producer following an abysmal oil production output in May, the biggest decline among its peers at a time oil was trading at $121.33.
According to data obtained from the Organization of the Petroleum Exporting Countries (OPEC), Nigeria's oil production reduced by 195,000 barrels per day (bpd) to 1.02 million bpd in May 2022 from 1.22 million in April 2022, based on direct communication.
Angola's oil production also dropped, but with 1.16 million barrels per day, it is still more than Nigeria and has now taken the status as Africa's largest producer of oil.
Source: Legit.ng