Nigeria Loses Spot as Africa's Biggest Oil Producers amid Production Struggles, but there is Hope
Nigeria is no longer Africa's top oil producer according to the Organization of the Petroleum Exporting Countries new report
Nigeria lost its place to Libya after consecutive months of struggle to meet its expected oil production quota
Nigeria's production difficulties have been caused in part by bunkering and vandalism of oil facilities
Nigeria has lost its Africa's top oil producer status to Libya as its crude oil production fell further last month amid lingering production challenges.
The Organization of Petroleum Exporting Countries, revealed this in its October report published on its website.
The report showed that Nigeria reported a decline in production output to roughly 1.23 million barrels per day in October, down from about 1.25 million reported in September.
While Libya's oil output increased to 1.24 million BPD in October, up from 1.16 million BPD in September to become the biggest oil-producing country in Africa.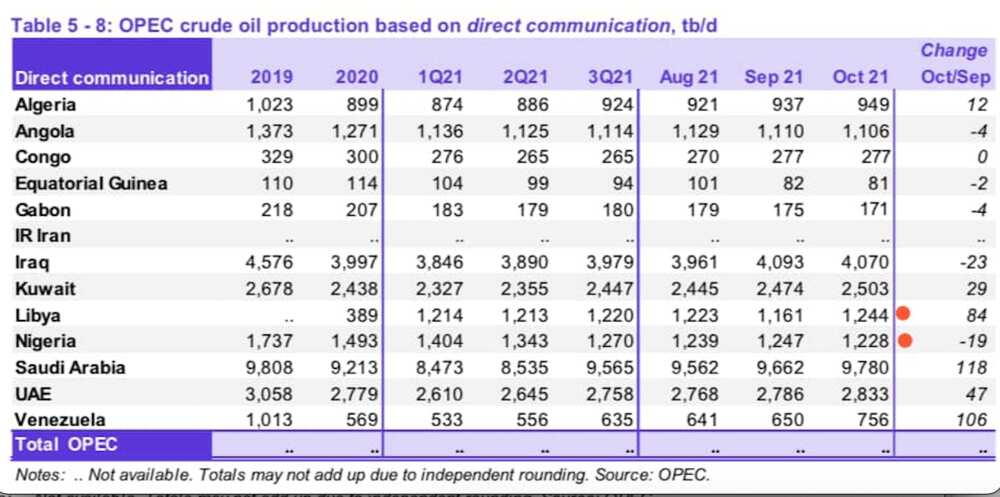 Aside the primary report submitted by Nigeria OPEC also uses secondary sources to monitor oil output for members countries.
Based on oil production reports from secondary sources, Nigeria's remains the largest oil-producing country in Africa.
Although Nigeria's oil output fell by 45,000 barrels per day to 1.35 million barrels per day in October 2021, it was still more than its nearest rival Libya, which produced 1.16 million barrels per day in October 2021.
Mele Kyari offers hope for the future
Meanwhile the Group Managing Director, Nigerian National Petroleum Company (NNPC) Limited, Mele Kyari has offered hope for the future.
Speaking to Bloomberg, he assured that Nigeria's crude oil and condensate output will be at 1.8 million barrels per day (mbpd) and is likely to overcome production issues by the end of December.
Kyari, also said it would easily hit 2m barrels when condensate — a light form of oil — is included in the total.
He said:
"It is very obvious that by the close of the year we would get back to the 1.7-1.8mbpd from crude only. As you may be aware, when we mention these figures, I am talking about crude oil only."
Daily Trust reports that the Organisation of Petroleum Exporting Countries and its allies, (OPEC+), earlier this month approved a raise in the production quota of members by 0.4 percent, with Nigeria's quota rising to 1.666mbpd for December rising from 1.649mbpd agreed for it for November.
Kyari in the interview also said that crude's likely to stay above $80 a barrel for "a while to come" and $100 is "within sight".
Nigeria spends N60billion annually to repair vandalized pipelines
The federal government says it spends N60billion every year to repair and maintain vandalized oil pipelines in Nigeria.
The minister of Information and culture, Alhaji Lai Mohammed disclosed this at the town hall meeting on protecting oil and gas infrastructure attended by a Legit.ng reporter in the Federal Capital Territory, Abuja.
The minister also revealed that Nigeria loses an average of 200,000 barrels per day to the wanton damage to pipelines and other oil and gas facilities.
Source: Legit.ng