6 Economic Issues Bola Tinubu Must Urgently Tackle as President
The NESG has highlighted some of the pressing economic issues Tinubu must resolve after he is officially sworn in as president.
The economic advocacy group listed the issues to include unemployment surge, substantial infrastructural deficit, amongst others.
The report also delves into the causes and implications of the highlighted critical challenges.
The Nigerian Economic Summit Group (NESG) has unveiled six critical socioeconomic challenges that Bola Ahmed Tinubu must urgently address after he is sworn in as president in May 2023.
The NESG noted this in its recent report titled, "Understanding the Nigerian Economy: Critical Issues for the Attention of an Incoming Administration," released in January 2023, where it highlighted some of the major economic issues the incoming president must be ready to address.
It would be recalled that Bola Tinubu, the candidate of the ruling All Progressives Congress, was, in the early hours of March 1, 2023, declared by the Independent National Electoral Commission (INEC) as the winner of the presidential election.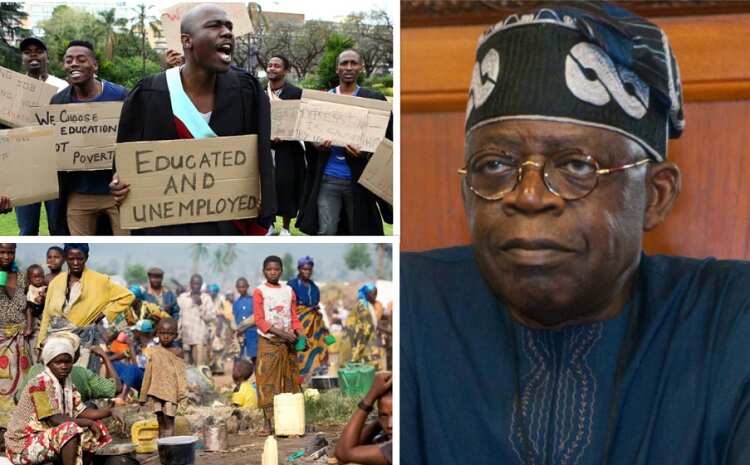 The private policy advocacy group listed the socioeconomic issues which deserve urgent attention to include unemployment surge, substantial infrastructural deficit, fiscal weakness, human capital and skills gap, flawed security architecture, and corruption.
PAY ATTENTION: Сheck out news that is picked exactly for YOU ➡️ find the "Recommended for you" block on the home page and enjoy!
This report also delves into the causes and implications of the highlighted critical challenges. It also highlights the policy imperatives to actualize a best-case scenario and transform Nigeria into a strong, corrupt-free, and globally competitive economy in 2023 and beyond
Unabating rise in the rate of unemployment and poverty
Unemployment is one of the most severe social problems facing Nigeria today. The huge unemployment problem has led Nigerian society to high levels of poverty because when people are unemployed, they do not have any money coming in.
The NBS, in its National Multidimensional Poverty Index report in November 2022, said that about 63% of Nigerians were poor due to a lack of access to health, education, living standards, employment and security.
The extent of poverty is multidimensional as it accommodates all forms of socio-economic deprivation - including the lack of access to basic social services – health and education, poor living standards, unfavourable labour market outcomes and security shocks.
With over 33% unemployment rate, the country records one of the highest unemployment rates in the world.
Infrastructural deficit
Nigeria is one of the countries in the world with the worst infrastructure. In terms of infrastructure, it ranked 133rd amongst 140 countries ranked on the Global Competitiveness Index in 2019.
The deplorable electricity supply in Nigeria has pushed many craftsmen and artisans out of employment. This is a significant reason for Nigeria's poor uptake of Technical Vocational Education and Training (TVET) professions.
The infrastructural bottlenecks have put upward pressure on businesses' operating costs, thereby constraining the growth of businesses.
Fiscal and monetary policy weaknesses
Nigeria has one of the lowest revenue-to-GDP ratios globally at 6%-7%. Nigeria's overreliance on crude oil earnings, slow growth in non-oil revenue and low tax collection has failed to help the economy and government spending is driven by higher spending on security and a massive cost of governance
This has motivated a widening fiscal deficit, mainly financed through borrowing. Today, borrowing appears to be the only means of financing the government budget, to the point that borrowing projection has exceeded revenue expectations.
Nigeria's public debt stock increased by seven folds, from N7.8 trillion in 2011 to N49.93 trillion in early 2023.
To attain economic viability, Tinubu will do well to close fiscal gaps, promote domestic revenue mobilisation (including tax reforms), and optimise budget implementation.
Human Capital and Skills Gap
Sadly Nigeria finds itself among the bottom ten countries on the Global Human Capital Index (HCI).
Factors responsible for this low ranking includes, but not limited to inadequate funding for education and health sectors and limited capacity to harness citizens' human capital potential.
These issues have resulted in high rate of school drop-outs and child labour in Nigeria. Many Nigerians have reacted by migrating to the countries of Europe and America in search of greener pastures, in what has become the "Japa" syndrome.
Flawed security architecture
In 2021, Nigeria ranked 146th out of 163 countries on the Global Peace Index and was the 8th least peaceful in Africa. The nation's security challenge is multi-complex as it varies by region and ethnic makeup.
Worsening socio-economic conditions – high unemployment, extreme poverty, and high-income inequality – have instigated criminal activities, such as kidnapping, banditry, and armed robbery.
Due to poor investments in security infrastructure, the country's security forces are less powerful and have a more constrained operational range, hence, the rising insecurity and ineffectiveness of the country's fragile security architecture.
Widespread corruption
The persistence and aggravation of corruption have continued to worsen public finance, the effectiveness of governance, the business environment, and the standard of living in Nigeria.
Corruption in public service, especially, plays out in different forms: contract inflation, budget padding, direct embezzlement, money laundry, bribery and kickbacks, syphoning of government resources, ghost-workers, and deliberate wastage of resources, to mention a few.
With the strain on government revenue and fiscal weakness, endemic and monumental corruption will continue to restrain the government's fiscal capacity.
Other implications of widespread corrupt practices include disincentive for foreign investors, stiffening productivity, weakening the economic growth prospect, and dampening the standard of living.
What Nigerian Businessmen Expect From Tinubu's Election Victory
During his campaign, Bola Tinubu, in November 2022, met with the business community and organised a meeting with the private sector in Lagos, where he vowed, amongst many other things, to revive Nigeria's dead industries if elected as president.
The former Lagos State governor promised to prioritise security so businesses and the economy, on a larger scale, can thrive and experience exponential growth and prosperity.
On his radar is also promoting agriculture, providing power, optimising the exchange rate regime, building infrastructure and production and using made-in-Nigeria goods.
Legit.ng, through comments from experts, highlights what Tinubu's victory at the poll and his assumption of Nigeria's seat of power mean for the business community.
Source: Legit.ng