What Nigerian Businessmen Expect From Tinubu's Administration
The business community in Nigeria has made a few demands of the newly elected president, Bola Tinubu
Tinubu had promised to prioritise security so businesses can thrive, in line with the requests of businessmen in Nigeria
The demands include fixing power, security, depreciating naira, multiple taxes and others
After almost a year of political campaigns, Nigerians took to their different polling units to vote for their preferred presidential candidate on February 25, 2023.
Following intense moments of vote collation, Bola Tinubu, the candidate of the ruling All Progressives Congress, was, in the early hours of March 1, 2023, declared the winner of the election with 8,794,726 votes by the Independent National Electoral Commission (INEC).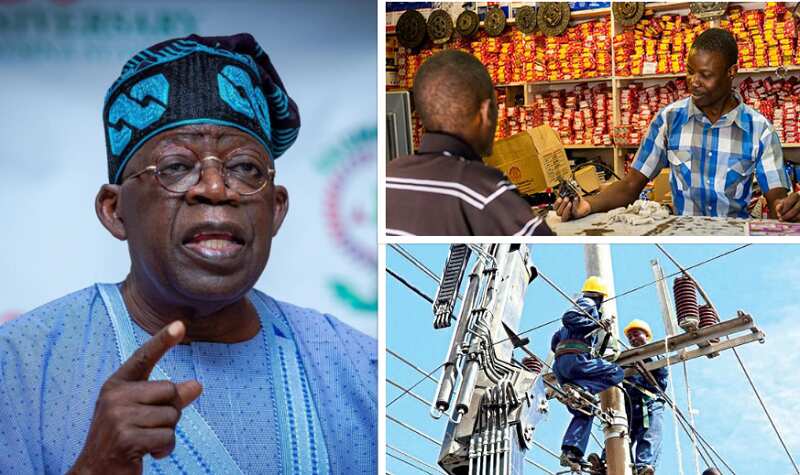 Tinubu went ahead of the Peoples Democratic Party's candidate, Atiku Abubakar, who polled 6,984,520 votes, and Labour Party's Peter Obi, who polled 6,101,533 votes. The election is finally over, and it is time to improve every sector of the economy.
Legit.ng, through comments from experts, highlights what Tinubu's victory at the poll and his assumption of Nigeria's seat of power mean for the business community.
Tinubu's position on business in Nigeria
During his campaign, Tinubu, in November 2022, met with the business community and organised a meeting with the private sector in Lagos, where he vowed, amongst many other things, to revive Nigeria's dead industries if elected as president.
The former Lagos State governor promised to prioritise security so businesses and the economy, on a larger scale, can thrive and experience exponential growth and prosperity.
On his radar is also promoting agriculture, providing power, optimising the exchange rate regime, building infrastructure and production and using made-in-Nigeria goods.
What the business community expects from Tinubu
The business landscape in Nigeria has been struggling with several issues, including the depreciating naira exchange rate, failing power supply, infrastructural lapses, multiple taxation and unfavourable government policies.
Olabode Oyedeji, a Lagos-based financial analyst, wants the incoming president to find a way to reduce the multiple taxes in the system.
He said:
One major issue that businesses encounter is multiple taxations. Whether a transporter, a trader, a business owner, or whatever, you end up paying many taxes to different tiers of government.
"The multiples taxes are burdensome and detrimental to businesses. It would be much appreciated if the new president can have the Federal Inland Revenue Service (FIRS) and other affiliated agencies review the tax system. Some specific businesses ought to get incentives like tax credits, tax break, rebates and access to loans and finance.
Many businesses in Nigeria spend a considerable sum of money providing power to run effectively and efficiently. Electricity from the national grid is inconstant and unstable, so the alternative is to run on petrol and diesel generators.
Chidi Nwokoye, CEO of Outburst Tech, a Lagos-based tech and security company, told Legit.ng that providing regular electricity takes a better percentage of business expenses and hopes Tinubu's government can finally solve the power issue.
He said:
For any business, one of the most important considerations is power. This is an issue that has plagued Nigeria for decades. Investing in heavy generators is quite expensive. Diesel and petrol prices are at all-time highs, considering that one has to deal with scarcity of the products every now and then.
"Poor power supply adds to the cost of production for businesses which is then transferred to consumers through the cost of goods and services. If Tinubu's government can solve the power problem, trust me, businesses will thrive better in Nigeria.
In recent times, no economic issue has been as pressing as the naira scarcity that has affected citizens and businesses in more ways than one.
Small businesses have been the most affected by the policy that required citizens to deposit old N200, N500 and N1000 notes in banks in exchange for the redesigned versions of the banknotes.
According to Yetunde Adeoye, a PoS operator, her business and colleagues have been greatly affected by the scarcity of banknotes.
She said:
Since the naira scarcity, we have not been making money at all. We depend so much on the little commission we get from each transaction. I know Tinubu has made a few comments during his campaign on how the CBN policy will be reviewed and the deadline extended for the use of old notes. Everyone is affected by the scarcity of cash, so we hope Tinubu does something about it when he resumes office.
Nigeria's depreciating naira and unfavourable foreign exchange challenges have contributed to the slow growth rate of critical sectors of the economy and continue to push the inflation rate in the country upward.
Speaking on the need to scale up factors that will help control the exchange rate and decrease the inflation rate in the country, John Izuba, a stockbroker who spoke with Legit.ng, said:
I particularly like Peter Obi's "from consumption to production" mantra. That is exactly what we need to do to turn around the foreign exchange crisis.
"Tinubu's government would have to devise ways to boost non-oil sectors of the economy, boost agriculture and support the manufacturing industries. Also, the new government would have to work with the CBN to unify the multiple exchange rates in Nigeria.
Despite a challenging business environment and sometimes unfavourable government policies, the business community has remained afloat, surviving two recessions in the last eight years.
It is only imperative for the incoming president to address some of the issues mentioned above through policies and reforms if the economy is to witness a turnaround and experience growth and prosperity.
Experts Predict Tinubu May Reverse CBN's New Naira Notes Policy
Meanwhile, in an earlier report by Legit.ng, experts have said that based on pre-election rhetorics, Tinubu would dismantle the new naira policy in his first week in office primarily because he sees it as anti-people and anti-growth.
It would be recalled that during the heated campaign season, the Nigerian government, via the Central Bank of Nigeria (CBN), embarked on a cashless policy aimed at reining in cash outside the banking system in Nigeria.
In October 2022, the CBN announced that N200, N500, and N1,000 notes would be redesigned before December 15, 2022, to curb several monetary and economic challenges, which include ransom payment, counterfeiting, and surplus cash in circulation.
Some, especially political parties and candidates, saw CBN's decision as punitive and against their ambitions.
Bola Tinubu repeatedly repudiated the policy in most of his campaign speeches. Also, many governors, namely Governors El-Rufai of Kaduna and Abdullahi Ganduje of Kano, lampooned the move.
Source: Legit.ng