MTN Nigeria Shareholders Lose N386.7bn In Eight Hours After the Announcement Of A Public Offer As Dangote Gain
MTN Nigeria's market value declined as the telecommunications giant's parent company, MTN Group, began part sell-off of its stake
On Wednesday, December 1, 2021, MTN announced the Nigerian investing public can buy 20 of its shares and get one free in the next two weeks
However, 24 hours after the announcement, the share price of MTN fell significantly as shareholders count their losses
The losses recorded have further widened the race for the biggest listed companies on the Nigerian exchange
Shareholders of MTN Nigeria lost N386.73 billion on Wednesday, following the announcement of a public offer to the investing public.
Legit.ng had earlier reported that MTN announced it is making 575 million of its shares available to the public at N169 per unit.
The offer includes an incentive in the form of 1 free share for every 20 shares purchased, subject to a maximum of 250 free shares per investor.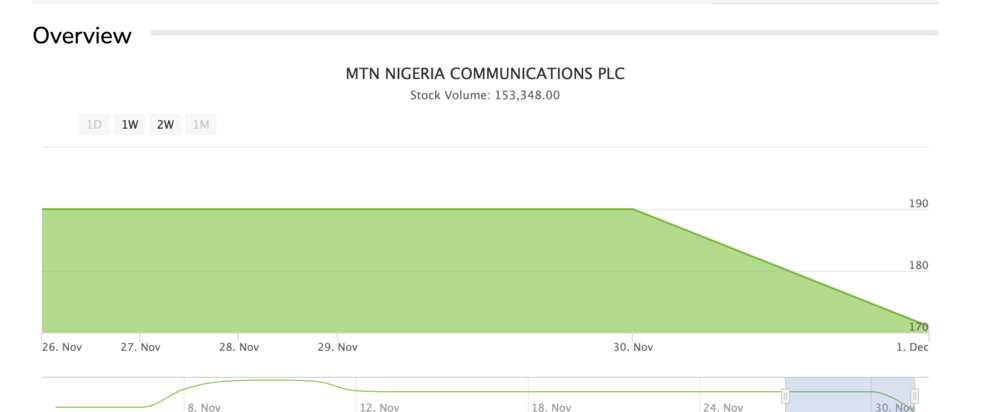 The offer price at N169 per unit is 11.05 percent lower than the N190 per share market price of Tuesday, November 30, 2021, and immediately sell-off began.
Eight hours after data obtained for the Nigerian exchange shows that the share price of MTN on Wednesday, December 1, 2021, depreciated by N171 per share from N190 it ended November 30, 2021.
MTN Nigeria stock 10 percent depreciation to N171 per share, cost shareholders N386.73 billion of their investment in the company as market capitalisation down to N3.48 trillion, from N3.86 trillion.
MTN loses race on biggest companies
MTN Nigeria share value drop as further pulled away Dangote Cement as the most valuable company in Nigeria.
As at the end of trading on Wednesday, December 1, 2021, MTN Nigeria is valued at N3.48 trillion while Dangote is N4.77 trillion. The value gap between the two companies is now N1.29 trillion.
First Bank GMD, U.K Eke, makes a whopping N15.35million
In a related report, Legit.ng revealed that First Bank Nigeria Holdings' Group Managing Director, Urum Eke, made over N15.35 million in eight hours today.
Eke's total investment in First Bank is now worth N1.25 billion today, but during this period last year, the GMD was valued at N520.13 million.
The report shows that Otedola's potential take-over helped First Bank's stock value skyrocket since the beginning of October 2021.
Source: Legit.ng