Honeywell, Flour Mills Investors Make N7.60bn In 16 Hours as Acquisition Deal Put Smiles on Shareholders Face
Shareholders of Honeywell and Flour mills are smiling to the bank following plans by the former to buy the latter
The deal has seen the share price of Honeywell and Flour mills on the Nigerian exchange jump by over 20.65% and 1.71% respectively
The two companies announced through a press release that both companies have signed an agreement that will allow Flourmills Nig Plc to acquire 71.69% stake in Honeywell
Since the announcement of Flour Mill's Nigeria and HoneywellFlour Mills Plc merger and acquisition, buying interest in the stocks of the two consumer companies have helped investors rake in billions.
According to data obtained from the Nigerian Exchange, the share price of Honeywell Plc has increased by 20.65% from N3.39 per share on Friday, 19 November 2021 to N4.09 per share at the conclusion of trading on Tuesday.
The increase in Honeywell's stock value means shareholders made N5.55 billion after 16 hours trading activities.
In fact, when compared to the N1.20 it was selling at the start of the year and the current trading rate of N4.09 it means Honeywell Flour Mills Plc investors fund value has gained 240.83%.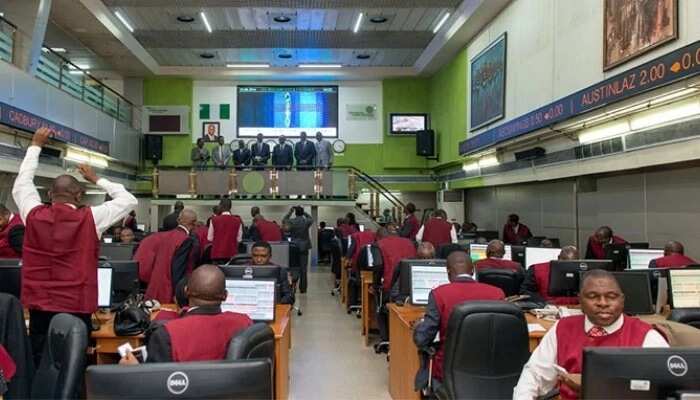 Similarly, at the end of the Tuesday, November 23, 2021 trading session, the stock value of Flour Mills Nig Plc increased by 1.71 percent to N29.75.

The increase in the value of Flour Mills shares on Tuesday means that investors have made a profit of almost N2 billion in only eight hours.
Backstory
On Monday 22 November 2021, Flour Mills Nig Plc and Honeywell Group Limited announced through a press release that both companies have signed an agreement that will allow Flourmills Nig Plc to buy a 71.69% stake in Honeywell Flour Mills Nigeria Plc for N80 billion.
First Bank GMD, U.K Eke, makes a whopping N15.35million
In a related report, Legit.ng revealed that First Bank Nigeria Holdings' Group Managing Director, Urum Eke, made over N15.35 million in eight hours today.
Eke's total investment in First Bank is now worth N1.25 billion today, but during this period last year, the GMD was valued at N520.13 million.
The report shows that Otedola's potential take-over helped First Bank's stock value skyrocket since the beginning of October 2021.
Source: Legit.ng