Fifteen hurt as two Swiss trains derail in storm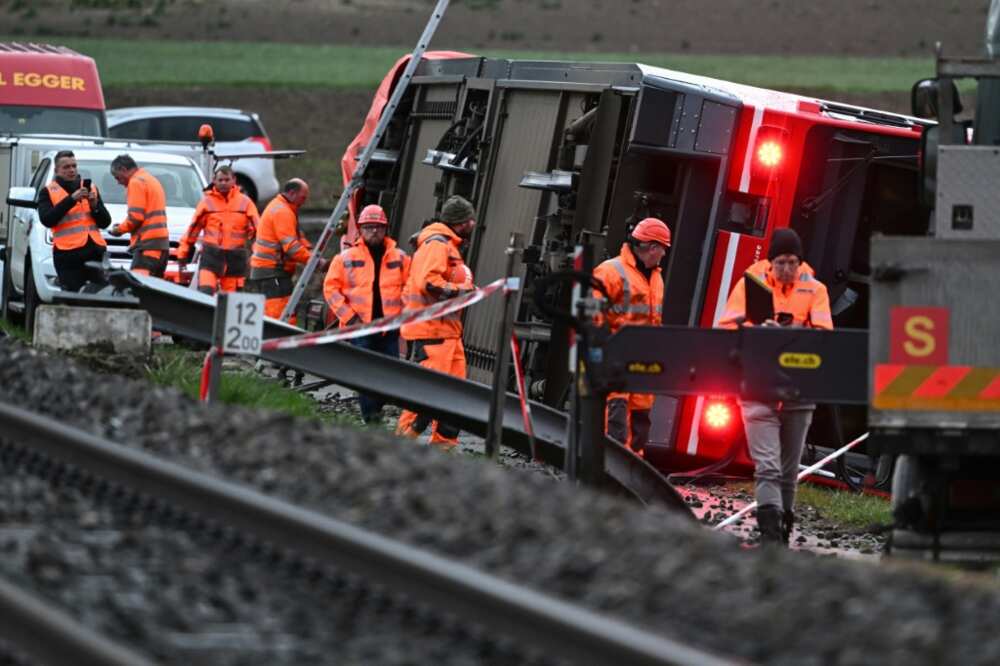 Fifteen people were injured, including at least one seriously hurt, in two separate train derailments that happened in quick succession Friday in stormy wind in northwestern Switzerland, police said.
The incidents, on regional passenger rail lines, took place about 30 kilometres apart, north of the Swiss capital Bern.
Three people were injured in the first, including the driver, and 12 were injured in the second, with wind speeds of 136 kilometres per hour recorded nearby.
The first incident happened at the lakeside village of Luscherz at around 4:30 pm (1430 GMT), police said. The train had 16 people on board.
"While a strong wind was blowing... the front carriage of the train overturned on the right of the track, slipped down a small embankment for a few metres and finally came to a halt," Bern cantonal police said in a statement.
"Three people, including the driver in the overturned carriage, were injured, treated by four ambulance teams and taken to hospital."
PAY ATTENTION: Сheck out news that is picked exactly for YOU ➡️ find the "Recommended for you" block on the home page and enjoy!
The front carriage of the two-carriage train could be seen lying on its right side off the single-line track, on the grass verge between a path that runs alongside the railway line and a ploughed field.
Workers in orange workwear and hard hats were at the scene, with a ladder placed alongside the carriage so they could reach the upturned left side. Firefighters helped to get people out.
The rear carriage rolled on for a few metres before coming to a stop.
A power mast was damaged, putting the line out of action.
"An investigation has been opened to determine the circumstances and causes of the accident," police said.
Picturesque routes
The second derailment took place around 20 minutes later in the village of Buren zum Hof.
Bern police spokeswoman Magdalena Rast told SRF public television that nine adults and three children were injured, with the police tweeting earlier that there was "at least one seriously injured person".
The RBS regional rail operator said some services had been suspended "as a result of the storm".
A spokeswoman said the accident could have been due to the high winds but "it's not clear".
Switzerland is renowned for its extensive and punctual rail network, with frequent services between cities, towns and even villages.
Rail enthusiasts come from all over the world to ride on some of the most picturesque routes, or those with exceptionally steep climbs.
Recent figures from the Swiss Federal Statistical Office show that in 2021 eight people lost their lives in Swiss rail accidents and 47 were seriously injured. Most of those hurt were on the tracks.
There were 88 separate accidents, of which 53 resulted in serious injury.
"Overall, the number of victims of rail accidents has fallen significantly in recent decades, despite an increase in transport services," the office said.
Source: AFP