Naira Redesign: Hope PSBank Commences New Initiative to Drive CBN Policy
In furtherance of its commitment to support the Central Bank of Nigeria's Naira redesign policy, Nigeria's premier digital-first bank, Hope PSBank, a Unified Payment Services Limited subsidiary, has commenced a community inclusion initiative.
Speaking at a press conference to unveil the initiative on Friday, February 3, 2023, the Managing Director of the bank, Ogechi Altraide, explained that this initiative is targeted at promoting a cashless economy and ensuring that Nigerians, particularly the unbanked, perform transactions through electronic channels across the country.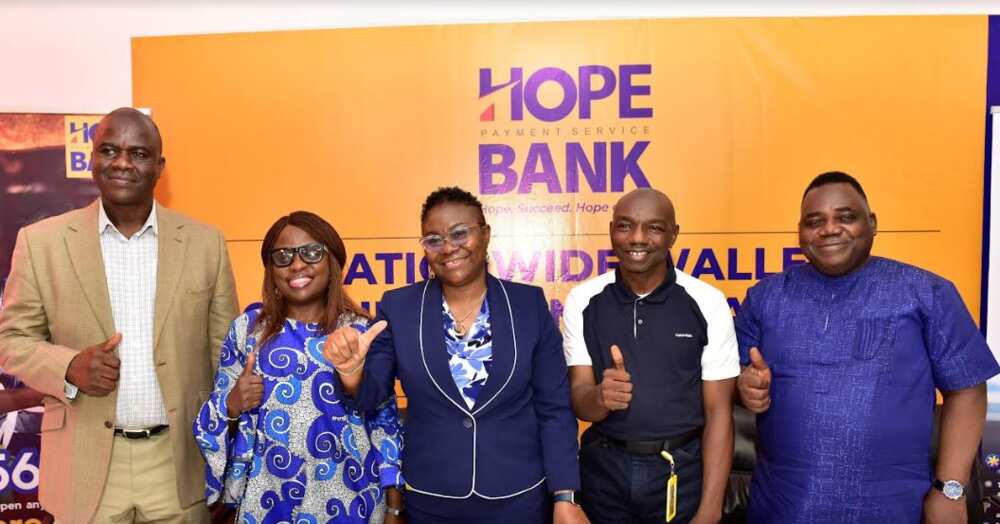 L-R: Group Head, Corporate Services, Hope PSBank, Cletus Igah; Group Head, Inclusion & Distribution - South, Hope PSBank, Ms Helen Nwelle; Managing Director / Chief Executive Officer, Hope PSBank, Mrs Ogechi Altraide; Group Head, Operations, Hope PSBank, Mr Sunday Abah and Group Head, Corporate Services, Unified Payment, Mr Felix Edionwe, at the Press Conference for the Nationwide Wallet Account Opening Campaign held in Victoria Island, Lagos on Friday, February 2, 2023.
She disclosed that the initiative would enable Nigerians to open Hope Wallet from their phones by simply dialling *569*9#. The wallet holders can deposit their cash into the wallet at any agency banking outlet in different communities across the country.
She further stated that the bank has offered to give everyone N500 cash incentive for opening the wallet, saying that all transactions can be performed using their phone numbers.
"Hope PSBank is giving N500 to everyone that opens the Hope Wallet. The phone number is the wallet, account number, and ATM card. The phone number can be used to transfer money, make payments and withdrawals at PoS, ATM and Web", she said.
Also speaking, Group Head, of Corporate Services, Hope PSBank, Cletus Igah, stated that the initiative is designed to accommodate all Nigerians by ensuring that they can perform any transaction without any hindrance using their digital wallet.
According to Igah, the company remains committed to supporting Nigerians to leverage digital financial services for inclusion, irrespective of their socioeconomic status.
He said that with the digital wallet, individuals and businesses can now access valuable and affordable financial products and services that meet their needs – transactions, payments, savings and – delivered responsibly and sustainably, especially in rural areas.
He urged all Nigerians to inform their family and friends to take advantage of the initiative.
[Sponsored]
Source: Legit.ng