Police move in on anti-coal activists at German protest camp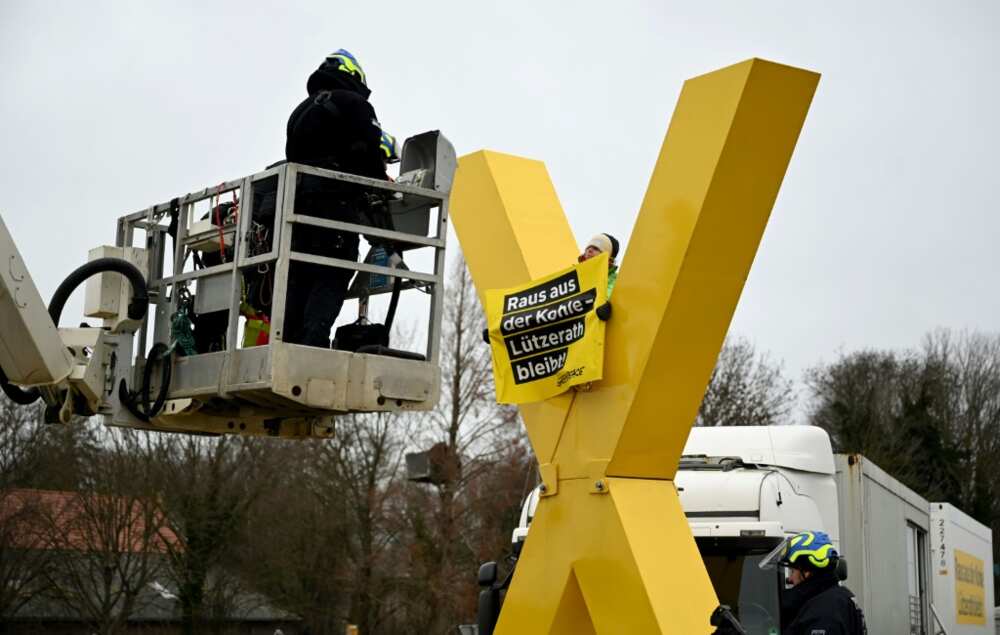 German police on Tuesday began removing climate activists perched precariously on high structures as they embarked on a "dangerous" operation to evacuate a protest camp that has become a symbol of resistance against fossil fuels.
Luetzerath, a village in North Rhine-Westphalia state, was once home to around 100 people but has been abandoned over the years as uncertainty hung over its planned evacuation for the expansion of the neighbouring coal mine Garzweiler.
Since the last resident, a farmer, packed up and left in October 2022, the village has been turned over to around 2,000 anti-coal activists who are trying to prevent the site from being dug up for coal.
The activists have built barricades and dug trenches to stop police getting in. Some are also swinging on hammocks erected high up above ground.
The protesters have vowed that there will be "no limits" in its defence of the site, and that they would make an "active defence" of the village.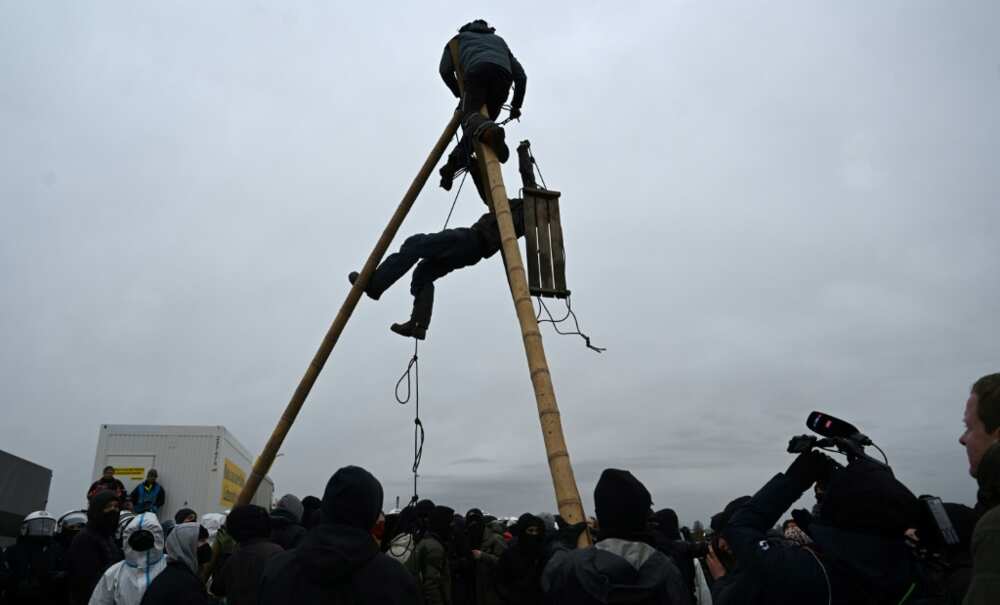 PAY ATTENTION: Share your outstanding story with our editors! Please reach us through info@corp.legit.ng!
"We've left a few surprises for the police," said Joey, 28, a balaclava-clad former surgical assistant who is now a veteran of the occupation of the village.
"Most of the people will choose a passive defence (of the village), but others will act with active defence. There will be no limit.
"It may sound harsh but there are bigger things coming with climate change, people are dying".
Joey said he only fears the violence could escalate the longer the occupation goes on and far from the watchful eye of the media, who will be forced to leave once the operation begins.
A 'long night'
Environmental groups had hoped that Luezerath would be spared the excavators after Chancellor Olaf Scholz's coalition including the Green party took office in December 2021 with a vow to phase out coal usage.
But Russia's war in Ukraine has sparked an energy crisis, forcing Berlin to restart mothballed coal plants to secure Germany's power needs.
In the scramble for energy sources as Russia dwindled its supply, Scholz's government granted permission to German energy company RWE to expand the mine neighbouring Luetzerath.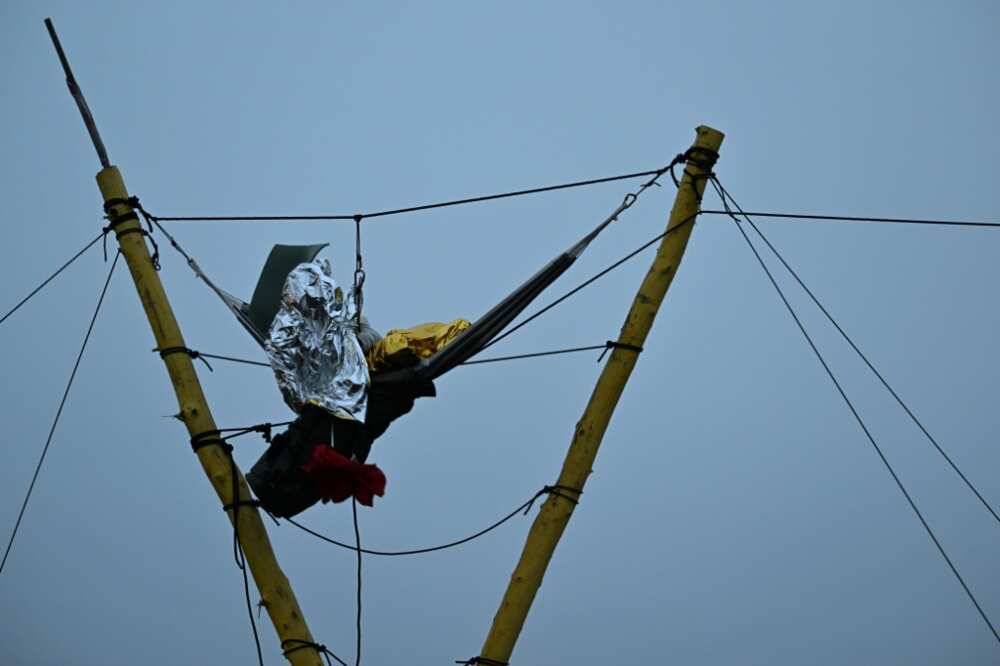 To clear the protest camp, which is situated on the edge of the Garzweiler mine, the police must overcome walls of barricades, chicanes and trenches dug by the activists.
The activists -- who have planned another demonstration for Saturday -- have set up an intricate, self-built camp in the trees, linked by a network of ropes and cables, which has been designed to make evacuation difficult.
To avoid injuring the protesters, the police will need to enter the village using heavy vehicles including cranes equipped with lifting platforms, to remove the activists one by one.
Each occupant is prepared to stay for hours or even days holed up in the self-built constructions, protected by little more than a tipi.
"The night might be long" a female German activist, who preferred to remain anonymous, told AFP, warming herself around a fire with several other demonstrators.
"We learn day by day, with communication with those who are here for longer than us."
One male activist told AFP he was worried the protesters may not have enough supplies to withstand the forced expulsion.
"I feel concern because we need 2,000 more litres of water to build the trenches.
"We are supposed to receive 20 litres per person, but I doubt it."
A siege
In the huge barn that once belonged to the last evicted farmer from Luetzerath, the activists have set up their headquarters.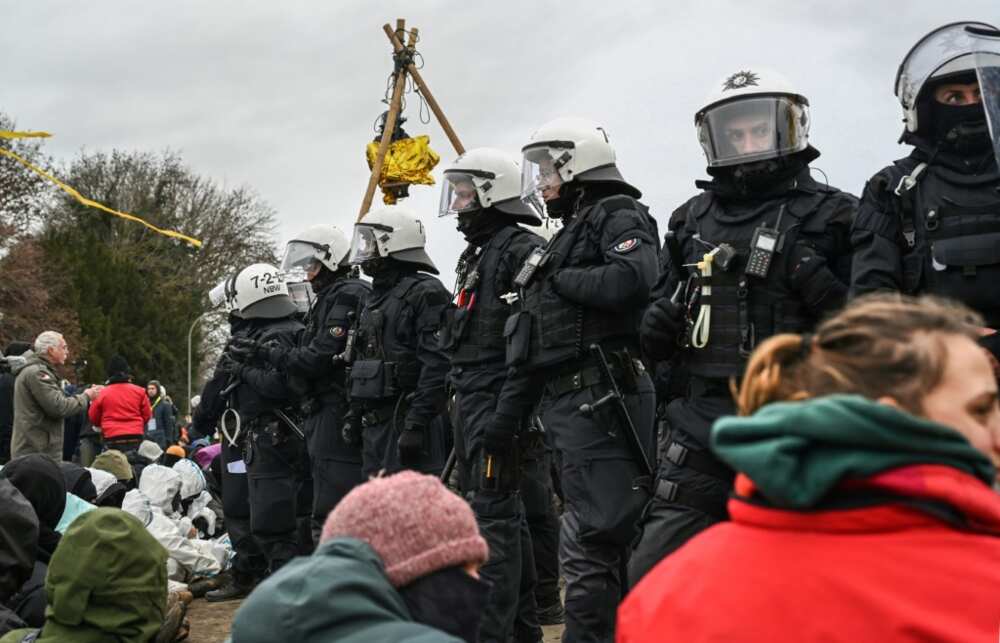 The windows and doors have been barricaded, making access almost impossible for the police, while hundreds of sleeping bags are laid out on the floor of the old straw-strewn cattle pens.
"During the arrests, everyone can decide whether or not to show their identity papers", said one of the organisers at a candle-lit meeting on Monday evening.
They have prepared for a state of siege that could last weeks, as access to the camp is now blocked from outside with police checkpoints and constant patrols.
Source: AFP