Four Nigerian Billionaires With Over N129.50billion You Should Know: Three Are Big Bank Owners
You've mostly heard of Aliko Dangote, Rabiu Abdulsamad, Adenuga, but there are other billionaires running riot in Nigeria's business environment
TY Danjuma, Herbert Wigwe, Tunde Hassan-Odukale, and Jim Ovia are some of the billionaires in Nigeria you might not know
These businessmen operate in various sectors, leading companies in insurance, banking, medical services and shipping venture
Business headlines in Nigeria are flooded with names like Aliko Dangote, Rabiu Abdulsamad, and Adenuga, but the private sector has more Nigerian billionaires you don't know about.
There are silent achievers that could be called stock billionaires who lead some of the biggest companies in Nigeria, but little is known of them - the following are Nigerian billionaires you should know with over N129.50 billion worth of public stock investment.
TY Danjuma
Theophilus Yakubu Danjuma's life stage has moved across three paths - military, politician, and businessman. He is one of the most prominent military man in the private sector, but yet, a silent mover and shaker in the white-collar industry.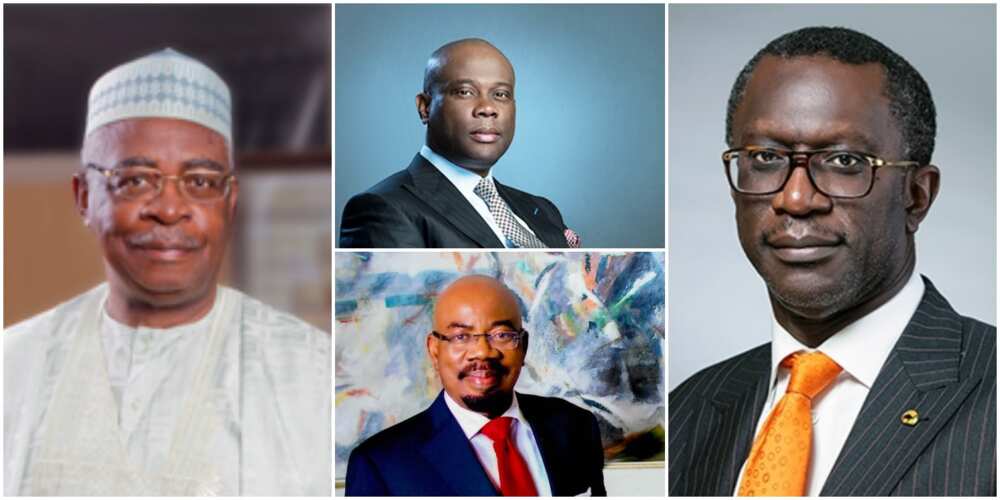 PAY ATTENTION: Install our latest app for Android, read best news on Nigeria's #1 news app
In 2015, out of Africa's 50 richest list, Forbes ranked him 30th with a net worth of $750 million. At some point in 2014, Danjuma's fortune was put at $1.1 billion, but he fell off that list in 2016 due to oil price decline.
Just as his life has taken three different turns, TY's business footprint has also gone through several sectors; shipping, oil business and also manufacturing of medical equipments.
Danjuma owns Nigeria American Line (NAL), Sapetro, and is also the majority shareholder of BOC Gases Nigeria (now known Industrial and Medical Gases Nigeria Plc) where he has N3.13 billion worth of investment.
Tunde Hassan-Odukale
Not much was known about Tunde Hassan-Odukale until October 2021 after billionaire, Femi Otedola's attempt to takeover First Bank in H2 2021.
Otedola's presence in First Bank brought Hassan-Odukale out of the tunnel, as they both battle for leadership of the lender, which the latter eventually won, making him the largest investor in First Bank.
Odukale has over N22.40 billion networth in First Bank (including his indirect stake), and he is also the Managing Director of Leadway Assurance Company Limited, where the businessman holds the majority shareholder position.
His father, Sir Hassan Olusola Odukale founded Leadway Assurance in 1970, but commenced operation the next year.
Jim Ovia
Ovia is known as the godfather of Nigeria's banking industry, but you will hardly see him competing for media headlines - he moves in silence, even the ground might not hear his footsteps.
In 2015, when Forbes last ranked him, Ovia had a total networth o N225.67 billion ($550 million), thanks to his investment in Zenith Bank, which he founded, prime real estate, and Visafone.
Ovia is the largest stakeholder of Zenith Bank, heading the lender as chairman, with N89.54 billion worth of funds in the bank.
Herbert Wigwe
You won't find Herbert Wigwe on Forbes or Bloomberg's billionaire list, but he's one of the stock billionaires in Nigeria, carrying the bank industry flag among the seven figure class.
Wigwe started with GTBank before before he and his business partner, Aigboje Aig-Imoukhuede, bought Access Bank, which was a small company in 2002.
He controls Access Bank which is one of the top five banking institutions in Nigeria, and happens to have the largest bank customers in Africa. While his other investment are not public, he has over N14.41 billion in investment in the lender.
Nigeria's Top Four Business Leaders of Post-independence are Worth Over N9trn; Obi Cubana Makes Notable List
The business environment in Nigeria has changed, and one of the disruptor is Obi Cubana, who was named among post-independence business leaders.
Cubana was listed alongside Aliko Dangote, Folorunsho Alakija, Segun Agbaja and more. These business oriented Nigerians have ended the era when kola nut was the source of wealth of Nigeria's richest.
From club business, to cement, banking, oil and gas, they aforementioned have revolutionized how Nigerians work.
Source: Legit.ng