20 inspiring quotes from The Office to help you find motivation
American sitcom The Office (2005) is among the best comedy series you can enjoy watching. Top actors such as Steve Carell, Jenna Fischer, John Krasinski, Angela Kinsey, Phyllis Smith, and Leslie David Baker, form part of the cast. Besides entertainment, there are many inspiring quotes from The Office that will give you the necessary motivation to continue chasing your dreams.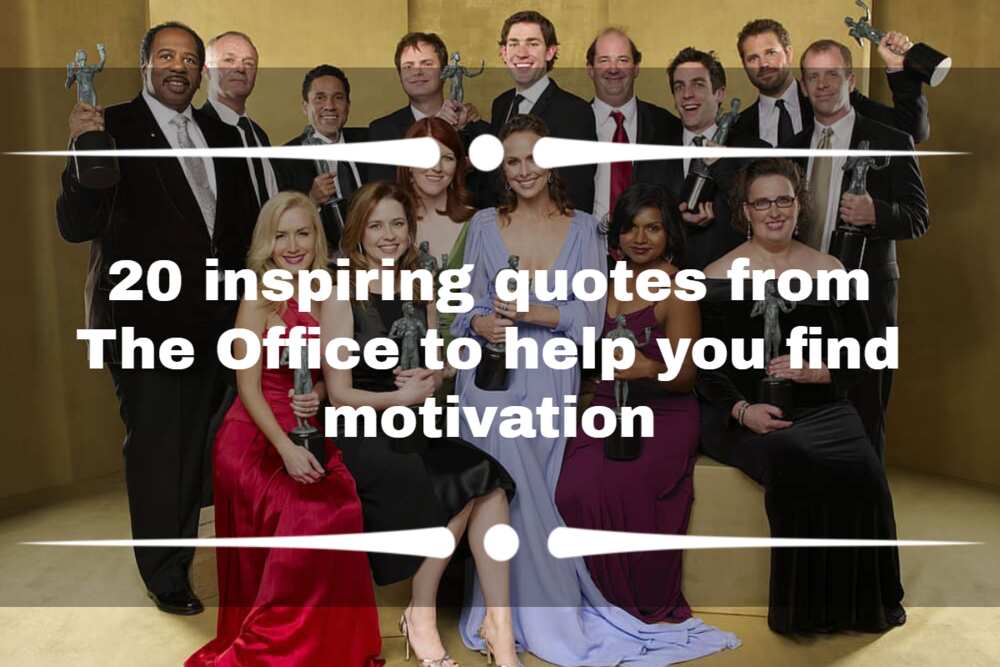 You can spend hours binge-watching this interesting comedy TV series. Listening to the characters, you can borrow a lot you can relate to. Here is a list of quotes from The Office to motivate and make you laugh.
Motivational quotes from The Office
Looking for something to uplift your spirit as you go through your day? There are numerous quotes that you can rely on from the TV series The Office to give you extra psychological strength. Here is a compilation of some motivational quotes.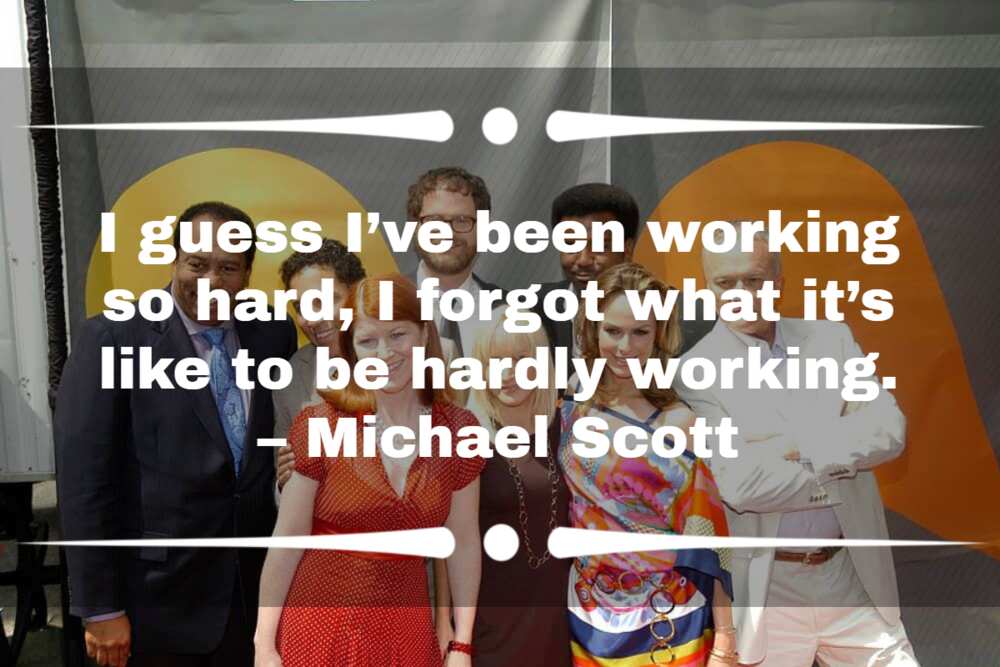 There's something about an underdog that really inspires the unexceptional. – Robert California
I guess I've been working so hard, I forgot what it's like to be hardly working. – Michael Scott
I think, why waste time saying a lot of words, when few words do the trick. – Kevin Malone
Whenever I'm about to do something, I think, would an idiot do that? And if they would, I do not do that thing. — Dwight Schrute
It just seems awfully mean. But sometimes, the ends justify the means. — Michael Scott
Fool me once, strike one. Fool me twice, strike three. — Michael Scott
I wish there was a way to know you're in the good old days before you've actually left them. — Andy Bernard
Inspirational quotes from The Office about work
Each day at work comes with different challenges which can be demoralising. Instead of throwing in the towel, these relatable quotes from The Office can boost your morale to work harder and achieve your goals.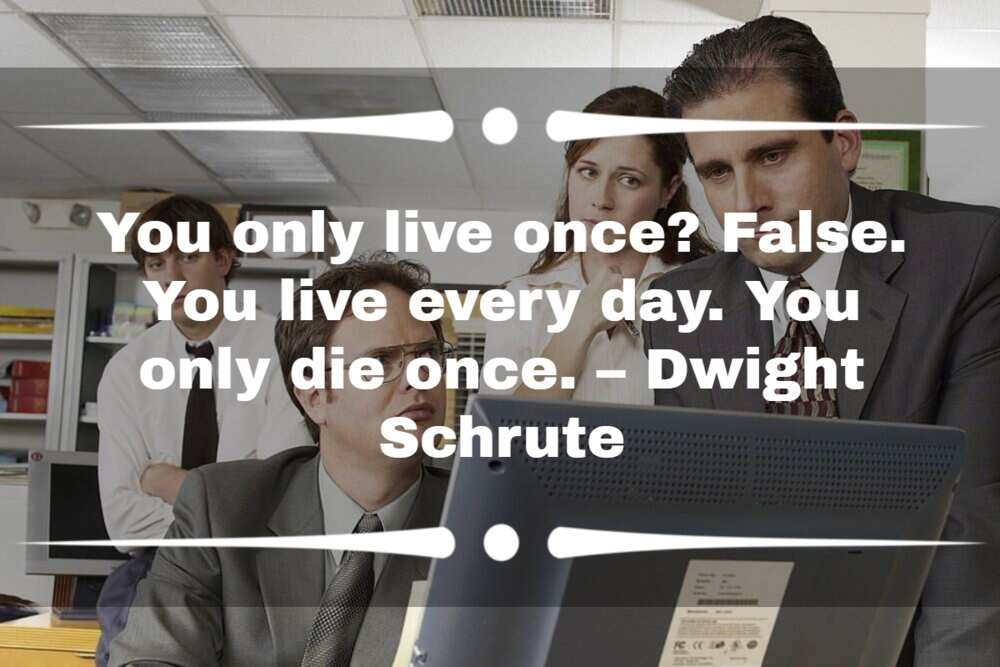 Everything I have, I owe to this job. This stupid, wonderful, boring, and amazing job. – Jim Halpert
An office is for not dying. An office is a place to live life to the fullest, to the max. An office is a place where dreams come true. – Michael Scott
People will never be replaced by machines. In the end, life and business are about human connections. And computers are about trying to murder you in a lake. And to me the choice is easy. – Michael Scott
You only live once? False. You live every day. You only die once. – Dwight Schrute
They just don't get a lot of work done when I'm not here. That's not true. I know how to delegate. And they do more work when I'm not here. The same amount of work is done whether I am here or not. – Michael Scott
It's true. Around this workplace, in the past, I have been a little abrupt with colleagues. But the doctor said, if I can't find a new way to relate more positively to my surroundings, I'm going to die. — Stanley Hudson
Look, it doesn't take a genius to know that every institution thrives when it has two leaders. Go ahead, name a country that does not have two presidents; a boat that sets sail without two captains. Where would Catholicism be without the popes? — Oscar Martinez
Funny inspiring quotes from The Office
Some quotes from the TV series are funny yet inspiring. While they tend to give you the zeal to carry on with life, you will also notice how hilarious they are. Have a look at the compilation below.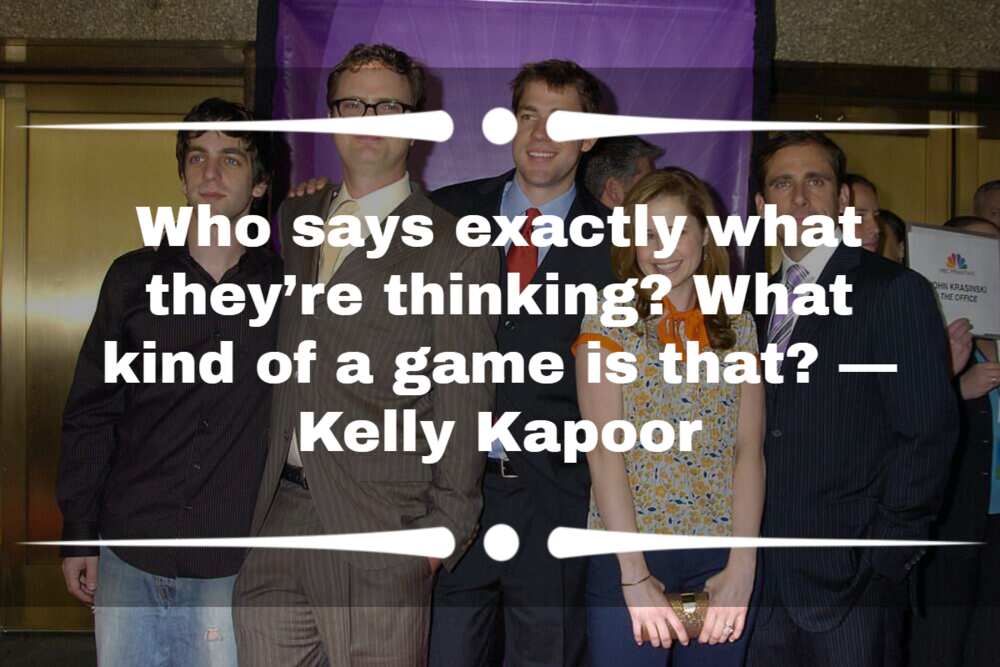 Sometimes I'll start a sentence and I don't even know where it's going. I just hope I find it along the way. — Michael Scott
Who says exactly what they're thinking? What kind of a game is that? — Kelly Kapoor
I'm glad Michael's getting help. He has a lot of issues, and he's stupid. – Phyllis Lapin-Vance
I'm an early bird and I'm a night owl. So, I'm wise and I have worms. — Michael Scott
Powerpoints are the peacocks of the business world; all show, no meat. — Dwight Schrute
I know the reason that you guys became accountants is because you're not good at interacting with people. But guess what! From now on you guys are no longer losers! So give yourselves a round of applause. — Kelly Kapoor
Situation comedy The Office not only brings laughter, but you will also get numerous inspirational quotes from its characters. The above inspiring quotes from The Office touches on various aspects of life, hence relatable to many people.
READ ALSO: 101 solitude quotes to help find the beauty in being alone
Legit.ng recently published solitude quotes. Many people do not realise that being alone does not necessarily translate to loneliness. Sometimes you need your time alone and that gives you time to have peace and rediscover yourself.
Solitude quotes will help you realise the goodness of being alone. You will enjoy peace of mind and also have time to assess yourself and discover your potential. For instance, you will learn to trust your instincts and be self-reliant.
Source: Legit.ng