30 Dwight Schrute quotes that made us fall in love with The Office
Dwight Schrute quotes are one of the funniest lines told by the fictional character in NBC's comedy series, The Office. Actor Rainn Wilson played him in the sitcom. The quotations of his character will teach you everything you need to know about life.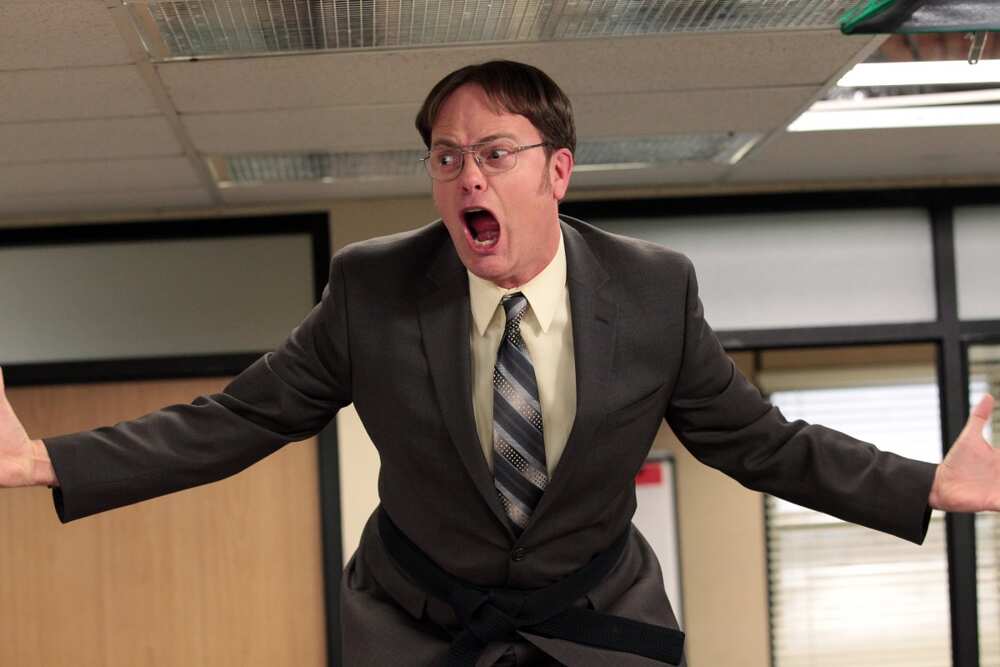 After a brief pause, the comedy show is back in January 2021. People have liked the character of Rainn Wilson as if he were their old friend.
Furthermore, The Office Dwight quotes have become words that people share with friends to cheer them up.
Best Dwight Schrute quotes
Dwight Schrute quotes seem weird and cause perplexity for some time. At the same time, every one of them contains a grain of truth, making us take a more in-depth look at things.
People learn in lots of different ways, but experience is the best teacher.
Everyone, follow me to the shelter. We've got enough food for 14 days. After that, we have a difficult conversation.
When my mother was pregnant with me, they did an ultrasound and found she was having twins. When they did another ultrasound a few weeks later, they discovered that I had adsorbed the other fetus. Do I regret this? No, I believe his tissue has made me stronger. I now have the strength of a grown man and a little baby.
Nothing stresses me out. Except having to seek the approval of my inferiors.
In an ideal world, I would have all 10 fingers on my left hand so my right hand could just be a fist for punching.
Before I do anything, I ask myself, 'Would an idiot do that?' And if the answer is yes, I do not do that thing.
I am ready to face any challenge that might be foolish enough to face me.
Bread is the paper of the food industry. You write your sandwich on it.
How would I describe myself? Three words: hardworking, alpha male, jackhammer, merciless, insatiable.
In the end, the greatest snowball isn't a snowball at all. It's fear. Merry Christmas.
I love catching people in the act. That's why I always whip open doors.
Always the Padawan, never the Jedi.
They say that no man is an island. False! I am an island and this island is volcanic. And it is about to erupt. With the molten hot lava of strategy!
What is more exciting about Schrute is how he laughs:
Now that I own the building, I'm looking for new sources of revenue. And a daycare centre? Muahahahahahahahaha…Well I guess it's not an evil idea, it's just a regular idea, but there's no good laugh for a regular idea.
Even though he is not a criminal, he has already planned his perfect crime:
What is my perfect crime? I break into Tiffany's at midnight. Do I go for the vault? No, I go for the chandelier. It's priceless. As I'm taking it down, a woman catches me. She tells me to stop. It's her father's business. She's Tiffany. I say no. We make love all night. In the morning, the cops come, and I escape in one of their uniforms. I tell her to meet me in Mexico, but I go to Canada. I don't trust her. Besides, I like the cold. Thirty years later, I get a postcard. I have a son, and he's the chief of police. This is where the story gets interesting. I tell Tiffany to meet me in Paris by the Trocadero. She's been waiting for me all these years. She's never taken another lover. I don't care. I don't show up. I go to Berlin. That's where I stashed the chandelier.
I wonder if king-sized sheets are called presidential-sized in England.
Some of his quotations are related to animals.
Dolphins get a lot of good publicity for the drowning swimmers they push back to shore, but what you don't hear about is the many people they push farther out to sea! Dolphins aren't smart. They just like pushing things.
I am fast. To give you a reference point I am somewhere between a snake and a mongoose… And a panther.
I grew up on a farm. I have seen animals having sex in every position imaginable. Goat on chicken. Chicken on goat. Couple of chickens doing a goat, couple of pigs watching.
Ah, humor. I have it too.
Best Dwight quotes about love and relationship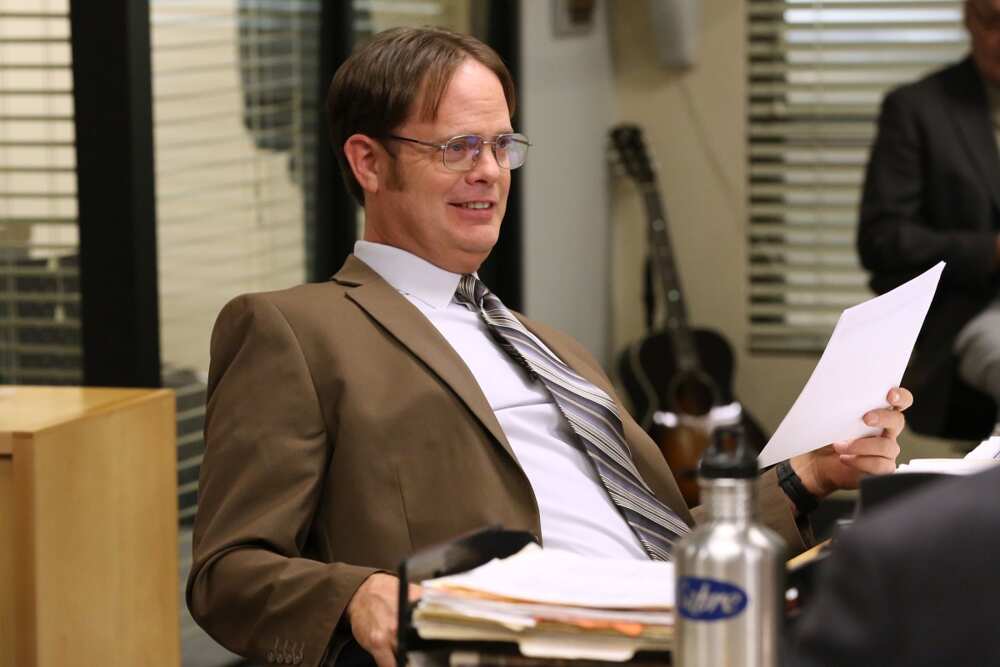 Dwight quotes are related to all subjects and topics. It seems that he has a comment for anything in the world.
Is such a man capable of falling in love?
Here are the best Dwight quotes, showing his attitude to love and relationship:
All you need is love? False. The four basic human necessities are air, water, food and shelter.
He is a fairly down-to-earth person, dealing with things from a practical point of view:
Women are like wolves. If you want one you must trap it. Snare it. Tame it. Feed it.
Do I have a date for Valentine's Day? Yes. February 14th.
My perfect Valentine's day? I'm at home, three cell phones in front of me, fielding desperate calls from people who want to buy one of the fifty restaurant reservations I made over six months ago.
I just want to be friends plus a little extra, also I love you.
Best Dwight Schrute memes for everyone
Why not send a Dwight Schrute meme to your friend or colleague? He will definitely appreciate this piece of cheerfulness from a favourite character.
Here are five best Dwight memes you might like to share: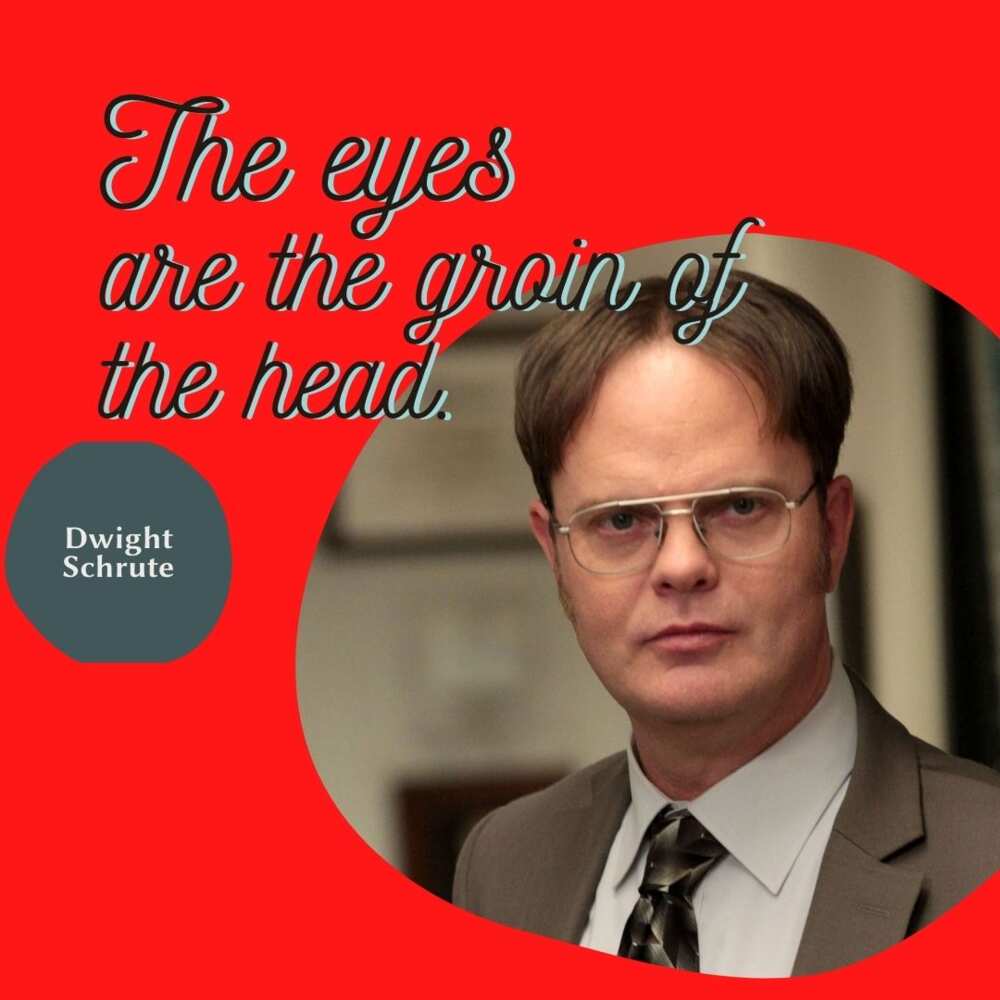 To a certain degree, he is right. Our heads preserve the most secret stuff about us.
It reflects the true nature of certain individuals. Sometimes, their begging makes them look exactly like this.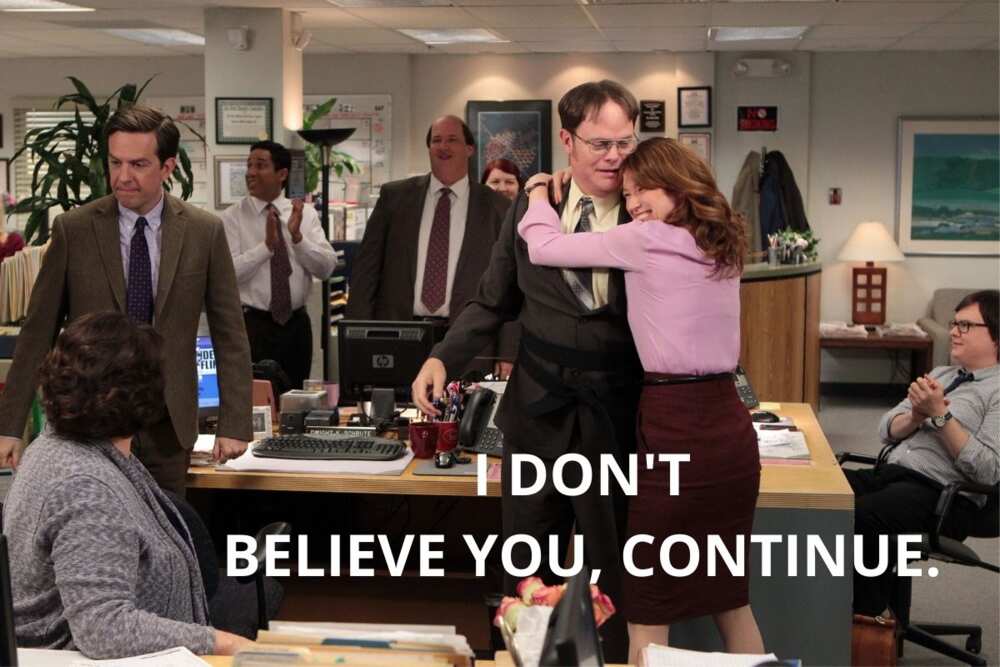 How far do you go with fictional stories? By telling lies, some people often exaggerate things so much that they seem unreal to others. Nevertheless, it is often exciting to see how far such a person will go in his fictitious world.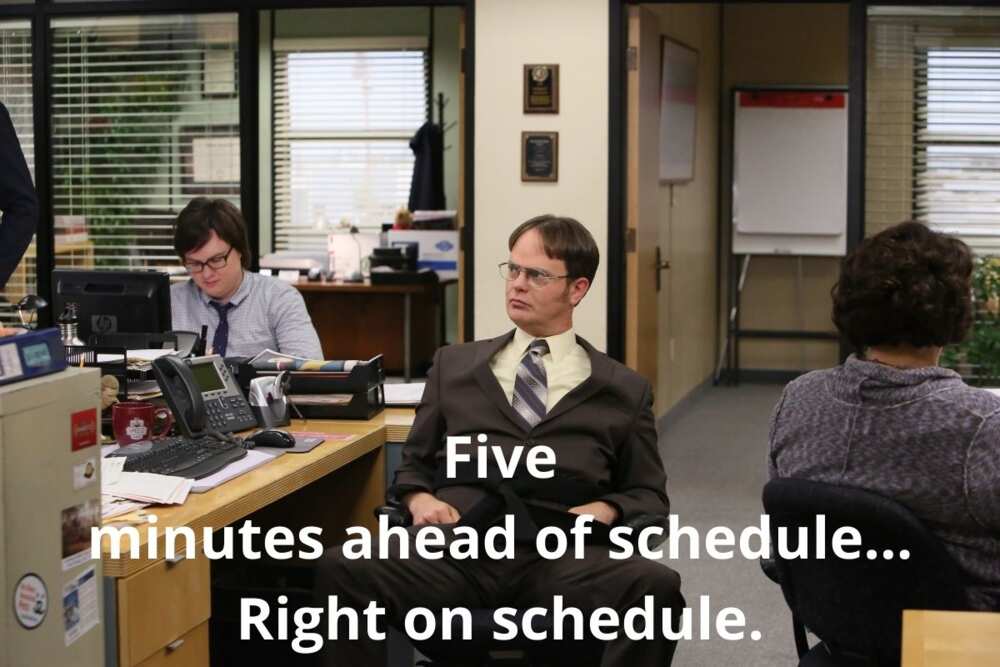 This quotation is typical for most people, trying to make up for everything at the right time.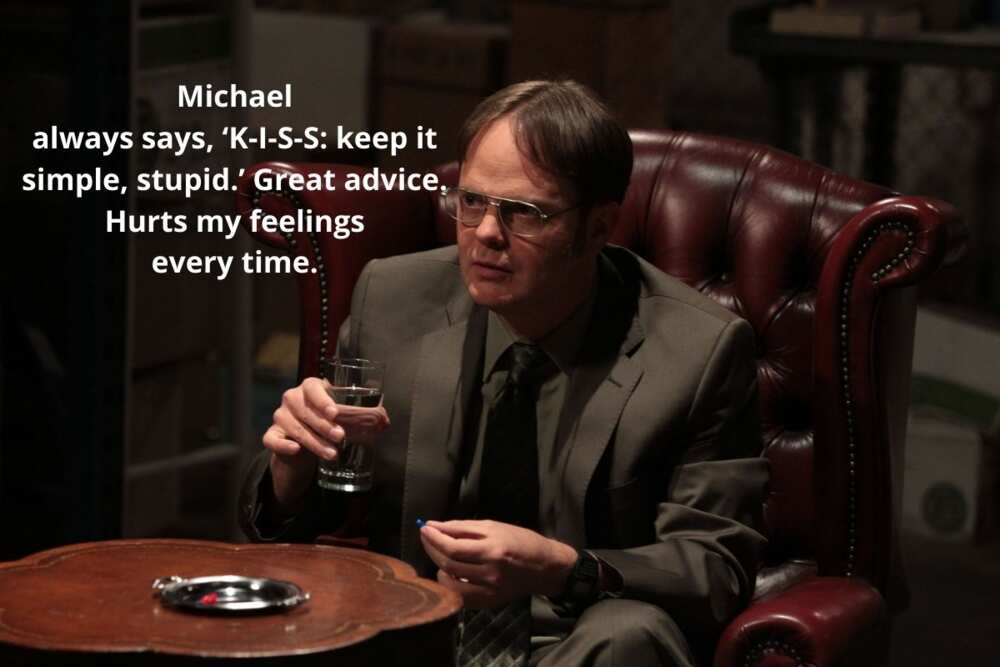 Although some words may be pleasing to our ears, they may have totally opposite associations, resulting from our experience.
Does Dwight from The Office have autism?
His only problem resides in the inability to understand his social world.
Between his difficulty in understanding social cues, his inability to hold back inappropriate thoughts, and very specific areas of interest, The Office character consistently shows the behaviour that is associated with an autism spectrum disorder.
What personality type is Schrute?
As for his personality type, he is an EJTS.
His strong will and confidence led him to lead, although he could never let go of his title as Assistant to the Regional Director.
He thrives in routine and clean environments and has a strong disgust for non-organized and lazy employees.
What languages does he speak?
Apart from English, he speaks High German.
Nonetheless, his knowledge of it can be regarded as pre-industrial and mostly religious.
He learned it exclusively in an Amish church.
What religion is he?
A lot of viewers know him as a socially unsuitable seller.
You may be surprised to hear that when it comes to religion, he is a member of the Bahá'í faith.
Is Schrute rich?
He has worked at Dunder Mifflin for about twenty years. Moreover, he is regarded as one of the company's top performers.
It is not only the best seller in the office but also an employee, building the best commercial strategies. Once he began to sell more under Sabre, the business complex Dunder Muffin was in, he followed Jo's advice and bought some property.
In addition to this, he owns a 60-acre beet farm with a nine-bedroom house. He also uses it as a B&B. The most exciting thing about his income is that he's got money buried on his farm.
Where is Dunder Mifflin in real life?
The Office was filmed out of Scranton, Pennsylvania. Dunder Mifflin's fictitious office and warehouse exteriors were filmed at Panorama City, California, near Van Nuys.
This building houses Chandler Valley Center Studios. In some shots of the NBC sitcom, you can even see the palm-trees in the real background.
Who plays his girlfriend on The Office?
You might be surprised to find out, but Dwight has a girlfriend.
Her name is Esther Bruegger. The girl comes from the same farming community as Schrute. She works as a brussel sprout farmer.
She likes weaving colourful rugs and blankets.
You can see Esther in Season 9. She is played by Nora Kirkpatrick.
Dwight Schrute quotes have already cheered millions of viewers, being the series' finest lines. We are looking forward to hearing more exciting quotes from him soon.
READ ALSO: 50+ great happy 50th birthday wishes and messages to send to friends
Legit.ng recently published a list of 50+ great happy 50th birthday wishes and messages to send to friends. Cheerful congratulations are a vital component of any celebration. They reflect your feelings, attitude and respect towards the dearest people.
Here are the best birthday greetings and messages you can use to show your greatest respect and stand out from the crowd.
Source: Legit.ng