Massive child trafficking scam uncovered in IDP camps
- Government officials managing IDP camps and group leaders called 'Lords' are allegedly involved in a massive child trafficking scam in IDPs, so says Orodata Science
- Orodata says both male and female children are sold before between 10,000 and 100,000 by the traffickers
- It says parents are forced to keep quiet through threats that they would be kicked out of camp into the wastelands left behind by the war on Boko Haram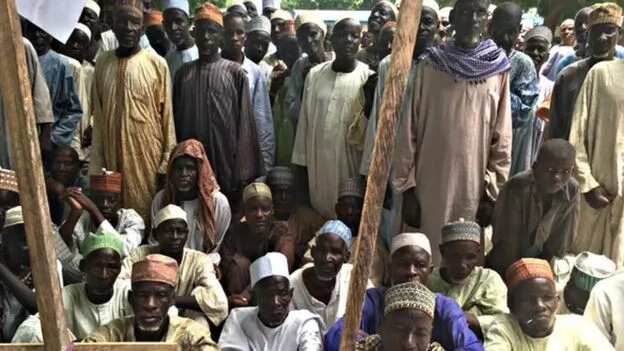 Government officials managing IDP camps have been accused of participating in an ongoing child trafficking scam in the Internally Displaced Persons (IDPs) camps.
READ ALSO: Deaths of poor citizens on the rise in Abuja, Nasarawa
According to information posted to its official Twitter handle on Thursday, August 25, an organisation called Orodata Science claimed that there was evidence that government officials and leaders of groups operate an elaborate system through which they smuggle children out of IDP camps to make money.
Orodata, which describes itself as a "Civic Tech Org. using visual data to track resources, disaster, conflicts, facilitate processes, predict outcomes, foster accountability & citizen engagement", says its information comes from International Centre for Investigative Reporting (ICIR), an independent, nonprofit news agency that seeks to promote transparency and accountability.
According to Orodata, officials and group leaders allegedly abduct children (male and female) between the ages of 5 and 15 years old and sell them for between 10,000 and 100,000.
READ ALSO: Fast all in one -- UC Browser
It reports that the trade thrives because the IDPs are scared into silence by officials with threats of being kicked out of the camps.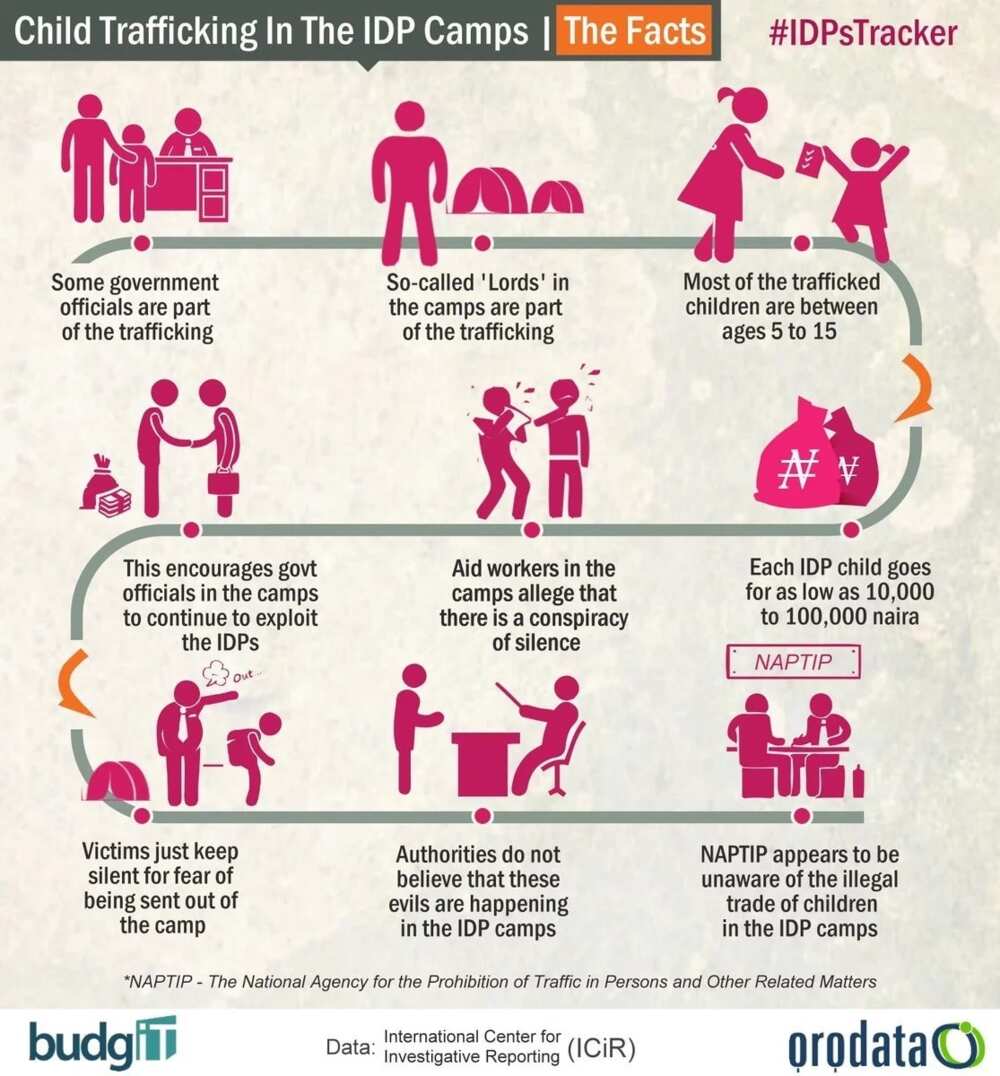 Although the organisation did not disclose in which IDP camps this dastardly act is taking place, it says it is a hushed affair that even the National Agency for the Prohibition of Traffic in Persons (NAPTIP) is not aware of it.
Replying to a Twitter follower who asked if the organisation could back up its report, Orodata said: "Yes, Anna, we have more infographics on this topic. We have the 'where' and also looking into the numbers."
The organisation however notes with sadness that the matter is a very contentious one that it is worried might not be properly addressed.
"More to be published on the issue of IDPs Child Trafficking. It's an issue that many are not willing to touch with a long pole," it tweeted.
Meanwhile, hundreds of Internally Displaced Persons (IDPs) barricaded highways in Maiduguri, the Borno state capital, on Thursday, August 25, to protest against hunger and thirst in their various camps have suspended their protest.
The decision of the IDP to call off their protest came after the government disbanded its committee responsible for feeding the protesters.
Source: Legit.ng