- Nnamdi Kanu, the Director of Radio Biafra in the UK has denied any form of relationship with the Movement for the Emancipation of the Niger Delta (MEND) and the Niger Delta Avengers (NDA)
- His lawyers, Ifeanyi Ejiofor and Amobi Nzelu held a press briefing in Abuja to brief journalists on the issue
- Mr Ejiofor said the federal government does not need to sponsor their representatives to travel to Bayelsa state or the Niger delta region to reach Kanu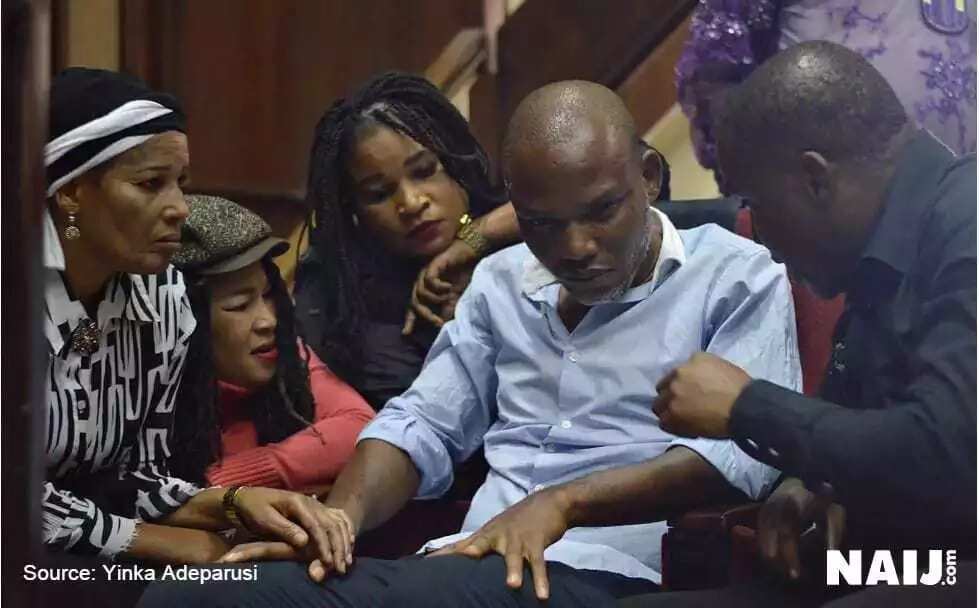 Following reports, the leader of the Indigenous People of Biafra (IPOB), Nnamdi Kanu, has vehemently denied having any ties with the Movement for the Emancipation of the Niger Delta (MEND) and the Niger Delta Avengers (NDA).
He disclosed this through his lawyer, Ifeanyi Ejiofor while briefing newsmen in Abuja.
He said: "Nnamdi Kanu is not opposed to political solution in resolving his "present politically orchestrated ordeal as he welcomes genuine political solution to this case.
"In the past few days, the media was awash with news on negotiation going on between the federal government and the members of MEND where our client's name, Nnamdi Kanu conspicuously featured.
"It is on the note that we need to inform the public that Nnamdi Kanu has no connection, contact, ties or any form of relationship with the members of the MEND.
READ ALSO: Heavens Will Strike If Nnamdi Kanu Is Not Released - Prophet
"As such , MEND has no implied, direct or express authority of Nnamdi Kanu to represent him or independent people of Biafra (IPOB).
"In any purported negotiation, going on between MEND and the federal government. The general public is advised to ignore and disregard the falsehood being peddled by MEND. Nnamdi Kanu does not know them!".
He added that the federal government does not need to sponsor their representatives to travel to Bayelsa state or the Niger delta region to reach Kanu.
"They know where they kept him which is easily accessible to them. Nnamdi Kanu has proven his integrity and impeccable character that will negotiate on his behalf based on demands," he said.
The militant groups had asked the release of Kanu, as a condition among others for the return of peace in the Niger Delta region.
However, a progress report on the dialogue between the MEND and agents of the federal government said an arrangement was being worked out for Kanu's release from prison custody by the federal government if he renounced his Baifra agitation.
READ ALSO:Nnamdi Kanu Apologises To President Buhari
But Presidential spokesman Garba Shehu could not confirm MEND's claims. Shehu said the government had not received the report of the talks from those it authorised to discuss with MEND.
Mr Kanu, the director of Radio Biafra in the UK, has been in Kuje prison in Abuja since 2015.